When Kelli Snyder moved from her hometown of Dunkerton to Milwaukee to complete her master's degree, she swore she'd never move back.
But then she received a job offer from Cedar Valley Medical Specialists for the athletic training position at Waterloo Columbus High School. And her husband, Andy, was working as a deputy sheriff for Black Hawk County. And her grandparents' acerage, just down the road from the farm where she grew up, went up for sale.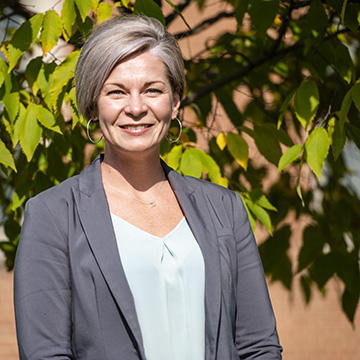 "All the signs pointed me home," Snyder said.
That was in 2005. Now, Snyder is the athletic training program director and associate professor at UNI and has become a pillar of the Dunkerton community. Her volunteer efforts earned her a place on the Waterloo Courier's "20 under 40" list in 2020.
It's work that she sees as essential to keeping the small town of Dunkerton, population 852, a vibrant and functioning community.
"In these small towns, it takes a lot of people willing to do the work and pitch in," Snyder said. "We feel strongly about contributing to the community's growth and success and desirability of for other people to hopefully move out to our community as well."  
Snyder footprints show up throughout the community. She has served as the president of the parent teacher organization for the past four years. She is the superintendent of Sunday school at her church, St. John's Lutheran, Bennington, and also sits on its scholarship committee. Her other committee work includes five years of sitting on the now-defunct "Comedy for a Cause" fundraiser for the Boys and Girls Club. And she has served as the vice-chair of the Dunkerton Community School Foundation Board since 2014. More recently, she and her three boys became involved with the Salvation Army, ringing the fundraising bell over the holidays, and the Special Olympics.
At UNI, where she's worked since 2007, she helped the athletic training program anticipate and prepare for the state-mandated switch from offering athletic training as an undergraduate program to a graduate program. With her leadership, UNI was able to offer the first accredited graduate athletic training program in the state.
And while the idea of moving home was once unthinkable, Snyder now wouldn't be anywhere else. There, she can look out the window on farm fields her grandparents once owned and her family still farms, surrounded by a supportive community and family - her parents living a mile down the road with her sister in between - and be content. Her passion for community service has become a family affair, but, for Snyder, it hardly feels like work.
"If you're having a good time, and you're doing good things, I don't think you can really go wrong," she said.