Alumni
From the JPEC to the Times Square jumbotron: one UNI alum's journey to success in entrepreneurship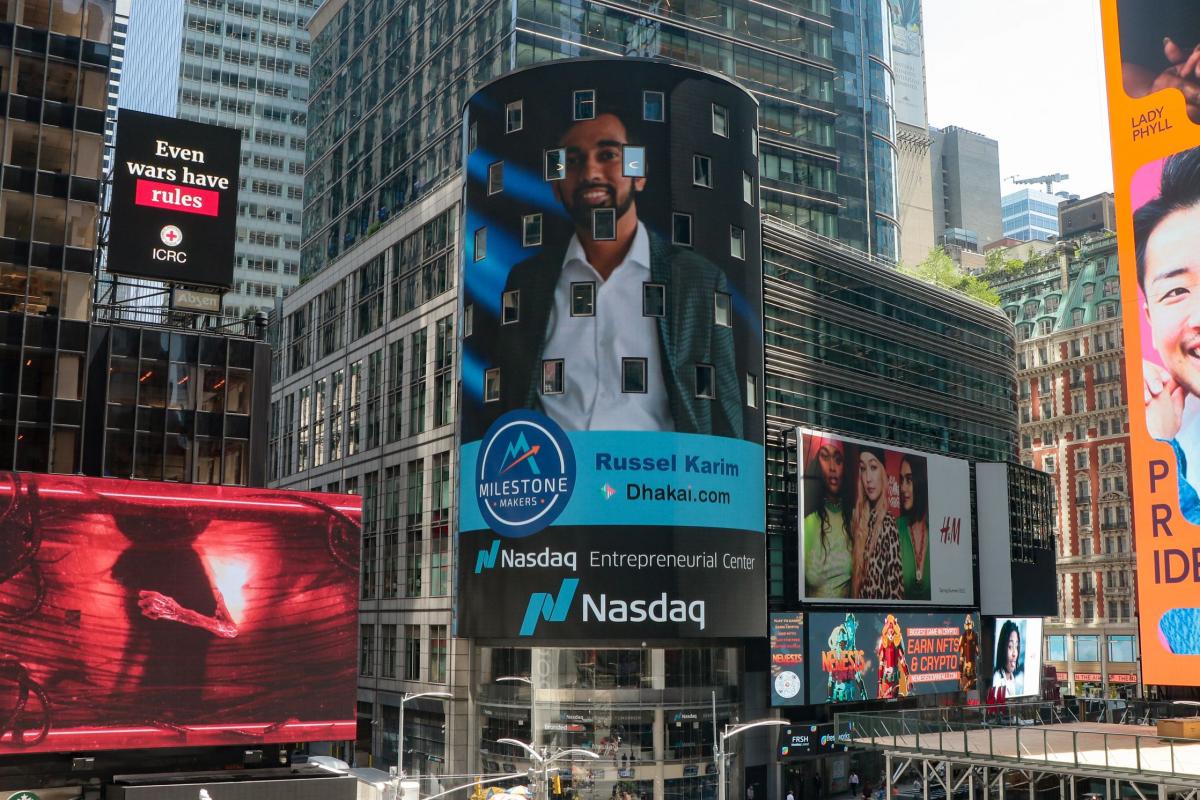 When University of Northern Iowa alumnus Russel Karim saw himself and his business Dhakai featured on the Times Square jumbotron in New York City, he knew he wasn't dreaming. He was accomplishing what he had always believed was possible.
"As entrepreneurs, we always dream big," said Karim, who graduated from UNI in 2015 with a degree in computer science and entrepreneurship. "We take on challenges, and we take risks. That's part of the process. Even while I was at UNI in the John Pappajohn Entrepreneurial Center, I was dreaming big."
The result of Karim's hard work and big dreams is Dhakai, a technology platform that helps small to mid-size clothing brands go from idea to final delivered product ethically, sustainably and cost-effectively. Dhakai and Karim were featured on the jumbotron in recognition of Karim's graduation from Nasdaq Entrepreneurial Center's Milestone Makers, which is a program that provides mentoring and training for a small cohort of entrepreneurs over 12 weeks. Karim, whose business is headquartered in downtown Des Moines, was the first Iowa-based entrepreneur to complete the program since its inception in 2016.
"What we're building at Dhakai is the operating system for clothing brands," said Karim. "A lot of our investors like to call us the 'Shopify' for the clothing supply chain."
Karim's inspiration for the company came from growing up around the clothing supply chain in Bangladesh, specifically in Dhaka, which the name "Dhakai" pays homage to. He said 4.5 million people work in the clothing manufacturing industry in Dhaka alone. Because of the prevalence of the industry, Karim witnessed the difficulties manufacturers had with finding time to engage with brands while running their businesses. 
Once Karim came to the U.S., he started seeing friends who had launched their own clothing brands struggle to find the right manufacturing partners because there were so many middlemen involved in the process. Dhakai was his solution for manufacturers to engage more seamlessly with brands and for brands to find the manufacturer that met all their needs with ease.
"The pandemic really showed us that the supply chain is broken right now in this world, and I think that's exactly why we need more transparency and data on each part of the supply chain," Karim explained. 
Dhakai's first client was Erica Cole, the founder of No Limbits, an adaptive denim brand for amputees, who was featured on "Shark Tank" this spring. Through the Dhakai platform, Cole could access hundreds of verified and compliant factories, see their products and showroom and take virtual factory tours. She was able to order a sample and take it to Kickstarter to raise funds. Those samples Dhakai helped produce ended up helping her make a deal on "Shark Tank" with Mark Cuban and Emma Grede.
Now, Dhakai does the majority of the production for No Limbits and is helping the business grow.
"This is exactly why we've built Dhakai," said Karim. "We're ready to change thousands of brand owners' lives and enable anybody and everybody to bring their vision to life."
Currently, Dhakai is working with more than 45 brands. They have 9 employees in the U.S. and 10 in Bangladesh. Because the team is split between two countries, Karim typically starts his day at 9 a.m. with his U.S. team and ends it with virtual meetings between 10 p.m. and midnight with the Bangladesh team. 
"I think the best part of being a CEO is being able to create employment and jobs. Not everybody gets to create jobs and livelihood for others and their families," said Karim. "My goal is to eventually create 1,000 jobs."
Karim's entrepreneurial roots can be traced to his family. His first business venture was selling candy on the playground as a child, but his entrepreneurial journey truly took flight in college at UNI. 
After applying to 17 colleges around the globe, Karim chose UNI in part because of his positive experience meeting Director of International Recruitment and Admissions Kristi Marchesani at a recruitment fair in Dhaka.
"Kristi is an amazing person," Karim said. "She was so caring and really did her due diligence in terms of helping me look into scholarships, opportunities in Cedar Falls and opportunities on campus. She really helped me through this journey."
Having grown up in one of the world's most densely populated cities, the smaller size of Cedar Falls and UNI was also attractive to him.
"I wanted to go somewhere outside of my comfort zone," he said. "I had never been to a small town in the U.S., and I wanted to experience something different."
While Karim thought about becoming an attorney for a while, he ultimately decided that computer science would be the best fit. He was drawn to the field partly because of the promising job opportunities that would await him once he graduated.
During his sophomore year, Karim got involved with the John Pappajohn Entrepreneurial Center (JPEC), which provides numerous services for student entrepreneurs and community business owners. The JPEC provided him with a strong foundation of business knowledge in everything from how to pitch to potential investors to how to hire the right team members. He held an office in the JPEC to explore his many business endeavors from his sophomore year until the time he graduated. 
In this office, Karim put his computer science and business knowledge to good use, building several apps, including one to deliver concessions food to consumers in stadium settings and another to help UNI students complete the Traditions Challenge, among others.
"I utilized pretty much every single resource that UNI had to offer," said Karim. "UNI helped me build a strong foundation for my career and my entrepreneurial journey. That wasn't just the John Pappajohn Entrepreneurial Center, but it was all the resources I utilized."
Indeed, Karim's student experience was packed between the JPEC, being involved with Northern Iowa Student Government, working as a student teaching assistant, studying computer science, working in UNI's IT department and participating in lots of activities with his fellow international students.
Upon graduation, Karim worked in UNI's IT department for five years. He even utilized students in UNI's textiles and apparel program to start doing market research for Dhakai in 2020 before launching the business in 2021. 
"I'm very thankful and grateful for the opportunity and all the resources that UNI has provided me with," he said. "Without the support of Kristi Marchesani, Laurie Watje, Patrick Luensmann, Bart Schmitz, Randy Pilkington, the JPEC, Mike Holmes, Kevan Forest and UNI IT, I wouldn't be where I am today. I'm thankful for their support and UNI's support and the experience that I had."