Alumni
Speech pathology alum's work with cancer patients wins national award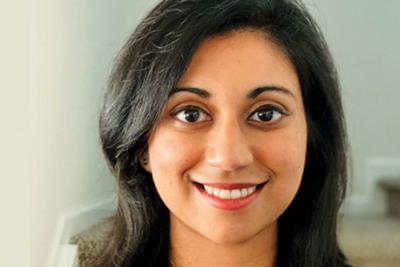 A University of Northern Iowa graduate is the sole winner of a prestigious national award for the groundbreaking development of novel clinical programs to improve speech outcomes in patients with head and neck cancer.
Now a third-year doctoral student and practicing speech pathologist at The Ohio State University Wexner Medical Center, Veena Kallambettu was recently honored with the Louis M. DiCarlo Award for Recent Clinical Achievement, which recognizes a recipient in the field of Communication Sciences and Disorders each year in the U.S. who has "worked toward advancing knowledge in clinical practice … in audiology and/or speech-language pathology."
"It's pretty clear that Veena is a talented clinician and researcher in the field of speech pathology," said Lauren Nelson, head of the UNI Department of Communication Sciences & Disorders. "This is a very prestigious award that is only given nationally, once a year to a speech language pathologist or audiologist that has made a specific and significant contribution within their field that advances our profession in some way."
Kallambettu, who was picked among the top candidates from across the country, was recognized for designing two programs to measure the post-surgery speech rehabilitation for patients with head and neck cancer. She said UNI helped set her on the path to success.
"Studying at UNI was single-handedly one of my best learning experiences," she said. "The mentorship is so personalized to your needs and I was able to build close relationships with a lot of my professors. Every faculty member was really focused on helping me towards this goal, and I was always a part of, from the day I walked through those doors, and you know, they set me up very well for success."
Kallambettu graduated from UNI in 2013 with a Master of Arts in speech language pathology, and credits her former professors — particularly Associate Professor Todd Bohnekamp, and Professor Angela Burda, both of the Communication Sciences & Disorders department — for making her the medical speech pathologist she is today. The two helped her land a very competitive clinical fellowship at University of Iowa Hospitals and Clinics after she graduated from UNI.
"I definitely did not believe I would be here if it wasn't for them," Kallambettu said.
The project that garnered Kallambettu's recent recognition was sparked about eight years ago. Much of her work is focused on rehabilitating head and neck cancer patients who are having difficulty with swallowing — the action of swallowing utilizes the same structures, muscles and part of the brain that are used for speech — and Kallambettu said she realized that there was no standardized way to measure the effectiveness of speech rehabilitative practices in that field.
"I essentially created a whole program to assess speech intelligibility for head and neck cancer (patients) at my institution, which is The Ohio State University," she said. "And this (methodology) was found to be a really objective and effective way to assess patient outcomes and is now used as part of the Enhanced Recovery After Surgery protocol that they have at the institution."
Most cancer treatments involve some sort of surgery to remove the cancerous tissues, Kallambettu said, and in the case of head and neck cancer patients, that could mean removal of a part of the tongue, lips or structures within the throat. And, though there are procedures to reconstruct the damaged areas, the treatments can catastrophically affect someone's ability to speak or swallow.
"It can lead to slurred speech or mispronunciations of words, which can affect a person's overall intelligibility, and for some that can be devastating to a person's career," she said. "And, when it comes to swallowing — putting food in your mouth and moving food around your mouth and from your mouth to your throat — if you can't swallow the food or liquid in your mouth, that can lead to choking, so there is a lot of retraining the body on how to do these maneuvers."
Before developing her assessment methodologies, Kallambettu said the assessments were mainly subjective, which was problematic in measuring a patient's actual progress.
"Prior to creating these programs, assessing outcomes was heavily reliant on whether the clinician thought the patient sounded better, instead of having a good way to measure if there are actual improvements," she said. "There weren't really any measurements taken before treatments to establish a baseline that we want to work towards in the rehabilitation phase."
Measurements, Kallambettu said, could include tongue strength and range of motion or recording a speech sample and having it assessed by an independent listener. "Having pre-treatment measurements like that would mean we have a baseline that we can look at and say 'well your tongue strength was X before treatment' and we can try to implement rehabilitation methods to try and get patients at least close to that pre-treatment measurement."
Kallambettu's research will prove valuable to the future of the speech-language pathology field, and will likely benefit the patients as well as improve the future of patient care, said Nelson, department head of the communication sciences and disorders department.
"It takes a certain sort of person to fully realize their potential and she clearly is exceptional  and has this mindset of addressing the problem by conducting the research and developing a solution," Nelson said. "Not every person would approach it that way."
"I also believe Veena's accomplishments speak volumes about the education she received here at the University of Northern Iowa," Nelson added. "Our program graduates are among the best of the best nationally, and like Veena, they are doing great work that will likely advance our field and bring improved treatments and benefits to the patients we serve."