Arts & Design
Apocalyptic romance "Day Zero," debuts April 21, 2022 at UNI Interpreters Theatre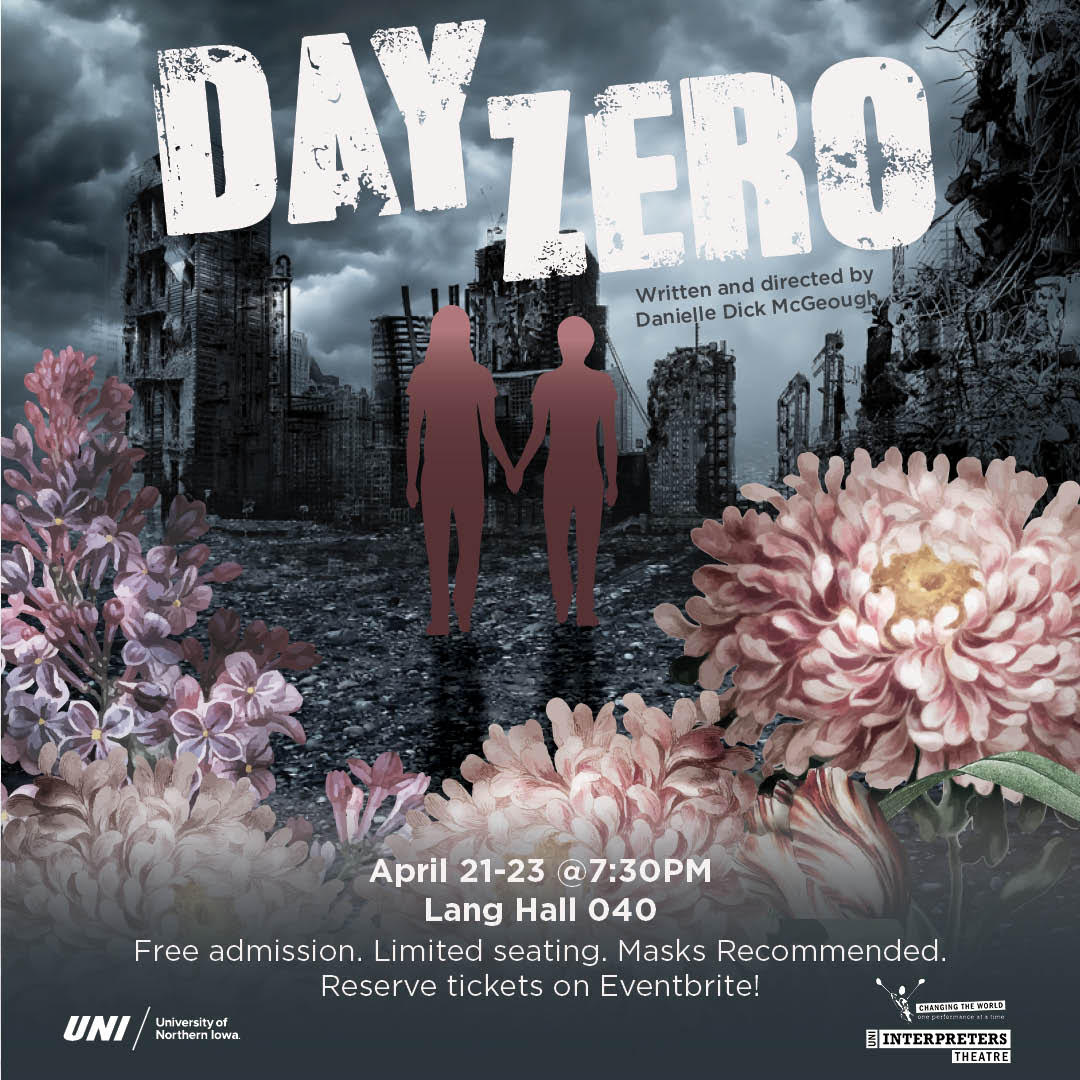 Cedar Falls - "Day Zero" debuts at 7:30 p.m. on April 21, and runs through April 23, at the University of Northern Iowa's Interpreters Theatre, located in Lang Hall Room 040.
The show is free, and tickets can be reserved on Eventbrite.
"I have always been interested in exploring how people can use performance to engage in ethical and equitable problem solving and community building," said writer and director Danielle Dick McGeough—a Communication and Media professor at UNI. "Performance invites people to consider social issues from a different perspective than typical discourse on complex and controversial subjects. I hope that 'Day Zero' sparks conversations about the ethics of help, the state of the planet, and invites people to consider how to navigate challenges ethically, empathetically, and with care for others and the planet."
Inspired by true stories from Flint, Michigan, and Cape Town, South Africa, "Day Zero" is an apocalyptic romance detailing the lives of two teenagers living in the city of Fen as they count down to "Day Zero," the day water runs out.
The story explores a variety of themes, including climate change, the obliteration of natural resources and queer romance as the two main characters—Darya and Kai—meet, fall in love and attempt to navigate  familial relationships, privilege and the ethics of help all while living with  the effects of pollution and climate catastrophe and devising a plot to stave off Day Zero.
Like with any performance from UNI Interpreters Theatre, the production is not only meant to be entertaining but also educational, helping the audience understand social and cultural issues through powerful storytelling.
Written with the help of her students and directed by Communication and Media professor Dr. Danielle Dick McGeough, this 60-minute performance experience—performed by students— invites all Iowans to the UNI's Interpreters Theatre performance laboratory.
"I love writing with my students," she said. "They are so imaginative and creative. Students increase their investment in a performance when they've written the script as well as helped take it from page to stage."
"Day Zero" will be the Interpreters Theatre's final show for the spring 2022 season.
Funding provided by the Department of Communication and Media and the College of Humanities, Arts and Sciences.
The Interpreters Theatre performance laboratory embraces inclusivity and equity in our productions, and roles are available for any person and ability.
Contact:
Danielle Dick McGeough, director of "Day Zero," 319-273-2048, danielle.mcgeough@uni.edu.