Arts & Design
Meskwaki students get hands-on art experience with UNI's Public Art Incubator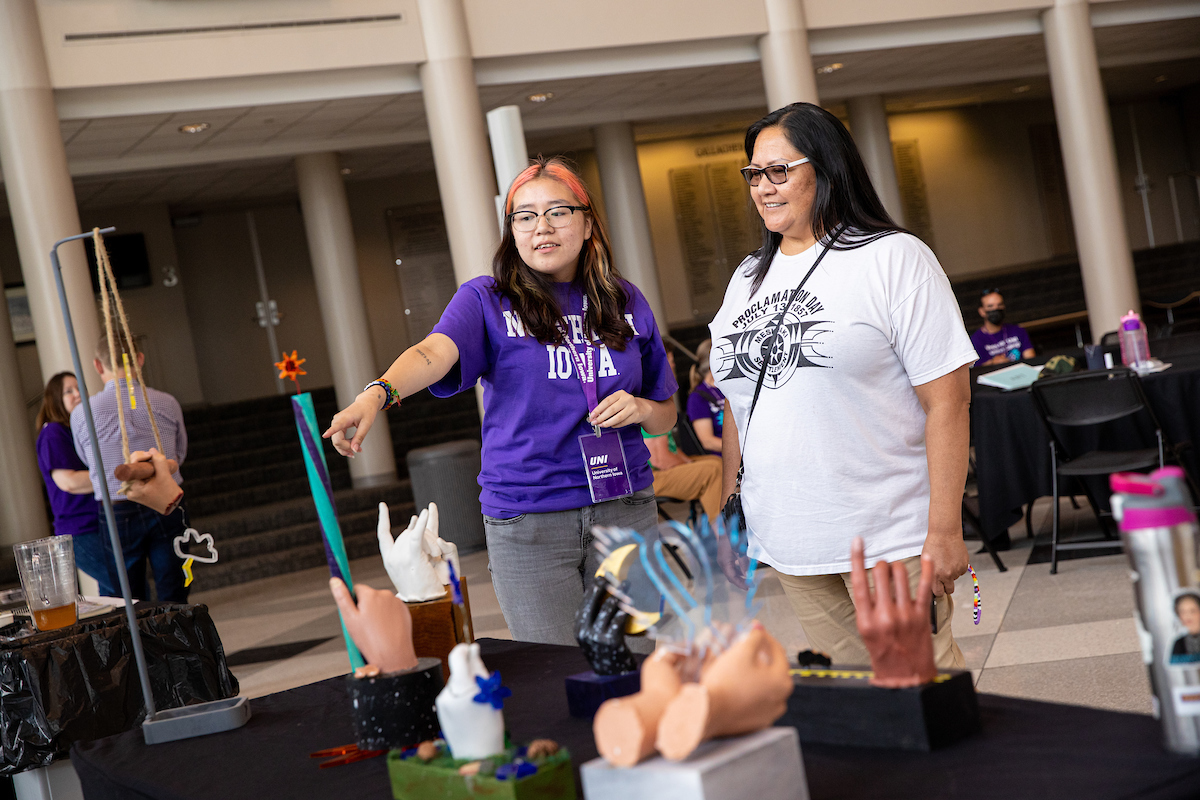 During a recent five-day summer camp at the University of Northern Iowa, a group of eighth- through 12th-grade students from the Meskwaki Nation had the chance to take part in a unique workshop in the UNI Department of Art.
Through the workshop, students utilized the UNI Public Art Incubator to craft their own sculptures from the ground up — exploring what it's like to study and create art and even gaining insight into art as a career.
The summer camp is part of a broader partnership between UNI and the Meskwaki Nation. One aspect of this partnership is addressing the different needs of the Meskwaki Nation, such as their desire for more college and career readiness programs for their youth. 
The workshop was led by Wendy Miller, an associate professor of art education at UNI, and Dan Perry, the coordinator for the UNI Public Art Incubator. 
"I really wanted to utilize some of the great facilities we have in our art department," said Miller. "So I asked Dan Perry if he wanted to work with us to give the students an opportunity to see art beyond the typical drawing and painting, and we could be right there in the building during the summer when the Public Art Incubator is really buzzing."
The sculpture project the students took on was meant to tell a story about themselves using three main components.
First, they sketched their designs. Then, students cast molds of their hands and selected an icon or image of significance to pair with their hand sculptures. Lastly, they selected a piece of wood to serve as the base for their sculpture. Once everything was assembled, some students also chose to paint their hand replicas.
"We wanted the students to get a taste of what it would be like if they took a sculpture class, but then we also were trying to make connections to laser cutting and mold making and woodwork, which are all things that they could be doing in their future careers," said Miller.
"Ultimately our goal was to have them create artwork that represented some facet of their identity that they can share with their community and tell a little bit more about themselves," Perry explained.
The students each wrote a short artist statement to accompany their artworks, describing their sculptures and what they wanted others to learn about them through their artwork. Students shared these statements in a presentation on the final day of the camp when their families came for the open house portion of the week.
"They got to see how all of these things came together to create one visual representation of a story," said Miller. "I think they all learned a little bit about each other, too. Some of them knew each other before camp, and some of them didn't know each other. I think it gave them a great opportunity to hear each other's stories."
The educational experience for students went beyond their sculpture work. Students got to learn about public art and the art incubator and take a tour of campus to learn about the various art pieces.
"I think they enjoyed being on a college campus, just to see what it's like," said Perry. "By the end of the week, I think they felt pretty comfortable."
"I think it's a great opportunity for Meskwaki students to come to campus and see that there's a place for them here — to see things that they are interested in and things that they are excited to explore," said Miller. "I really think that having the opportunity to be on campus in the summer, when there's not a lot of students to navigate and they're welcomed into every building and meeting faculty, just takes away a little bit of that intimidation that college can have."