Arts & Design
Voice professor's opera skills draw praise from the Grammys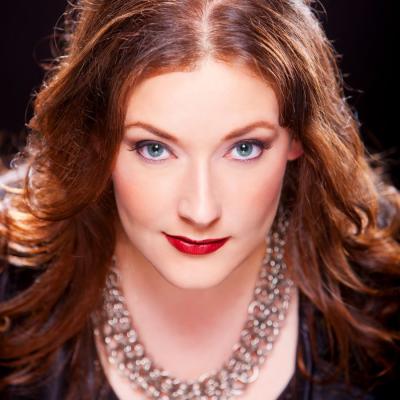 Before Suzanne Hendrix-Case began performing with some of the world's best opera companies, she was an aspiring music teacher growing up in Charles City. 
At the University of Northern Iowa, she achieved that dream and more, becoming a teacher, renowned mezzo-soprano singer and UNI professor. Now she's added another accolade to her resume: Grammy-nominated singer. 
Hendrix-Case, 42, is among the Metropolitan Opera cast nominated for Best Opera Recording for their 2019 performance of Philip Glass' "Akhnaten." She sang the role of Sotopenre, one of the protagonist's six daughters, in the challenging opera, which is sung mostly in Egyptian. 
The COVID-delayed Grammy awards ceremony will take place on April 3. This won't be the first time the talent coming from UNI's voice program will be recognized on music's biggest night. Hendrix-Case joins the ranks of mezzo-soprano Renée Rapier and tenor Anthony McGlaun who are both Grammy-winning alumni.
"When I'm out in the field singing and I tell people I teach at UNI, their reaction is always, 'There are a lot of good singers that come from that school'," said Hendrix-Case. "It's kind of weird because it's such a small school, but we've got a lot of people singing at major international houses with people from prestigious schools and singing circles around them."
Hendrix-Case got her undergraduate degree from UNI in music education in 2001. After teaching elementary students for a year, she realized teaching wasn't for her. So she went back to UNI, thinking she would get her master's in music history, but ending up with a master's in voice instead. It was in grad school that Hendrix-Case discovered she had the talents to perform at the highest level.
"As it turned out, I had more of a singing voice than I anticipated," she said. "Singing is significantly more technical than I think people realize, which is why I could come in not sounding that amazing. But I had a good teacher. When you have a teacher with good ears, they can turn someone who doesn't have much of a voice into a pretty good singer if they want it. They have to want it."
For Hendrix-Case, one of the teachers who had the most transformative impact was Jean McDonald who she studied voice under during both her undergraduate and graduate student years.
"It is a joy and privilege to count Suzanne no longer as a student but as a colleague," McDonald said. "While it is a treat for all of us to celebrate her thrilling professional success, it is an even greater luxury for our students to witness her accessibility, humility, humor and unswerving dedication to the educational values that led to her success."
Hendrix-Case developed a love for music at an early age. As an elementary school student, the Grammy nominee thought she might become a band teacher, but with time, she realized she preferred to spend hours on end practicing vocal technique rather than French horn.
She got her first taste of classical music when her parents started playing it in the car because they had determined it was the only genre that wouldn't offend anyone. Classical music was the compromise, Hendrix-Case said, since she wanted to listen to rock, her dad wanted country and her mom wanted Broadway songs. 
These car rides exposed her to Wynton Marsalis, a trumpeter who is known for his jazz and classical music, and through Marsalis, the opera singer Kathleen Battle who released an album with Marsalis in 1992. Around the age of 14, Hendrix-Case watched a documentary about the making of this album, causing her to realize for the first time that singing was an actual career option. Little did she know that years later her own career would be marked by singing at some of the world's greatest opera houses including Vienna State Opera and the San Francisco Opera.
While Hendrix-Case got her first opera roles when she was in the UNI master's program, her career as a professional performer truly started after earning her Doctorate of Musical Arts at the University of Missouri Kansas City Conservatory.
"I did some auditions to get some experience singing professionally before I became a professor, and things just kind of took off," Hendrix-Case explained. "Then it turned into an actual career for about a decade."
Hendrix-Case started teaching at UNI in the fall of 2019. Before that, she taught at Morningside University in Sioux City for three years. Choosing to come back to UNI, this time as a professor, was an easy choice. 
"What the voice faculty does here is special," she explained. "At lots of schools, they attract good students who have nice voices, and they polish them. Here at UNI, every single one of my colleagues has really good ears, and they can take somebody who doesn't seem that impressive and actually teach them to sing."
Just a month into that semester, Hendrix-Case left for New York City to perform in "Akhnaten." According to her own summary, the opera goes through three portions of the life of Egyptian Pharoh Akhnaten who was the first historical figure to introduce monotheism. 
Making her Metropolitan Opera debut in "Akhnaten" was especially meaningful to Hendrix-Case since she did her doctoral research on the composer Philip Glass. That 2019 performance was also the Metropolitan Opera's debut of "Akhnaten." 
According to Hendrix-Case, the opera is challenging for a variety of reasons, including the fact that there is only one vocal solo in English. Some songs don't have lyrics at all but are sung using the vowel "ah." All of this complicates the memorization process. Hendrix-Case also said there is very little narrative context.
Between the musical challenges of "Akhnaten," the jugglers from France that play a part in the show and the costumes that include a blue dreadlock wig connecting the sister characters via a back harness, it's easy to see why Hendrix-Case described the show as "wild."
"It's Cirque du Soleil meets opera," she said.
As far as career highlights go, Hendrix-Case said making her debut in the Metropolitan Opera is currently at the very top of the list. Right behind it is the Grammy nomination.
"Not everyone understands opera," Hendrix-Case said. "Some people may have heard of the Metropolitan Opera—but pretty much everyone knows the Grammys which is what makes this especially exciting."
While a major achievement, Hendrix-Case said hearing about the nomination for the first time was free of fanfare. 
"I found out on Facebook like everybody else."
If the "Akhnaten" recording wins, Hendrix-Case will get a certificate which she joked she will hang in a light-up frame. She plans to watch the Grammy Awards Ceremony on TV from her home in Waterloo while exchanging texts with her cast members in a group chat.