A UNI professor has helped shine a spotlight on an important Black voice in Chicago history. Ada S. McKinley was a Black educator who founded a settlement house in 1919 to help veterans returning from World War I and homeless families migrating from the South. Her work was continued by others and today the Ada S. McKinley Community Services helps more than 7,000 people a year in Illinois, Indiana and Wisconsin. 
Her place in history has largely gone unnoticed, but Rodney Dieser is working to change that. The UNI professor of Health, Recreation and Community Services recently published a paper on McKinley with KangJae "Jerry" Lee, an assistant professor of parks, recreation and tourism management at North Carolina State University. The paper was named Best Research Paper for 2020 by The Academy of Leisure Sciences.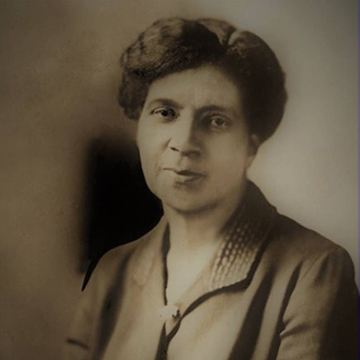 Settlement houses were community centers where working-class "settlement workers" would live and work. They aimed to promote social interconnectedness and reduce poverty in low-income areas. According to Dieser, they could be considered early community recreation centers, which are a main focus of his research as a leisure studies scholar. (Leisure studies is a form of social science that examines leisure, sports and recreation.)
In addition to establishing South Side Settlement House, McKinley also worked closely with well-known settlement activist Jane Addams to help promote interracial solidarity. Unfortunately, her work hasn't received as much attention as Addams' but Dieser hopes to change that.
"This Ada McKinley project, it's not about Dr. Lee's voice or my voice, it's really about trying to amplify the voice of Ada McKinley. That's what this is all about," said Dieser. "At the end of the day, if there's one thing I hope all of the research I do does, I hope it gives voice to diversity, and to people who are marginalized and forgotten."
Here, Dieser speaks to InsideUNI about his decades-long research on diversity and leisure, this project and its implications, and his vision for the future.
What are some of your research interests? How did they lead to this project on McKinley?
Of the over 100 articles I have published, probably about 70% of my writing is on the issue of diversity. Leisure for people from different ethnic backgrounds, leisure for people with disabilities, leisure for people with mental health struggles, leisure, from a different socioeconomic status, people who are poor, struggling. This latest project with Ada Sophia McKinley, it's just part of the research agenda that I've been doing for 20 years.
How did you get involved in this project?
I was reading about Jane Addams, who is considered the mother of social work, and also parks and recreation and youth services. She created one of the first playgrounds in America. She purchased the house of Charles Hull in Chicago — Hull House — and in essence she opened up a community recreation center. I wrote a couple of articles on Jane Addams and Hull House. Then I came across this tiny little article. It had Jane Addams holding locking arms with Ada McKinley. I didn't even know who an Ada Sophia McKinley even was. So I started researching a little bit. I presented at the 2017 Canadian Congress on Leisure Research and I had one slide on Ada McKinley, because that's all I knew. After I was done presenting, a professor from North Carolina State University, Dr. Jerry Lee, came up to me and said, 'Ronnie, I was really intrigued by Ada McKinley … if I'm willing to take the lead, would you be willing to work together?' 
What was the settlement house movement and how does it relate to your work and research?
Ada McKinley, as Jane Addams, they tried to use leisure services and play — play for children, recreation for adolescence and so forth — to build cross cultural bridges. And today, there's an actual theory called contact theory. The general thinking is when you can get people from different elements of diversity together, when they are working together on something, that has benefits. The settlement houses all in general, that's one of the things historically they did well, is they brought in people that could work together. That history really paves the path in front of us, for lessons learned in the profession of leisure services. I think leisure services have a really important place in society, of getting people to recognize the stereotypes that we have and ... work together to realize that in "the other," there are some differences, but there's also some similarities in there, too.
What implications does this have for today, especially during a time when our country is making more efforts to confront racism?
What Ada McKinley did with Jane Addams, I think draws great parallels to right now. We have to acknowledge there's race issues. White people, I think, need to spend a lot more time reflecting and listening. To me, that's what that whole story of Jane Addams and Ada McKinley did — they worked in partnership at a time that was really violent. The 1919 Chicago Race Riot was deadly. And we've seen this in the last four years or so — you're seeing, very similar to what happened to the race riots, an African American person getting killed at the hands of white people. We're in a pretty bad place in America right now. So I think those are parallels and it shows that we can work together, but I do think the onus is more on white people to pause and understand. Gain some empathy. Listen to the stories, know your history and try to be reflective.
What are your plans for future research? 
I will continue to write on therapeutic recreation and diversity. With the social settlement houses, the plan is for us to find more social settlement houses that had a diversity perspective. I find it hard to believe that there's only one Ada McKinley, so we need to go out and find these counter narratives that are there. This is connected to a broader project and a book that I just finished writing that's supposed to come out this summer with Dr. Ken Mobily from the University of Iowa. It's called "Recreation, Underground and Hidden Histories." There's so much writing about how Jane Addams created this playground that was wonderful, but few people know that Jane Addams tore down tenement houses and basically created homelessness amongst immigrant people to build that playground. Each chapter has historical research of those sort of the hidden or ugly parts of the leisure professional. It's not to discredit Jane Addams. It's to tell the truth. It's to tell multiple historical narratives — and that's what I believe the truth is. I don't believe there's one single history. I think there's multiple narratives and counter narratives, and they all need to be shared.