Business
Leah Stoeger came to the United States to attend UNI – and she stayed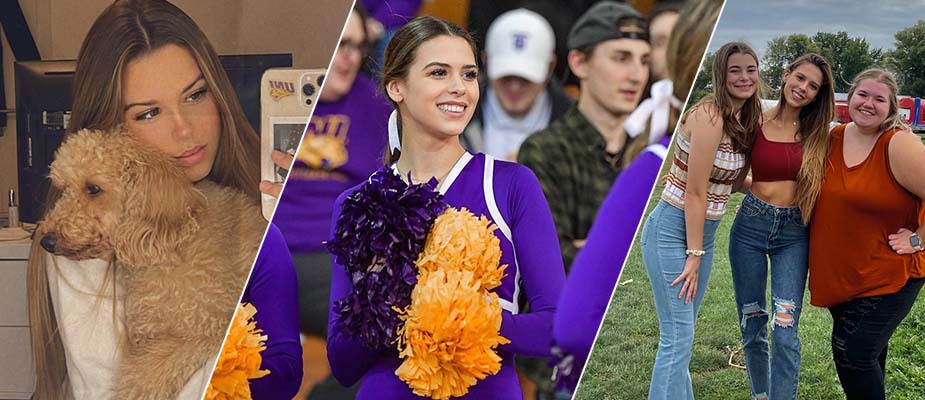 Leah Stoeger (Business Administration, '23) has claim to a pretty cool milestone. The first time she visited the United States was to attend the College of Business as part of an exchange program. She liked it so much, she decided to stay as a full-time student, now in her second semester in Cedar Falls.
Stoeger grew up in Vienna, Austria, and had dreams to attend college in the United States or Spain. But the pandemic put a halt to those plans. When Stoeger graduated high school in the summer of 2020, she decided to enroll at a college in nearby Krems. She intended to study the business of tourism and leisure management but was mistakenly placed in export-oriented management. She liked it so much she decided to stick with it.
In 2021, Stoeger signed up for an exchange program through one of her college's sister universities and selected UNI as her No. 1 choice. In August, she arrived and instantly fell in love with the Iowa scenery. Living in a big city for much of her life, Stoeger couldn't get enough of the open land, which reminded her of her family's country residence in Austria.
"My mom called me two weeks later and asked, 'Do you just want to stay there and finish your degree? You're already there,'" Stoeger recalls. Stoeger was unsure, but in November 2021 she decided to go for it and was accepted. "My mom was just happy about everything," Stoeger said.
Stoeger said one of her favorite parts of UNI is the personal attention students receive. In Austria, Stoeger felt like a number. That's not the case here, where professors are helpful and classmates are friendly.
Because Stoeger works on a German keyboard, she can run into issues with Blackboard or basic notation. For example, In Europe, it's common to use a comma instead of a period for a decimal number. Many professors have been helpful, giving her advice or even walking her step-by-step on how to work through some issues.
"Here, you're actually a student," Stoeger said. "Most professors know your name. Most professors will talk to you. You can have a normal class, and they'll involve every single person."
One big adjustment was getting used to homework. In Europe, homework isn't a large part of learning like it is in the United States. Stoeger said her roommate had to explain why there were only a few hours of class every day – "It's because you're usually doing homework in the afternoon, which fills out the rest of the day," Stoeger said.
Stoeger said the past several months have been a crazy experience, but she can't be happier to be in a place she knows she's valued and can take her learning to the next level.
"Professors and classmates are understanding and helpful," Stoeger said. "When I was accepted [as a full-time student], I was like, 'Oh, I guess I'll be finishing my studies here.' But I couldn't be happier."