Business
UNI's Business and Community Services Center to attend the 2022 Foundry Industry 4.0 Conference in Illinois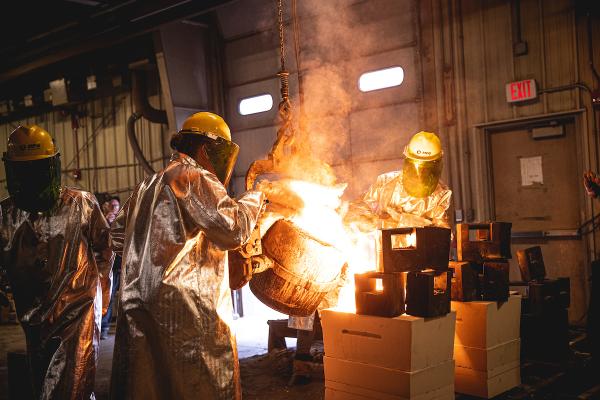 Cedar Falls, Iowa – The University of Northern Iowa Business and Community Services Center will be attending the 2022 Foundry Industry 4.0 Conference where metal casters can explore practical ways to implement Industry 4.0 technologies in their foundries. 
The event will take place July 26 and 27 at Eaglewood Resort & Spa in Itasca, IL, and will feature a broad range of expert speakers and professionals from foundries, suppliers, universities and manufacturing institutes.
Presented by the American Foundry Society, the conference aims to give foundry professionals applicable tools for using or improving digital manufacturing processes in their facilities, ranging from automation and robotics to artificial intelligence and digital twins. Special emphasis will be placed on real-life examples of foundries, large and small, which have successfully used these technologies.
Conference-goers are invited to stop by and visit the Business and Community Services Center booth and discover the advantages of Industry 4.0. 
Overview
Industry 4.0 is no longer just about the future. Smart, proactive manufacturers are using innovation and technology to improve productivity, profitability, and worker safety. Evaluating and implementing technology today is the key to remaining competitive and sustainable for tomorrow. 
That's why UNI partnered with Youngstown State University and the National Center for Defense Manufacturing and Machining earlier this year to leverage $10 million in first-year funding toward increasing the number of small-to-midsize enterprises using advanced technologies, bolster critical areas of the defense manufacturing supply chain and create jobs. The partnership, which was announced in April, aims to provide American-based foundries with the competitive lead in technology while optimizing productivity output and product quality, catapulting American-based foundries forward.
"The distinctiveness of this project is that it blends training and applied research with personalized assistance to re-skill the existing workforce, prepare the next generation of our state's and nation's workforce and help the company owners create the financial and strategic plan for investing in and managing these technologies," said Andrew Morse, Chief of Staff at UNI. "It will save existing jobs, create new jobs, and help fortify our nation's leading position in the global manufacturing supply chain."
The UNI Business and Community Services Center – Revolutionizing Metal Casting
For years, the Center for Business Growth and Innovation/Advance Iowa has offered a suite of programs and services to businesses of all sizes throughout the Midwest to help eliminate obstacles and create new opportunities for business owners and their employees. 
The Center for Business Growth and Innovation/Advance Iowa is proud to be one of two centers at the University of Northern Iowa that form the Industry 4.0 Foundry Partnership. Together, they share the goal of increasing the employment of innovative Industry 4.0 practices and assisting in the determination of how to best fit Industry 4.0 technologies into the organization's core business operations.  

Contact:
Paul Kinghorn, Director at ADVANCE IOWA & the Center for Business Growth & Innovation Business & Community Services Center, info@advanceiowa.com, (319) 273-4692.
Jerry Thiel, Director of the Metal Casting Center, Foundry 4.0 Center, (319) 273-7085.

MEDIA CONTACT
Paul Kinghorn | Director at ADVANCE IOWA & the Center for Business Growth & Innovation Business & Community Services Center at UNI