Campus & Community
Alysa Mozak to serve as UNI's new director of the Patricia A. Tomson Center for Violence Prevention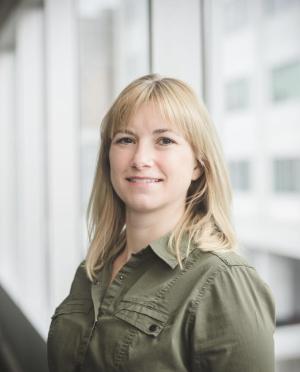 The University of Northern Iowa has selected Alysa Mozak to serve as the new director of the Patricia A. Tomson Center for Violence Prevention (PATCVP), effective Aug. 2022.
In her new role, Mozak will oversee curriculum infusion of bystander education and strategies within pre-service teacher education and social sciences programming, as well as the implementation of Mentors in Violence Prevention (MVP) Strategies training and outreach in and among Iowa's higher education and Pre-K-12 educational systems. Mozak has been using the MVP model for 10 years in secondary and post-secondary environments and is a master trainer.
"We are incredibly lucky to have Alysa join the center, given her extensive background in violence prevention as well as the MVP model," said Brenda Bass, dean of the College of Social and Behavioral Sciences. "Her experience in the nonprofit world will also bring important connections for future partnerships that can build upon the strong foundation already developed in the center's programming with pre-K-12 schools." 
Mozak joins UNI with an extensive professional background as a victim advocate and violence prevention educator in both nonprofit and higher education. She received the Wayne McCracken Memorial Award for Service to Victims in the Community in 2013. Mozak serves on the Iowa Domestic and Sexual Violence Prevention Advisory Council through the Iowa Department of Public Health and was chosen to serve on the Iowa Campus Sexual Assault Prevention Task Force through the Centers for Disease Control in 2015-16, where she helped implement a statewide student campus social justice action retreat. She has spoken at the National Sexual Assault Conference and the National Young Feminist Leadership Conference on campus prevention initiatives. Mozak also chaired the Central/Southern Iowa Private College Prevention Consortium from 2012 to 2016, in which 14 colleges across the state worked on Title IX implementation strategies and climate surveys. She was a co-creator of the reader's theatre play, "Messages: A Lived Experience Play about Sexual and Relationship Violence," and was featured in the documentary "Suffering in Silence."
As a certified sexual health educator, Mozak currently serves as an ambassador for the American Sexual Health Association. From 2017 to 2022, she worked in consulting, training professionals in the medical, educational, nonprofit and business sectors on empathetic leadership, healthy relationships, trauma-informed methods and bystander intervention. In 2021, she was a featured professional speaker for the new United Way initiative "Powered by Purpose" and presented for professional staff and administrators in the nonprofit sector on workplace empathy infusion techniques. In the summer of 2021, she was a lesson contributor for MVP 2.0, a project funded through the Iowa Department of Education and U.S. Department of Justice, on social-emotional learning using violence prevention strategies. She has been an adjunct instructor at Des Moines Area Community College since 2019, where she will continue to teach sociology. 
Mozak received both her bachelor's degree in adult and family services and a Master of Science in Sociology, Women's and Gender Studies and Public Administration from Iowa State University. 
###
Established in 2011, the PATCVP has helped shape the landscape of violence prevention at the state and national level by educating and empowering young people to prevent bullying, gender-based violence and other harmful behaviors. With Mozak, the center will continue to build the capacity of institutions of higher education, K-12 schools, victim service agencies, law enforcement and the criminal justice system to systematically implement best practice violence prevention and evaluation strategies in collaboration with state, family and community partners.
Programs of the PATCVP include Mentors in Violence Prevention (MVP) Strategies, a peer leadership program that empowers "bystanders" who might otherwise be silent observers to situations where bullying and gender violence is unfolding; and Coaching Boys into Men, a national, evidence-based program that instructs and encourages athletic coaches, mentors and teachers to use their influence to build positive character, promote healthy relationships and prevent incidents of sexual and dating violence among secondary school students. 
Contact:
Amanda Jahnke Sauer, Marketing & Communications Manager, College of Social & Behavioral Sciences, 319-273-7197, amanda.jahnkesauer@uni.edu