Community
Answering the call
In the early months of the pandemic, University of Northern Iowa student Hannah Van Theemsche realized it was society's most vulnerable who were most in danger.
So Van Theemsche (pictured standing on the right) designed and built mobile wooden stands stocked with free masks made by a local nonprofit group to help local homeless and underprivileged populations stay safe during the pandemic.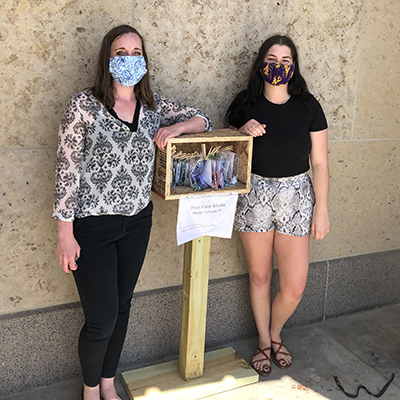 She now has stands located at the Cedar Valley Hospitality House, the House of Hope, the Waterloo Public Library and the Black Hawk-Grundy Mental Health Recovery Center. What started as a graduation project from UNI's Textiles and Apparels program grew to help serve the community.
"I thought it might not just be the homeless who need masks," Van Theemsche said. "I can help a lot more people with this."
Van Theemsche is one of many people throughout the country, including numerous Panthers, to pitch in and manufacture or distribute personal protective equipment (PPE) when it was in short supply in the early months of COVID-19.
Now, a study by a team of sociologists from the University of Northern Iowa and Mississippi State University is looking into the factors that led to this massive communal effort, as they seek to understand why people chose to volunteer their money, fabric, time and skills during a national crisis.
UNI Professor Marybeth Stalp, along with colleagues Braden Leap and Kimberly Kelly of Mississippi State University, set up a qualitative study that started in July using both a survey and phone interviews. So far, the team has spoken with 80 people over the phone and gathered more than 750 responses across 46 states to their survey.
The researchers were interested in how people were responding in real time to the global pandemic, and they're seeing generosity and care for others as prominent findings.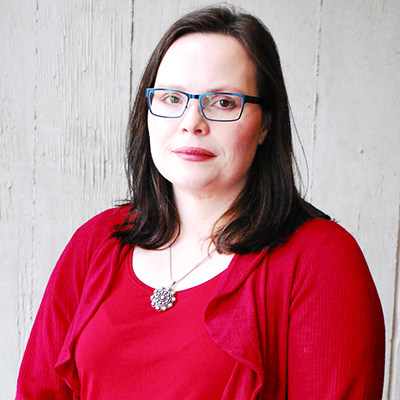 "Quilters, sewists and 3D printer enthusiasts are engaging in care work, but with a twist," Stalp, pictured to the left, said. "They're engaging in care work for themselves by doing something they enjoy, and carework for others as the finished products will help others. Making PPE in these ways provide a sense of control for makers, and also a sense of purpose -- they feel better connecting with others to make more, and to help more people in need."
The study will last through December, but the group is already starting to see trends. They found that women were more likely to be associated with large networks of PPE manufacturers, while men were more likely to work alone. The study has also shown that women are more likely to focus on sewing and distributing cloth masks, hospital gowns, surgical caps and shoe covers, while men are more likely to focus on making ear guards and face shields via 3D printing or use brew kits to make hand sanitizer. 
Most volunteer PPE makers got organized through social media through either local, state or national organizations, and the communal efforts yielded benefits beyond supplying PPE.
"One thing that we have found is that individuals often indicate that they've been able to establish new social connections with other people in their community that they didn't know beforehand, or that they've been able to strengthen ties to friends and family through collective efforts to make and then distribute PPE," Leap said.
The study documented people stepping up to do whatever was needed, even if they didn't know how to sew or use a 3D printer. People ripped the elastic out of their gym clothes, or cut up T-shirts for mask ties, or created spreadsheets to match makers with groups who needed PPE, and to organize completed PPE distributions. At times the sheer scale of some of these efforts was mind-boggling. Multiple groups the researchers spoke with manufactured well over 10,000 pieces of PPE. One group made 60,000 pieces of PPE.
"It's been incredible, and in a lot of ways inspiring, to see what people are able to accomplish," Leap said. "And they are not looking for any kind of glory and not even really looking for thanks. They're just responding to something in their community that they see as important."
UNI was involved in the effort in the early months of the pandemic. Administrators, faculty and students were part of a scaled-up project in April that assembled 10,000 face shields for UnityPoint Health hospitals. Plastic face shields for medical workers were made on 3D printers in UNI's Additive Manufacturing Center (AMC). The chemistry, biology and physics departments collected spare personal protective equipment, donating some 500 items including goggles, face shields and lab coats along with thousands of exam gloves. And theater students and Textiles and Apparels Program students both sewed protective masks for the community.
UNI's effort is one of many examples Stalp and her colleagues heard while speaking with those who came together to provide a service to their community.
"They really are driven to help their communities," Kelly said. "It's not something they get a lot of kudos for. It's not something they're doing for the glory, so to speak. But across the board men and women were saying, 'I saw a need, and I knew I could fill it. So I jumped in.'"
And while much of the attention of PPE manufacturing appeared in the early months of the pandemic, there is still a need for the equipment today.
"Not every organization has the funds to purchase large amounts of PPE," Stalp said. "So what we're seeing is that makers are still producing PPE, and they're distributing it purposely to individuals and groups that they conceptualize as being in need or as being marginalized and unable to acquire PPE through the marketplace."
As the study winds down, the researchers are not only looking to learn why so many people leapt to respond to the PPE shortages, but how that knowledge could impact future challenges.
"It's really important that we understand how people respond to disasters like this," Leap said. "If we have a better idea of how they take place, we could hypothetically facilitate those responses the next time they're needed."