Community
Fighting for Change
Growing up poor as one of nine children in Indianapolis' 64th Street neighborhood, Jamie Chidozie learned young the blunt, destructive force of institutionalized racism. Her father, part of the first generation of Blacks in the U.S. to attend college en masse, earned an accounting degree only to be one of dozens of African-Americans who lost their state jobs soon after in a discriminatory purge, she said.
James Butler spent the rest of his working life doing manual jobs - sometimes three at a time - to help keep a roof over everyone's head, Chidozie said. A class-action lawsuit decades later vindicated him and his colleagues, but far too late to help the family.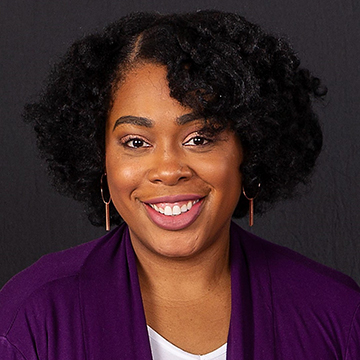 As her father's namesake child, Chidozie has spent her career fighting discrimination in education. At the University of Northern Iowa, where Chidozie is executive director of the Center for Multicultural Education, she now leads a closely watched committee tasked with breaking down barriers to equality. 
The 18-member committee, which recently changed its name to the President's Council on Inclusion, Transformative Social Justice, and Advocacy (the original name was the President's Advisory Council on Diversity, Equity and Inclusion), is expected to release an outline for its scope of work soon. 
Work has also begun on an "organizational inventory" of UNI's strengths and weaknesses on diversity issues. Overall, the committee's work will focus on four areas - UNI's budget, the number of diversity positions on campus, faculty and staff support, and the curriculum across the university, she said. 
Initial recommendations will be issued before the end of the semester. There are plans for an annual report from the committee, which will also launch discussion groups across campus, she said.
"This process is unprecedented," Chidozie said. "We are really turning the lens on ourselves as a university to really delve deep. There has to be visible change. If no one sees it, it's as if it hasn't been done. There has to be a cultural change and a cultural shift." 
Chidozie is also going beyond the committee work to spark more conversations across campus on pressing issues like the operation of campus police departments. That topic is scheduled to be the first in what Chidozie is calling the Purple Couch Series, a set of candid conversations with campus leaders. The first conversation, scheduled for Oct. 21, will be with President Mark A. Nook and UNI Police Chief Helen Haire.
"It's an opportunity for the campus community to engage and hold accountable our institution, to ask those tough questions," said Chidozie, who plans to gather questions from students, faculty and staff. "We're going to get uncomfortable and that's OK."
Nook created the committee, whose members were nominated by the campus' shared governance groups, last year. He meets regularly with Chidozie and said in his fall address to campus that the committee's work is central to UNI's push to become a more welcoming place for everyone. 
"I look forward to their leadership and their guidance on how to move this university forward," Nook said in his fall address. "The question in front of us is as an institution, as divisions in our institution as colleges, departments, programs, as individuals, do we have the courage to take on those barriers, identify those barriers, to see what they are and then seek solutions to remove them from our campus."
Chidozie said one way the committee will help remove barriers is by identifying and elevating the best practices that encourage diversity out of departments to an institutional level. For example, the College of Social and Behavioral Sciences is proposing an innovative approach to hiring faculty that could serve as a model for the rest of campus, she said. The results make campus better for everyone.
"The result of inclusion, of equity and transformative social justice is that it's better for everyone," she said. "Not just people of color, not just women or LGBTQ-identified people."
The committee will be successful by consistently rolling out and being open and transparent about its work. Chidozie, a mother of four boys, said she sees her role as a facilitator.
"I'm stepping up my A-game," she said with a smile. "I'm serving as an alley, an advocate, an activist and an abolitionist. And I move between those four on a daily basis. "This is very people-centered, it's collaborative. It takes understanding, it takes patience. If I did not love UNI, I wouldn't do this. If I didn't love people I wouldn't do this."
"And I approach this with an understanding that it's bigger than me. This is hundreds and hundreds and hundreds of years of inequity and injustice. And so the thought that we could just change it tomorrow - it doesn't make sense."
The goal for the committee is to help spark gradual but consistent change - work that will be done at a granular level across the institution, she said. 
"Policy can't do it alone," Chidozie said. "It has to be manifested by every single individual on campus."