Campus & Community
Presidents' Choice Awards recognize impactful student, community organizations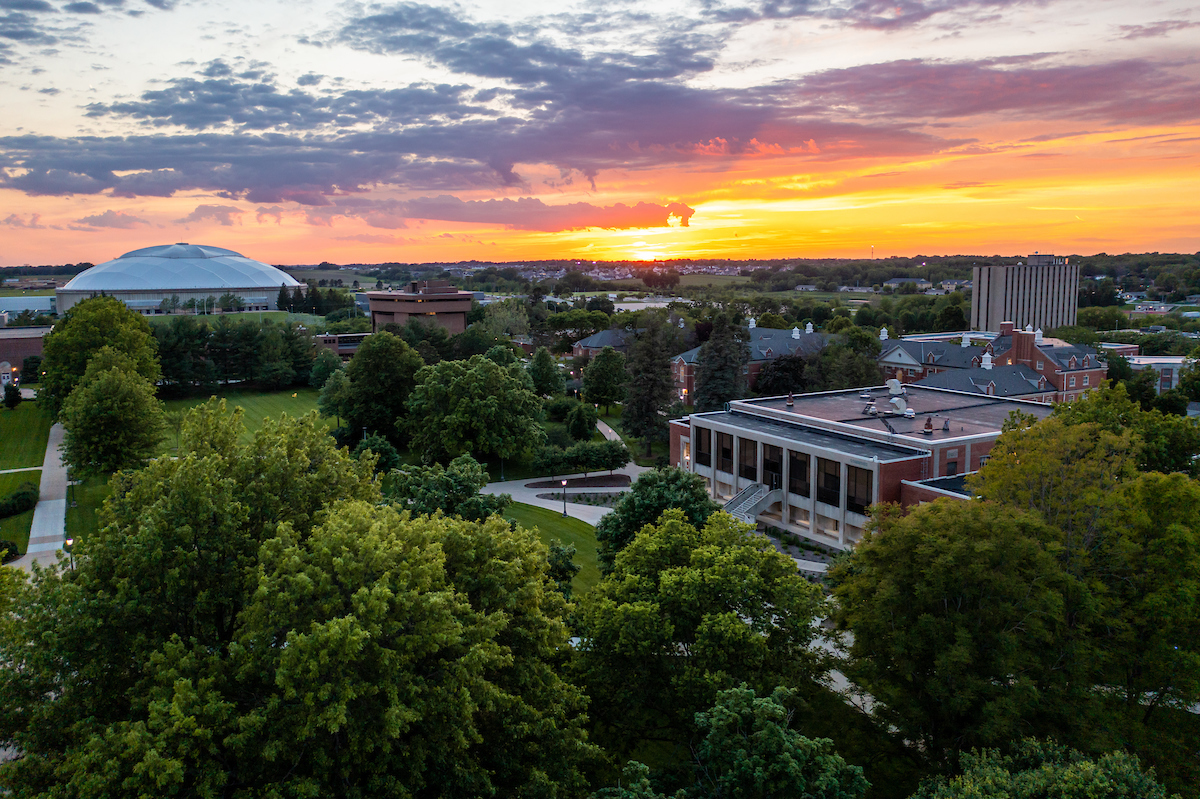 The University of Northern Iowa's Black Student Union (BSU), John Pappajohn Entrepreneurial Center (JPEC) and the local branch of Veridian Credit Union have all recently been recognized for their positive impact on the community through President's Choice awards from the Iowa & Minnesota Campus Compact, an organization composed of college and university presidents throughout Iowa and Minnesota that promotes civic and community engagement. 
Black Student Union — Presidents' Student Leadership Award
The Black Student Union was the recipient of the Presidents' Student Leadership Award, which can go to either a student or a student organization that models a deep commitment to civic responsibility and leadership. Their mission is to keep Black students F.I.R.S.T — an acronym that stands for fellowship of our people, improvement of our character, rejoicing of our culture, spokesperson of our issues and teacher of our heritage.
BSU holds bi-weekly meetings in the Center for Multicultural Education (CME) as a time for fellowship, games and discussion about issues that are relevant to the Black community at UNI or in society as a whole. 
"At a predominately white institution, there are not that many Black faculty and staff," said Yakira Sanders, '19, a UNI alum who served as BSU president while she was a student. "It's important to have a student group like this to voice their concerns to the administration and to also help other Black students feel a sense of belonging when they get to the university."
During Black History Month in February, BSU also puts on several events. While some of the activities are just for fun, others are meant to educate the campus community. This past year was especially big for BSU as they celebrated their 50th anniversary of being on UNI campus. 
"It's a pleasure to be able to be a part of this legacy, and I hope that BSU is around for another 50 years," said Sanders.
John Pappajohn Entrepreneurial Center — Presidents' Civic Engagement Leadership Award
UNI's John Pappajohn Entrepreneurial Center won the Presidents' Civic Engagement Leadership Award for advancing the campus mission. JPEC employees and individuals associated with four entities in the Cedar Valley area came together to form what is now known as the Black Business Entrepreneurial Accelerator (BBEA) in July 2020. Drawing from the expertise of faculty and staff in UNI's College of Business, the JPEC, and Business & Community Services (BCS), the BBEA provides financial resources, business model training, mentorship and scale strategies for Black-owned businesses. BBEA is a program of 24/7 Black Leadership Advancement Consortium (also known as 24/7 BLAC), a local organization dedicated to addressing the race wealth gap in the Cedar Valley, to promote economic opportunity for all. 
For the pilot program, the group of business owners met every Monday night for six months to share stories, information, and successes. At that point, Lindi Roelofse, the T. Wayne Davis Chair in Entrepreneurship at the JPEC, said their focus was on weathering the storm of COVID-19 which was hitting Black-owned businesses especially hard. 
"It is remarkable that now two years later, all of the ventures are still in operation," Roelofse said of the four cohorts. "Not a single one of them has seen a drop in their income. So they all maintained or grew through a pandemic, and about 25 percent of them have had double- or triple-digit growth."
"There have been programs in the Cedar Valley that have attempted to serve the Black business community in the past, but they weren't driven or led by members of the Black community and the programs ultimately didn't work," said Laurie Watje, the director of the UNI JPEC. "What's made the program successful is that it's being led by very strong, influential Black leaders that we can come alongside and support."
Four cohorts — 39 individuals total — have now gone through the BBEA. Aside from the first group, the program participants always meet for 16 weeks. Roelofse said that almost 100% of the entrepreneurs who start the program also successfully complete the program and then come back to support and encourage the next cohort of innovators and entrepreneurs. They also provide opportunities for our entrepreneurial students to explore growth strategy skills via various academic, co-curricular, research and special contractor programs. 
Veridian Credit Union — Presidents' Community Partner Award
Veridian Credit Union won the Presidents' Community Partner Award for the impactful, measurable ways it has enhanced the quality of life for the university and community. Since 2005, Veridian has awarded more than $77,000 to support UNI faculty and staff in their community engagement efforts, inspiring meaningful partnerships between the university and the Cedar Valley. 
"We're fortunate to have so many organizations working together to strengthen our communities here in the Cedar Valley and across Iowa," said Veridian President and CEO Renee Christoffer. "UNI is a consistent leader in those efforts, and we're humbled to receive this recognition."