Campus & Community
UNI's first-ever para-swimming national champion doesn't let losing sight stand in her way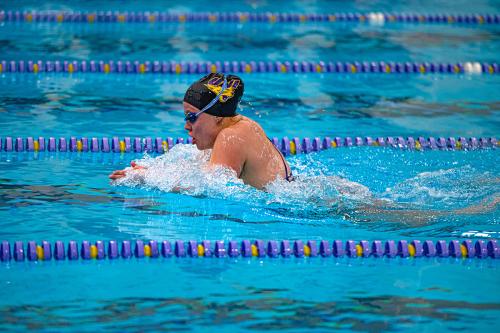 Watching University of Northern Iowa sophomore Olivia Chambers swim, you'd see a skilled student-athlete who competes with confidence and speed, and gives 100% at every meet. 
What you likely wouldn't see is a young woman who suddenly lost her sight, who has faced immense challenges relearning how to live life on land and in the water.
"I had perfect vision up until one day, when I was 16," she said. "I was reading a book and all of a sudden I could not read the words anymore. It was scary because it was so quick and sudden and I didn't know what was happening."
Three years and many doctor appointments later, Chambers still doesn't have a diagnosis.
"Swimming is really what has kept me going. If I didn't have swimming, I don't know what I'd be doing right now," she said. "I've always loved the water —  that's where I've always felt most comfortable — and I'm very competitive and love racing, so that was one thing I wasn't going to let losing my sight stop me from doing."
It's taken a lot of adjustment, help from her coaches and teammates and learning how to re-orient herself in the pool, but losing her sight has not slowed Chambers down. She is still racking up wins more often than not.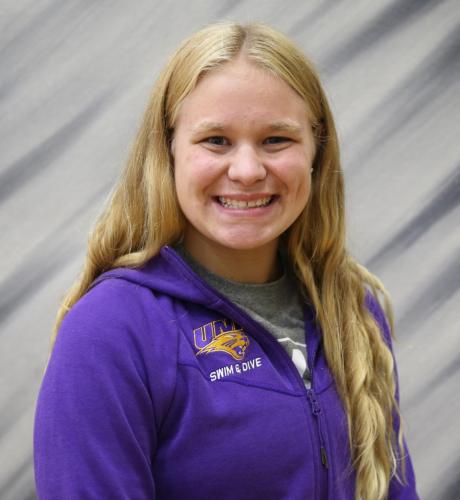 Most recently, Chambers made the 2023 U.S. Paralympics Swimming National Team roster. She's one of two newcomers to the roster from last year.
Olivia landed the spot after winning two gold medals in the United States Paralympic National Championships in North Carolina — making her UNI's first-ever para-swimming national champion — a bronze medal and was named Swimmer of the Meet, having earned the most points of any swimmer at the competition.
"That was really an amazing experience," she said. "When I first started swimming, it was my goal to go to the Olympics. I don't know if that will be in my future, but being able to compete in the Paranationals was a big deal for me, and to do so well was really a boost to my confidence. Plus, I got to meet a bunch of Paralympians and a bunch of big-name swimmers in the para-swimming world and race against them."
With each practice and each meet, Chambers said she continues to learn and improve.
"I think I keep learning how to swim blind," she said. "I keep getting better and better in the pool, and that's really important to me and I am excited to see what I can do as I continue to learn and improve."
When on dry land, Olivia is a double major studying biology and psychology at UNI, where her professors and classmates have gone above and beyond to support her unique needs. She is also learning how to be more self-sufficient.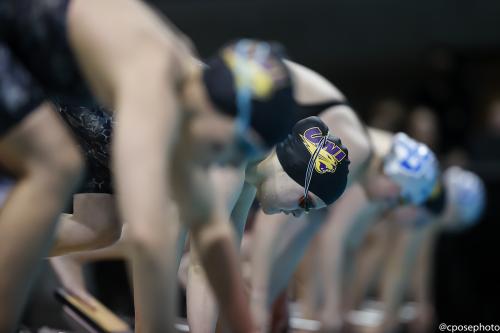 "Learning to live away from home, I wouldn't say has been the easiest thing, but it also hasn't been the hardest thing ever," the Little Rock, Arkansas native said. "It has been a really big change, but I'm also learning a lot and picking up on little things to help me and gain independence, so coming to school here has been a great experience for me."
Over the summer Chambers took a spatial orientation class that included training in safely crossing the street, how to navigate in the city and safely walk from one place to another. She has also picked up some tricks to help her do basic chores, such as using the indicator lights on the washing machine to tell her what cycle she has selected. She is also looking forward to taking a cooking class for the visually impaired.
"Yes, I've lost my sight, but I am learning that I am still able to live independently and I'm still able to figure out how to live on my own," she said. "I still have a lot to learn but I'm not going to let losing my sight keep me from living my life and doing the things I want to do. I can be independent and self-reliant, and that's been a really big lesson for me and it's been especially helpful for my family to see and know that I am doing OK."
That determination has been alive in Olivia long before she lost her sight, but has become even stronger over the past three years.
But Chambers doesn't consider herself to be any stronger than the person next to her. Everyone has their struggles, she said.
"I just say to keep pushing through and in the end, whatever you're struggling with will get better," she said. "You'll learn how to do things you never knew you could do, which can be a really amazing experience. And most importantly, remember to have fun and to do things you love. Life is always going to bring challenges you have to face, but if you have something or someone in life that you love and that brings you joy, that will help you continue on."