Campus & Community
UNI's partnership with Iowa community colleges experiences rapid second-year growth
Since the partnership was first announced in summer of 2022, the UNI at Iowa Community Colleges (UNI@IACC) initiative has grown by 68% in just one year. Rising from 252 students to 423 in fall 2023, these numbers confirm that adult and place-bound learners want more seamless access to four-year degrees. UNI@IACC provides exactly that. 
After completing two years of coursework through an Iowa community college, UNI@IACC students finish online through the University of Northern Iowa, earning a UNI bachelor's degree. Students who meet income and academic eligibility criteria (after completing a FAFSA) automatically receive Future Ready Scholarships, which cover the difference between community college and UNI tuition. Depending on the number of credits they've enrolled, students can earn up to $2,400 per term. 
"The combination of the accessibility and affordability factors make these programs really attractive to busy, working adults, which accounts for a lot of the growth," said Paul Sapp, director of UNI@IACC. "I've spoken to quite a number of students who, during the pandemic, decided they wanted to make some changes - personally and professionally. For many of them, this is that first step."
The UNI@IACC partnership stretches across all colleges within UNI. Students can complete one of 11 different in-demand career pathways, including elementary education, accounting, business administration, technology management, human services and criminology/criminal justice.
Due to increased demand, the 2+2 Elementary Education Bachelor of Arts, which has existed for several decades and falls under the UNI@IACC umbrella, now begins a new cohort every summer as opposed to every other summer. There are currently 149 students enrolled in the program, the largest number in the program's history.
Although UNI@IACC applies to all Iowa community colleges, some partnerships are more formally aligned, with UNI student success specialists housed directly on their campuses. This is true of UNI's partnership with Des Moines Area Community College (UNI@DMACC). UNI@DMACC enrollment has increased by 56% since last year, from 91 to 142 students. This partnership is at the heart of two new UNI@IACC programs. Launched this fall, UNI's innovative hybrid accounting program allows students with a Business Transfer AA or the Accounting Specialist AAS to take a mix of online and face-to-face courses at DMACC's Urban campus. More than a dozen students enrolled in the program, 30% higher than targeted for the inaugural semester.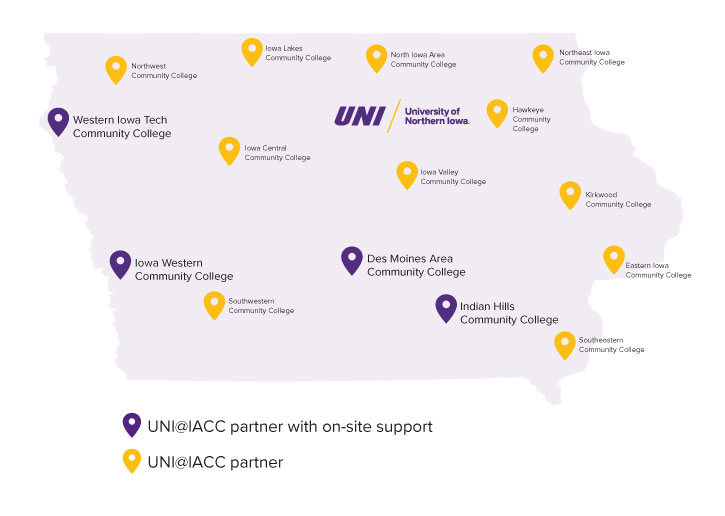 "We're very happy with the launch, and student feedback has been positive," said Joe Ugrin, head of the Department of Accounting. "The program is a great fit for anyone aiming to finish their accounting degree or add an accounting degree to an existing business degree. Students can start in fall or spring and the format blends accessibility, affordability and personal connections."
There are several scholarships available for students interested in the hybrid accounting program as well as the management: business administration online program. 
In addition, UNI leveraged the DMACC partnership to expand the master's degree and advanced studies certificate in principalship. This Purple Pathway for School Administrators was specifically designed in partnership with Des Moines Public Schools. Course content is delivered primarily online with 25 days of in-person instruction at UNI's classroom site at the DMACC Urban campus. This innovative partnership helps meet the large need for administrative positions in Des Moines Public Schools and includes course content designed to fit with the district's mission, vision and student needs.