Campus & Community
UNI alum Trevor Penning preps for second season with New Orleans Saints
The Penning family exemplifies UNI Fight
Clear Lake, Iowa probably isn't the first place that rolls off your tongue when naming hometowns of first-round NFL Draft picks. 
In fact, Clear Lake is probably more well known for its place in music history as the home of the Surf Ballroom, the site of Buddy Holly's final concert in 1959.
But make no mistake, Clear Lake is the home to Teresa Penning and her family. And that clan includes the first-ever University of Northern Iowa football player selected in the first round of the NFL Draft, Trevor Penning, who was taken 19th overall by New Orleans in 2022. 

Just think about all of the great UNI players who have gone on to glory in the NFL ranks - Kurt Warner, David Johnson, Bryce Paup, Kenny Shedd - the list goes on and on. None of those famed Panthers were first-round picks. In fact, Warner –  a two-time NFL Most Valuable Player who is enshrined in the Pro Football Hall of Fame – wasn't drafted at all!

It seems appropriate that UNI's initial first-round pick was an offensive lineman, particularly the lightly recruited Penning, a tall but slender kid who head coach Mark Farley signed out of Newman Catholic High School in 2017.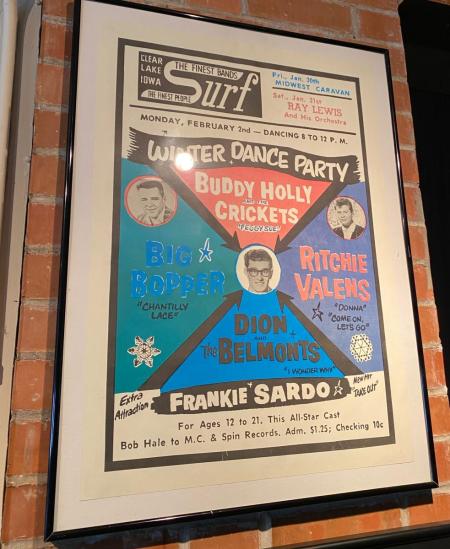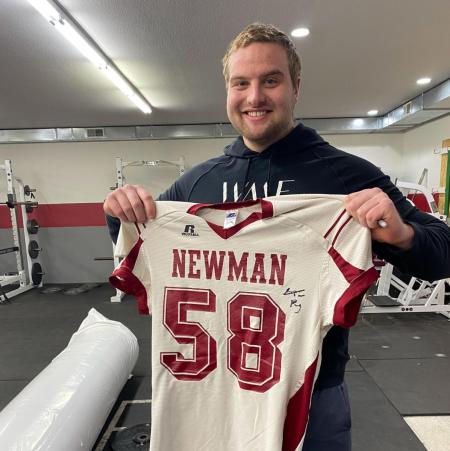 We'll get back to Trevor's ascent from skinny high schooler to NFL starter in a moment. But first, let's acknowledge his two other siblings who also have strong ties to UNI. Younger brother, Jared, is a redshirt junior offensive lineman for the Panthers and could very well follow in Trevor's NFL footsteps. And let's not forget sister, Stephanie, who began her undergraduate career at UNI and is currently completing her nursing degree at Allen College. 

These three siblings know it's the matriarch of their family, Teresa, who is the driving force. The petite but proud mom of this trio unquestionably deserves the credit for instilling a strong work ethic in all of her kids.
‌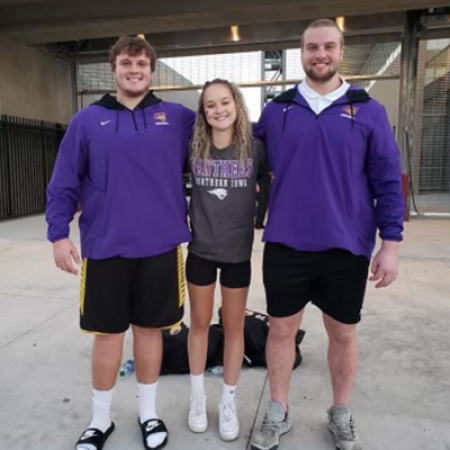 ‌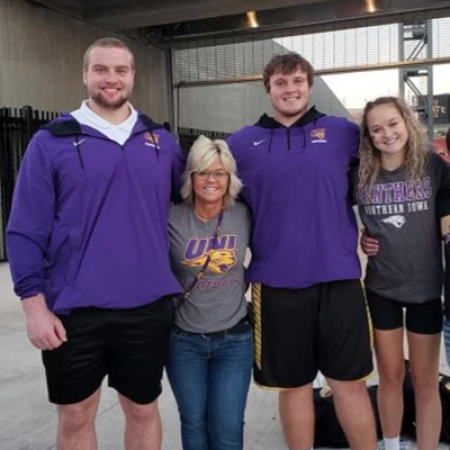 ‌
"I pushed them," Teresa admits. "When they wanted to do something, I made them do it. I said 'you can't quit. You start, you finish – you finish the season. If you don't want to do it next season, that's your choice.' But they always started again."
Both Farley and New Orleans' offensive line coach Doug Marrone admire that inner drive that Teresa Penning drilled into her children. 
"You look at the work ethic, you look at the background, you look at just how he [Trevor] views himself," said Marrone, who has served as a head coach at both the NFL and collegiate level.  "And you know what type of player you're going to get, or at least helps you understand the player more.Trevor was a guy that, kind of progressively built up, had a little bit of a chip on his shoulder."
Current UNI offensive lineman Jared Penning has no doubt that his mother serves as a source of strength and inspiration for his family. 
"I'd probably say my mom to be honest with you," he nodded. "She's been through a lot her whole life. And I've never seen her be down. It's never influenced how she has been a mother to us. It doesn't matter what's going on in her life. She's gonna give her all for us." 
 
---

The 2022 NFL Draft in Las Vegas.
Neon lights, costumed fans, pomp, circumstance, hyperbole, ESPN, NFL Network and the top pics strolling across stage in custom-tailored suits to embrace NFL Commissioner Roger Goodell. Jets fans booing and Mel Kiper projecting picks non-stop without seemingly a single hair out of place. 
Hundreds of miles northeast of Sin City, an entirely different draft party was unfolding.
No neon, no flash, no sizzle. Just the extended Penning family and friends, mostly clad in UNI sweatshirts along with Farley watching the television at The Other Place in Clear Lake waiting for Trevor's name to be called.
And probably no one had more butterflies than Teresa. 
"The one thing you worry about is, 'OK, what if he doesn't get drafted the first night? You have all these people here… then what do you do?'" she remembered. "Then you're in a state of shock. Is this actually really happening?"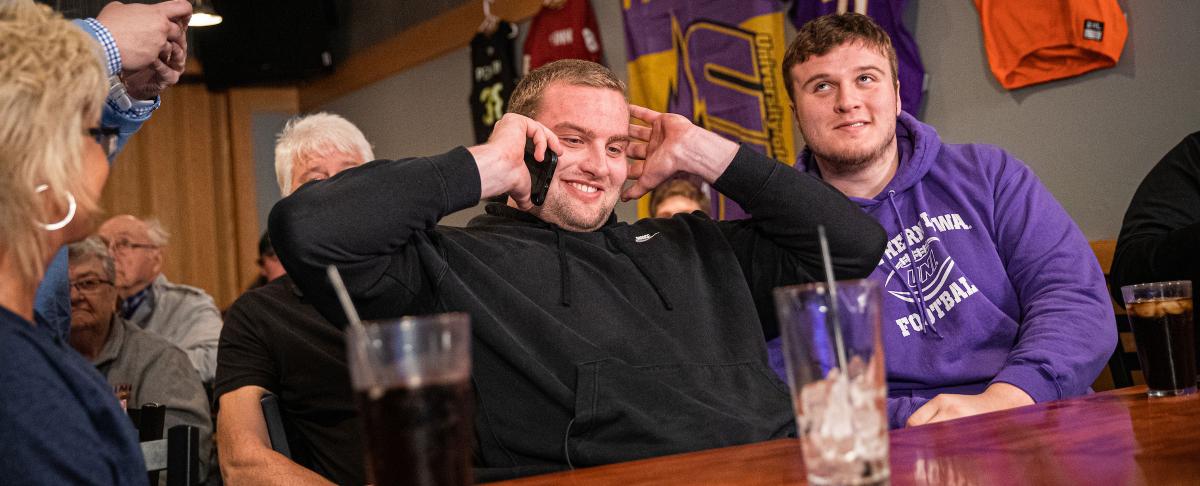 Farley recalls being more of a fly on the wall, soaking in the experience from the back of the room. 
"It was just a cool thing to experience, from my first meeting with Teresa and Trevor all the way to the first-round draft pick just down the road at The OP, and everything that happened in between. A lot of people were involved, but Trevor did the work."
- Mark farley
‌And while the mild-mannered Waukon, Iowa native is typically very deliberate in showing his emotions, even Farley couldn't help but beam when remembering Trevor's journey to that moment. 
"You take great satisfaction - you're proud of the fact that he took the resources of our system and the people around here," the longtime UNI football head coach said. "He took all the resources, he took all the coaching. You could have all those things in place, but he applied them and he maximized them." 
But Farley's mind also wanders back to previous UNI greats and that grit that set them apart, much like Penning.
"I was a strength coach for Kurt Warner, so I've seen the Hall of Famer from a different perspective," said Farley, who played and coached for UNI Hall of Fame inductee Terry Allen. "And what the similarities of a Trevor Penning to a David Johnson to a Kurt Warner, the common denominator is - they never think they're good enough. They always think they gotta work harder, they gotta get back in the room. They never think they've arrived. Trevor never thought he arrived, ever. Neither did Kurt, neither did David Johnson. 
"Trevor is still in the weight room," Farley continued. "He still practices as hard as he plays. He's hitting just as good - just as many fights on Mondays as on Saturdays. Because that's just within him. He knows he has to train that way to be the best, but that's what makes him the way he is."
Marrone echoed those same sentiments from the Saints' practice facility in Metairie, Louisiana.
"He understood that he was from a small school, he knew that he had to work harder than everyone else and he had a lot to prove," he shared. "When players come into this league with that type of mentality, they have a chance to really excel."
Trevor admits there were big developments in his size and strength when he arrived in Cedar Falls. 
"In high school, I was a little tall and a scrawny guy," he admitted. "So the changes I did in college, doing all those double day lifts, just the extra stuff that I did to put on nearly 100 pounds was kind of the key on how I kind of got to where I am."
 
---

Draft Night.
Sitting right next his older brother on the night of the 2022 NFL Draft in Clear Lake was Jared Penning. And the younger Penning was quite content to let his brother bask in the moment and not think about his own NFL aspirations. 
"Honestly it was his night, so I wasn't thinking of myself," he reflected. 
‌
"I was just proud of him and what he's done because that was what that night was supposed to be. When I think of me potentially being in that position, it's when I'm by myself - my dream. But that night was just cool being there."
- jared penning
If following in his older brother's footsteps sounds like a familiar theme, you'd be right. 
"A big reason I came to UNI obviously was because my brother was here," Jared acknowledged. "Obviously, that would be a cool thing. We didn't go to the same high school either, so I'd never even played with him at all besides maybe some youth football."
Now it's Jared who one day hopes he can hear his name called on Draft Day. 
"The draft night for Jared I think opened his eyes," observed Teresa. "I think he's a little more serious now."
Both Trevor and Coach Farley agree with that sentiment. 
"Jared is to the point now that he's in that stage of that growth of that final stage to get to the NFL, that he's got to close the gap himself right now," said Farley. "The neatest thing about experiencing all this is watching Trevor grow, watching the Penning family become a part of the Panther family, and then bringing Jared down on top of it."
"It's cool to have another Penning hopefully, carry on what I did at UNI and hopefully get to the NFL," said Trevor. "It's great to have a brother like that. The advice I'd give him is just to keep doing the extra work, putting in those hours and developing yourself and doing all the little stuff."
Jared's head coach from Clear Lake High School knows a thing or two about playing in the NFL, too. 
‌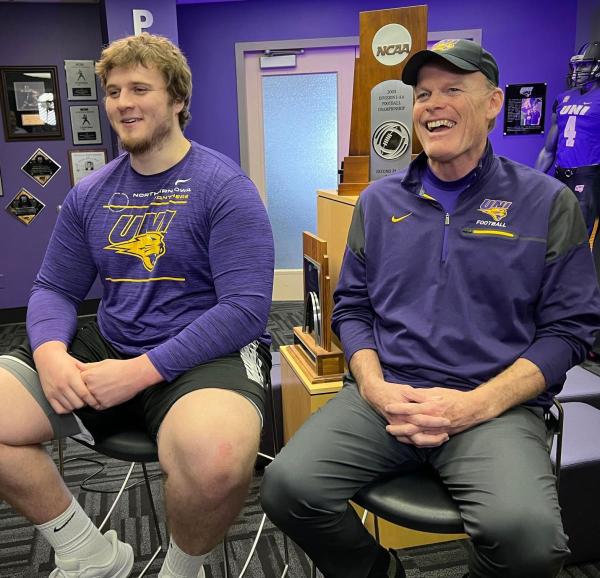 A third-round pick of Detroit in 1999, Jared DeVries spent over a decade with the Lions, seeing duty in 120 regular season games. The Aplington, Iowa native took over the reins as head coach at Clear Lake in 2015 and spun a familiar tale about Jared's development as a player. 
"The biggest thing is just your effort, and your work ethic," DeVries said. "Whether it be in school, another sport, a relationship, you've got to put in time and you've got to give great effort. That's the thing that we're trying to teach, because you can take that and apply it to whatever your job."
And much like Farley discussing Trevor Penning, it's very apparent that DeVries takes great pride in knowing Jared Penning has the ability to potentially play on Sundays. 
"I think it's part of the culture in Iowa," DeVries smiled. "And it always brings me great joy when fellow Iowans are experiencing success. It's just great to see, because you know the amount of work it takes for a guy to experience success, and it just brings great joy."
 
---

The Rookie Season.
Trevor Penning's rookie season with the Saints didn't necessarily go as he would have scripted. 
After a promising training camp, a toe injury in a preseason contest against the L.A. Chargers sidelined him for the majority of the regular season. Eventually he returned to the lineup at San Francisco on Nov. 27 before making his initial NFL start for the Saints in their regular season finale against Carolina on Jan. 2 at the Mercedes-Benz Superdome in New Orleans.
"That last game when they announced him (as part of the starting lineup), they had him on the big screen, he went through the flames (coming out of the tunnel) – that was pretty awesome," Teresa beamed. "I had his name and number on the back of my jersey."
While Trevor eventually had surgery on his right foot following the season, he's been back in New Orleans getting ready for his sophomore NFL campaign. 
"Overall just improving everything really," Penning said of his goals for the off-season. "Improve a little bit of every little thing that I can do and, you know, just take time to work on footwork, weight room conditioning, just do all the little things and get a little bit better at all those every day and you'll see yourself improve over time. So that's really what I'm trying to do is just improve a little bit every day on everything I can."
 
---

There's a world of opportunities at the University of Northern Iowa. 
In over two decades serving as head football coach at his alma mater, Farley has witnessed a whole myriad of success stories come out of his program and the university as a whole. 
"You can come here as a zero star and become a five star," he explained. "You can be a five-star surgeon. I've got an orthopedic surgeon, an eye surgeon and a heart surgeon who all played here. We've had lawyers who became judges. We've had teachers who became superintendents. You can also come here and become a great farmer. We just had a former player who went back home to take over his grandpa's farm."
"You can become a five star in virtually anything at UNI if you've got a passion for what you do, and you learn the work ethic and the structure that it takes to get it done. Just like we're talking about Trevor in the NFL, that's what you got to apply. And when you take it on yourself and invest in yourself, the process is here, the products are here, it's already been done. It's just when you take hold and run with it that you make it your own."
And for a player who garnered virtually no interest from bigger schools, Trevor cherishes the opportunity and support he received from so many people on the UNI campus. 
"UNI gave me an opportunity that a lot of others didn't. Having Coach Farley believe in me, bring me in and develop me, I mean, that's huge. He, coach Jed Smith, our strength coach and Coach [Ryan] Clanton (former offensive line coach), they developed me to where I am today. So, huge props to those guys and what they did for me and how they helped me."
- trevor penning
Sure, now Trevor Penning is lining up on the same NFL fields against players from the nation's biggest college football powers. But there is little doubt in his mind that the University of Northern Iowa was the right place for him to grow and develop.
"It's just a great atmosphere," he said of UNI. "It's got a bigger school kind of feel to it, but at the same time, kind of a small-town feel. So it was very fitting for me. The people, they're great. All the people I've met there were, you know, huge parts of my life.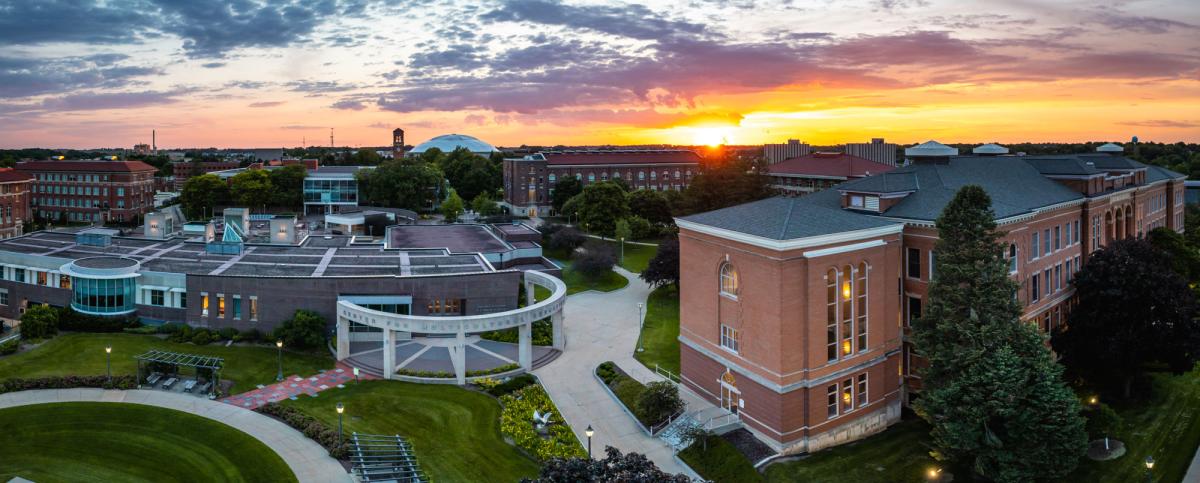 "It's a great school," Penning continued. "The people there are super genuine, they care about you, they want you to succeed at whatever you do, not only football, but in the classroom. They're looking to help. They want you to be the best person you possibly can."
Typically, players from the FCS level don't rise to first-round status in the NFL Draft with great frequency. Penning was one of only two FCS alums picked in the opening round of the 2022 draft. By way of comparison, the University of Georgia had five players picked in the first round of last year's draft. 
But according to his current NFL position coach in New Orleans, after researching Trevor and spending an entire season with him, it's clear they made a great decision.  
"I think Trevor is someone that's going to go back at some point and give back to his community, which is important," Marrone said. "Probably all of us were excited to see him play on each and every Sunday and play at a high level. People could see the athletic ability, but they don't understand how much you have to work to get to that point where you're at that level and you can play consistently on each Sunday. We believe that Trevor is going to get there. As a matter of fact, I know he will get there. And I think that we're all going to be happy one day when we can keep him healthy. And then we all can cheer for him on the field on Sundays."
Professional football is a unique fraternity. And the NFL's luxurious stadiums filled with all the latest technological accoutrements and creature comforts are a far cry from the high school football fields of Iowa that are frequently surrounded by cornfields.
But it's those cornfields surrounding Clear Lake and other small communities where the DNA of hard work and perseverance were hard-wired into the genetics of families like the Pennings. That piece wasn't lost on Farley as he sat at The Other Place when Trevor was drafted. 
"The other super cool part for me was Trevor's grandpa and grandma," he explained. "They're farmers from Latimer, Iowa. I mean, they're just good people. I'm not sure if they know exactly what was going on (with Trevor being selected in the first round)… But it was cool just seeing all the different reactions from the hooting and the hollering up front to seeing grandpa and grandma in the back... There were a lot of people involved in the journey, but Trevor did the work."
"Grandpa Marvin, he's just a hard-working guy," Jared grinned. "I've literally never heard that guy complain about anything, and he's still going strong even though he's in his 90s!" 
Sounds like the apple didn't fall far from the proverbial tree for the Pennings. 
We can't wait to see this UNI family going strong for years to come!
‌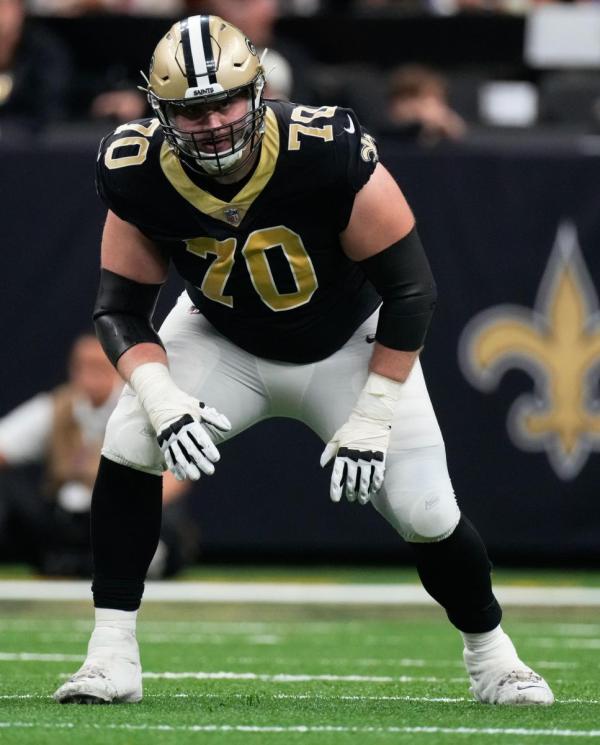 ---
VIDEO, PHOTO, STORY CREDITS:
The Penning Family, University of Northern Iowa Athletics, New Orleans Saints, National Football League, Around the Corner Productions, Surf Ballroom, Clear Lake Chamber of Commerce, Coach Jared DeVries and Clear Lake High School, Coach Rich McCardle and Newman Catholic High School.