Community
UNI director honored for statewide impact
Drew Conrad grew up wanting to make the world a better place. He considered a career in law, but in college discovered economic development, a field that seeks to expand opportunity across entire communities. 
He followed that passion to UNI, where he earned a master's degree in public policy, and for the last 28 years has worked at the university's Institute for Decision Making (IDM), which works with local business and community leaders to help plan programs and initiatives to improve the Cedar Valley community. His much-lauded work across the state recently led the Iowa Association of Business and Industry (ABI) to honor him with its Leadership for Iowa award.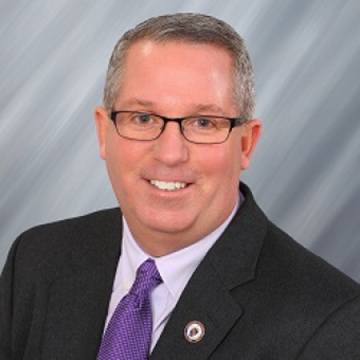 "One of the pillar goals for UNI is community engagement and that's what we do on a daily basis," Conrad said. "We're helping organizations in communities identify what they want to do where they want to go.
Some recent examples of the group's work include a project with UNI faculty and the Walnut Neighborhood association to repurpose the former Walnut Street Baptist Church, a famed building in the neighborhood that is on the National Historic Register; facilitating impact surveys to measure the financial impact of COVID-19 on Iowa businesses; as well as ongoing projects, like a project with Iowa Workforce Development that measures the local labor force availability.
"I was surprised and honored to be nominated for this award alongside so many accomplished business and community leaders from across the state. The IDM understands the importance of leadership in successful communities and I'm proud and humbled to be recognized for my leadership by the ABI and Leadership Iowa."
The award, which honors distinguished alums of ABI's Leadership Iowa program, is in recognition for Conrad's work helping Iowa organizations and communities make more informed decisions along with traditional economic development efforts.
Conrad has become a trusted voice in the Cedar Valley community and state. After participating in the 2005-06 Leadership Iowa workshop, he served as chair of the organization's Board of Governors in 2010, and annually presents at Leadership Iowa's economic development session. 
The Washburn native originally went to school for history and pre-law, with plans of becoming a lawyer, but a college job at a law firm made him realize the field wasn't for him. Then, an internship in the county administrator's office in Davenport exposed him to the concept of economic development -- and the challenging, impactful work that goes into improving a city's economy -- and Conrad quickly developed a passion for it.
"What attracted me to the work was being involved in the community and being engaged," he said. "Economic development is helping to grow the economy and helping individuals improve their quality of life. I've always had an interest in economics and community dynamics and it was just a natural fit."
That led him to UNI to pursue a master's in public policy. The interdisciplinary program gave him the diverse skill set needed to be a successful leader along with a network of mentors.
"What I really liked about the public policy program at UNI is it's very interdisciplinary … we look at so many different aspects of how a community can grow," he said. "There's a lot of folks I work with in the field and communities around Iowa who went through the program."
Through his studies at UNI, he also found a community of leaders eager to make an impact -- and empower others to do the same. During one of Conrad's graduate courses, Randy Pilkington, executive director of Business and Community Services (which houses the IDM) and director of the John Pappajohn Entrepreneurial Center at UNI, gave a presentation on economic development. Inspired, Conrad approached Pilkington after his presentation to ask about part-time work, which led to an assistantship in BCS. He's been working under Pilkington ever since. 
"Drew is one of the most deeply engaged persons I have ever worked with, both professionally and in his volunteer leadership roles," said Pilkington. "His commitment and passion for all these organizations is impressive and contagious. We are very proud of Drew for receiving this well-deserved recognition.  His leadership and overall impact on Iowa will be felt for many years. He is truly a Leader for Iowa."
Conrad credits UNI with helping him connect with leaders who impacted his professional journey.
"I've had some great opportunities to meet people that have opened up doors for me and opportunities for me," said Conrad. "That's one of the pluses of UNI and its size. We're a big little town, so there's a lot of interaction, there's a lot of people that are willing to help out. I've picked up a lot of things from people that have shaped my leadership style, and I've been fortunate there's been some good examples here on campus."
Now, Conrad is one of those people who is leading by example. In addition to his work with IDM, Conrad is actively involved in the Cedar Valley community, serving on boards and committees for everything from local professional organizations to the Waterloo Fireworks Festival. He's also passionate about encouraging his team at IDM to pursue their own leadership opportunities. 
"I'm proud that it's not just me within the IDM team that's doing things," he said. "That's the important thing that we see in our work -- we understand the importance of leadership. Successful communities, successful organizations have strong leaders."
Conrad is still driven by that early passion to improve the world.
"My attitude is -- I'm not going to sit and [complain] about something, I'm going to try to make a difference," he said. "I'm just trying to change my little corner of the world."