Campus & Community
UNI School of Music to present world premiere opera: "The Beehive"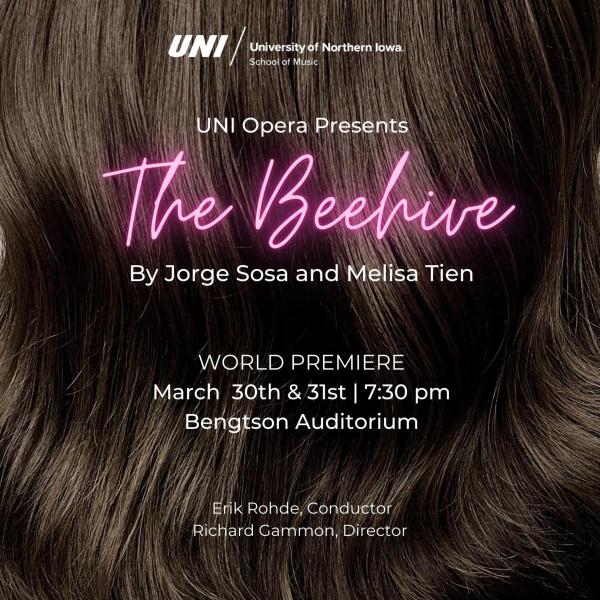 The UNI School of Music will present the world premiere performances of the newly-commissioned opera "The Beehive." The performances will be held on Thursday, March 30 at 7:30 p.m. and Friday, March 31 at 7:30 p.m. in Bengtson Auditorium, Russell Hall on the UNI campus. These performances will feature the UNI Opera Ensemble under the direction of Richard Gammon, director, and Korey Barrett, vocal coach, and will feature the Northern Iowa Symphony Orchestra led by Erik Rohde, conductor.
"The Beehive" was created by New York City artists, composer Jorge Sosa and librettist Melisa Tien. The University of Northern Iowa opera program, directed by Gammon, commissioned this new piece that, as Sosa says "takes place in the hottest hair salon in Black Hawk County. This new opera is filled with pop music references, Latin rhythms, catchy arias, and plenty of trash talk!" The work was created specifically for UNI graduate students to perform.
"The Beehive" is loosely based on Gogol's "The Overcoat." The central character, Abby, struggles to find her identity within a hairstyling community of small-town America which is currently facing a crisis. Joy, laughter, and tears abound in this contemporary dark comedy.
Admission to the opera performances is free, and both performances are open to the public. The composer and librettist will be present for a talk back following Thursday's performance. For more information on this, or other School of Music events, call 319- 273-2028 or visit music.uni.edu. 
 
MEDIA CONTACT
Caroline Francis, communication & operations coordinator