College Tour
Meet Micaiah Krutsinger on "The College Tour"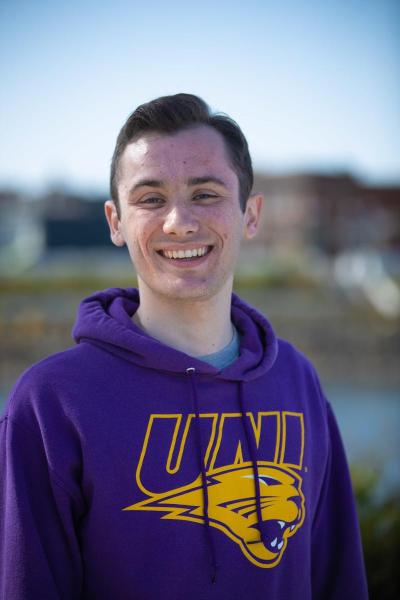 One of Micaiah Krutsinger's favorite features of UNI is actually the amazing opportunities the Cedar Valley offers. From running and riding on the more than 120 miles of trails that cross Cedar Falls and Waterloo to the downtown nightlife and UNI shows, there is no shortage of things for UNI students to do in their free time.
Main Street in Cedar Falls offers close to 90 opportunities to do things like shop, eat and play where you can form a camaraderie with your peers. If you're a hockey fan like Krutsinger, you can even catch a Waterloo Black Hawks game in downtown Waterloo. The Cedar Valley also offers tons of ensemble performances like the Waterloo/Cedar Falls Symphonic Orchestra or even the Metropolitan Chorale, and the Gallagher Bluedorn Performing Arts Center also regularly brings in award-winning Broadway tours and other high-quality acts. The Cedar Valley is also home to Lost Island, ranked by USA Today as the second-best waterpark in the nation. When he chose UNI as his home away from home, Krutsinger wanted to make sure he was stepping into a town that wasn't too big, but still had plenty of opportunities, and he's found that here in the Cedar Valley. 
Watch all the segments from UNI's episode of "The College Tour" here.