Languages & Communications
NI's first Latino executive editor wins Newman Civic Fellowship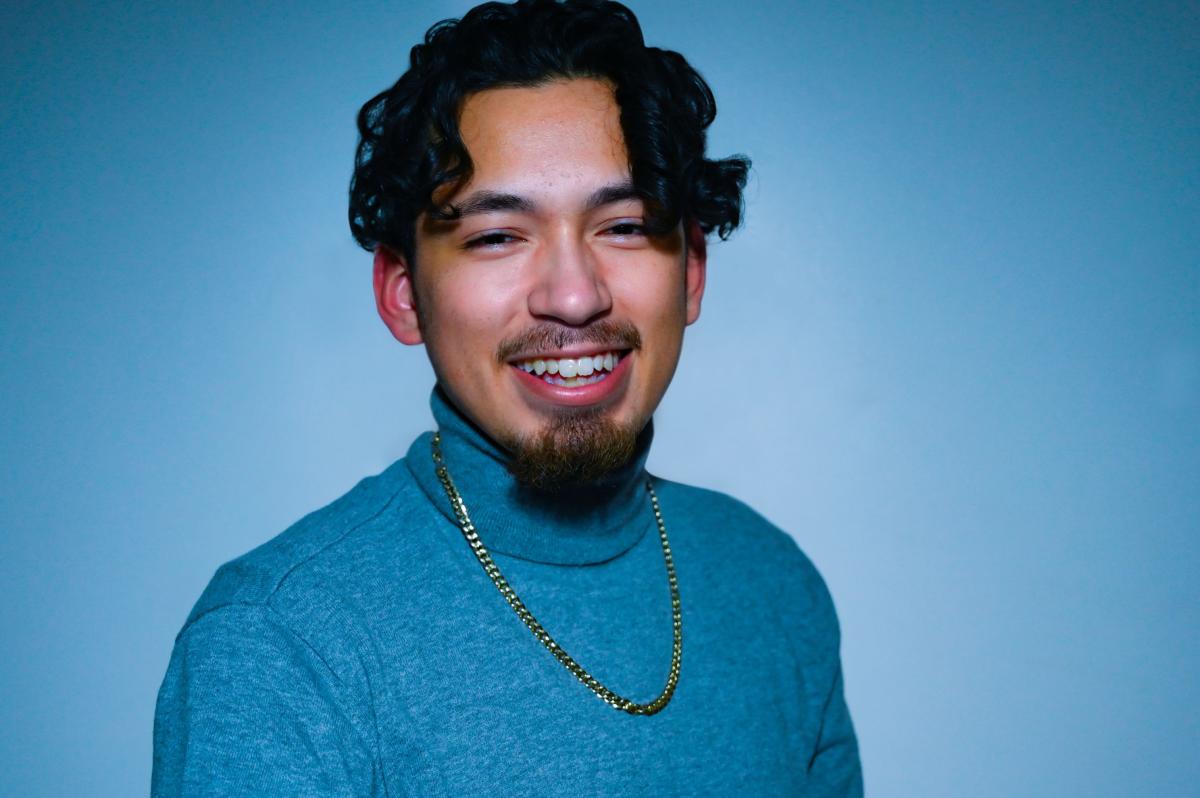 Nixson Benitez's efforts to elevate underrepresented voices through the power of journalism have drawn numerous accolades, including most recently being named a 2022 winner of Campus Compact's Newman Civic Fellowship.
The University of Northern Iowa junior majoring in digital media journalism with a minor in interactive digital studies is one of just 173 students across the U.S. and Mexico awarded the fellowship this year for working to better their local communities. Campus Compact, which is a coalition of college and university presidents across the nation, provides professional and personal development opportunities for all the winners, which have included seven other UNI students in years past.
"It's a really huge honor," said Benitez. "I'm glad people are recognizing the work I'm doing."
The Des Moines native, 20, has already made his mark at UNI and across the state by starting a Spanish-language column for the Northern Iowan (NI), helping create the Iowa Association of Black Journalists and being inducted into the Iowa Latino Hall of Fame. 
Those accomplishments were recognized in the award nomination from President Mark A. Nook. Students may only be nominated for the Newman Civic Fellowship by the president of their college or university.
"Benitez is an outstanding student and community leader," Nook said. "He truly reflects the spirit of this award as demonstrated through his leadership and service as a student at the University of Northern Iowa and throughout the state of Iowa."
As a first-generation college student whose parents immigrated from El Salvador, Benitez said he grew up not giving much thought to college. His journey to UNI started when he visited campus on a Diversity Day trip while attending Lincoln High School in Des Moines. He left the trip determined to enroll.
"I already felt like I had a lot of connections," Benitez said. "It felt like home. When I made my decision, it made me so happy to say 'UNI'."
At UNI, Benitez was initially interested in pursuing theater but switched to journalism. Various class assignments solidified this decision, including one from cornerstone instructor Debra Young that opened his eyes to the lack of diversity in journalism.
"I think it's super important to highlight the voices of people that look like me," Benitez explained. "Being in the journalism field means working for the people, giving back to the people and giving power to the people. That is something I'm really passionate about."
Benitez's hands-on journalism experience at the NI came from an unusual place when he approached the organization's advisor, Chris Martin, with ideas on how the paper could improve its coverage of the Latinx community on campus. He pitched the idea of a Spanish-language column to Martin, and a new staple feature of the student newspaper was born.
"The column was important because I wanted to see myself and others being welcomed in their native tongue," Benitez said. "UNI is a pioneer in this area, showing how much value there is in not only translating from English to Spanish but also writing in Spanish."
"I'm very proud of Nixson's innovative ideas on diversity, equity and inclusion," Martin said. "He has led the way in making sure all communities at UNI are visible and their voices are heard, which makes the student newspaper even more relevant for our times."
Benitez's impact on the student paper goes beyond the Spanish column. He is also the executive editor, which is a title that has only ever been held by one other person of color and has never been held by another Latino since the NI's founding in 1892. Under his supervision, the number of staff writers has doubled and diversified. 
The unique perspectives of a more diverse staff are evident in the content being produced in the NI's office in the basement of Maucker Union. For example, Benitez oversaw the creation of an eight-page special section that focused on issues relevant to the Black community including an article about being a Black resident assistant, a guest column about Black leaders in Iowa and an article about race-based hair discrimination. All the content was created by Black writers, students and staff.
The publication of the special section in mid-March, after Black History Month in February, was very intentional on Benitez's part.
"This is what these writers feel the most passionate about," he said. "Black excellence doesn't stop after February. It continues on."
While attending a conference put on by the International Radio & Television Society Foundation for future media leaders in November 2020, Benitez learned about the National Association of Black Journalists (NABJ) which exists to empower Black and Brown journalists. He knew it was something he wanted to bring to Iowa. So he worked with others to form the group, calling journalists across the state to gauge their interest in establishing an Iowa chapter of the organization. 
"At first I was a little hesitant because the people I was talking to had maybe 10 years of experience in the industry," he said. "But, honestly, it wasn't intimidating because all those people I talked to looked like me. I got to hear their stories, and they could sense my passion. That really connected us to each other because we all got here because of passion and the impact we want to make on the community."
Since helping to establish the Iowa Association of Black Journalists in 2021, Benitez has served as the group's secretary. 
While journalism plays a major role in Benitez's life, it's far from the only way he hopes to make an impact. Benitez interned with the Iowa Department of Human Rights (DHR) where he helped lay the foundation for the Youth Justice Council, a subcommittee of the Juvenile Justice Advisory Committee. As a Youth Specialist, he created a manual on how roles and responsibilities should be structured within the council, while also going to juvenile facilities to engage with at-risk youths directly.
Because of his involvement with the DHR, Benitez received the Latinx Youth Leadership Award and was one of six individuals inducted into the Iowa Latino Hall of Fame in 2021. Over the same summer of his DHR internship, Benitez also interned with the bilingual news publication Hola America. Benitez decided he couldn't pass up either opportunity. So he ended up completing both internships.
"I did them at the same time because I knew those two areas are what I feel most passionate about, and I knew that if my summer was dedicated to those things, I would be more than happy," he said.
While the packed nature of Benitez's schedule is challenging, he also finds it exciting. 
"I'm always up for a challenge," he said. "If I have a long to-do list for a weekend, I'm going to do it with a passion."
When thinking about the future, Benitez has big goals including ensuring the permanency of his Spanish column, getting his master's degree and someday becoming the executive editor of a local or national newspaper. 
No matter when he achieves his goals or how they may shift with time, he plans on doing it all with passion.