A joint art project by students at the University of Northern Iowa and Holmes Junior High School persevered through a global pandemic to convey a message of inclusivity and creativity.
The artwork, which features colorful representations of beloved elements of Holmes Junior High fit together like a jigsaw puzzle, was hung in the school's cafeteria Monday. The 8-foot by 4-foot plywood relief sculpture "Holmes Pride" was created through a partnership with seventh and eighth graders in Holmes' Expanded Learning Program and UNI art education majors in Associate Professor Wendy Miller's Issues and Theories class, with assistance from UNI's Public Arts Incubator.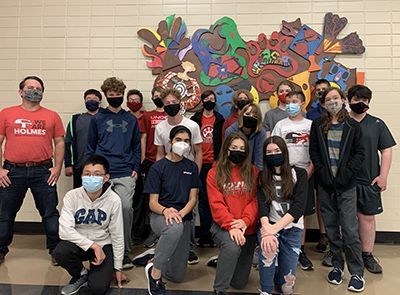 "This project allowed middle school students to create a lasting legacy of the parts of Holmes they love," Miller said. "And it also gave my seniors one last, great hands-on experience before they start their careers."
The project started last fall semester with a set of post-it notes containing everything the junior high students loved about Holmes. Miller's students used those notes to create eight themes for the project, such as unification, inclusivity and community, leadership, performing arts, athletics, and more.
UNI students worked with the junior high schoolers to create visual representations of these themes, encouraging abstract thinking and creativity. The students' drawings were magnified and traced onto 2-by-2 foot pieces of plywood. The UNI students then worked with Dan Perry, UNI's public art incubator coordinator, who taught them how to use the bandsaw to cut the plywood into the required shapes. 
When the spring semester arrived, a new group of Miller's students brought the Holmes Junior High School students to UNI, where they painted the shapes they designed and arranged them into what would become the final composition. The project was set to be installed that semester, but then COVID-19 hit.
Now, almost a year after the project began, a third group of UNI students is bringing the project across the finish line.
"It was great to have three different groups of students working with the junior high students," said Micah Smith, a senior art education major. "I'm sad the people who started the project didn't get to be here to finish it, but I'm also glad that we were able to have the experience of completing the sculpture."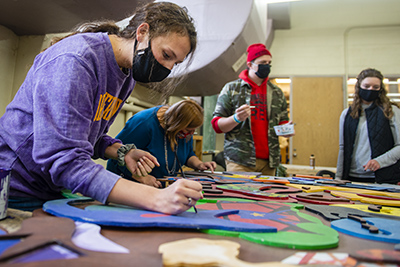 The finished work is lush with symbols of the inclusivity Holmes students take pride in. On the top left portion of the sculpture, for instance, is a hand painted in rainbow colors, representing both the students' willingness to lend a hand to someone in need and their respect for others, regardless of who they are or what they look like.
"We are excited to be able to display the outcome of this work in our cafeteria for all of our stakeholders," said Holmes Principal Jeremy Jones. "We are blessed to have the University of Northern Iowa in our backyard, and this project is another prime example of the many benefits that both organizations gain from the great partnership that we have."  
Beyond creating a lasting legacy at the junior high school, the project provided valuable experience for Miller's students to take into their careers.
"I feel encouraged to know that I can do something like this in my future classroom now that I have the experience," said senior art education major Madison Standley. "I know how to run it and be open to reach out to other people to see if we can create public art for the school or the community."