Human & Social Services
UNI's new individual studies human services major meeting needs of online and place-bound learners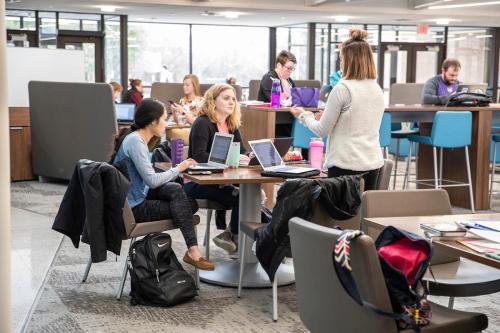 Students interested in service-oriented careers now have another option to choose from as the University of Northern Iowa just rolled out its new individual studies: human services major.
Designed for place-bound students who have already achieved an associate's degree, this completely online program combines curriculum from UNI's five already-established human-services oriented majors — family services, gerontology, psychology, social work and sociology — to create a flexible and dynamic learning experience for students who are unable to attend in-person classes. The major is one of seven programs uniquely designed for the University of Northern Iowa at Iowa Community Colleges (UNI@IACC) initiative, a partnership between UNI and Iowa's community colleges to increase access to a four-year degree.
Nearly 30 students are enrolled in the new major this semester, and a handful of students have already expressed interest in starting the program in the spring. Most of the current students are living in Iowa, Individual Studies Coordinator Linda Emery said.
"We also have students from Texas and Illinois, so there are adult learners from all over looking for a program like this and now they are finding it here at the University of Northern Iowa," she added. 
The program was created in response to several inquiries from potential students and community colleges, which were indicative of an unfulfilled need.
"Our goal is to meet the educational needs within the state," said Brenda Bass, dean of the College of Social & Behavioral Sciences. "So when we have a significant number of prospective students and our partners at community colleges telling us that this is a need in the state, then part of our role is to work on either adapting programs or creating new ones that meet that need."
"We created this program because we wanted to be able to help prospective students who are interested in a career where they can help people, but they're not able to take courses on the campus," said Bill Henninger, director of the School of Applied Human Science. "So this program allows us to fill that educational need, and in doing so, we are also helping to fulfill the statewide need for trained human services workers. Right now there is a huge shortage not only in Iowa, but across the country."
The human services field has suffered significant declines in its workforce for many years, but those shortages were drastically exacerbated by the pandemic, leaving all branches of the human services sector significantly short-handed and scrambling to meet demand.
A multidisciplinary program, human services majors will learn to work with individuals and families from diverse backgrounds while gaining valuable skills and training needed to succeed in a wide variety of service-related careers. Full-time students can complete the program in about five semesters.
"This program is perfect for students who, for whatever reason, can't attend in-person classes and want to do something within the human services career field. They may also be uncertain as to what they want to do or might not want to pursue service-oriented careers that might require further education or certifications," said Henninger. "Additionally, this major would also be ideal for individuals who are already working in the human service field, and perhaps need a four-year degree in order to advance in their chosen career."
The program's broad spectrum approach to the individual studies: human services major also creates new pathways to a wide variety of masters programs and career paths.
"This could be a pathway to a master of social work," said Karen Cunningham, associate dean and director of Continuing & Distance Education and Individual Studies. "So it could be for a student who wants more of a broader background at the undergraduate level, but may have an eye towards a master's program in social work or psychology or something along those lines. So the human services major sets that foundation."
"I think this can also open doors to many different career paths in a related area that doesn't require specific licensure," she added. "Fields like crisis management, case work, or various advocate or support roles, this program would set a student up nicely for those areas."
Additionally, with the current national shortage of human services professionals, this program aims to boost the human services workforce by providing students with hands-on training before they graduate, through internships and final projects requiring real-world experience arranged with social services organizations within or near their hometowns.
"If you look at our faculty members at UNI — and not just those on the tenure track, but our adjuncts as well — what you'll notice is that they all typically have some real-world training and experience in the fields they are teaching," Henninger said. "And that's different from other universities, because a lot of their faculty tend to be clinical researchers who then go into teaching. So, we are much more focused on the applied side of teaching — bringing real-world experience into the classroom and also ensuring our students get hands-on training as part of their education."
In the final stages of completing the individual studies: human services major, students are required to complete an internship with a human services agency or organization.
"That internship can be done wherever that student is at," Henninger said. "How that works is the student will figure out what type of human services area they want to do their internship in and meet with me the semester before they want to do their internship. I will guide them to find an internship in their hometown or wherever they're located, and then they do 300 hours there."
During the internships, Henninger said the students will also be required to keep weekly journals reflecting on what they have learned and how they would apply that knowledge in their career. Throughout the process, Henninger is there as a resource and to help students if they have any issues.
Having that internship experience and hands-on training, Henninger said, makes the student more desirable hires when they graduate.
"It's too early to tell with this new major, obviously, but I can't think of a single graduate from our other human services-related programs who has in good faith tried to go out and get a job in the field and not been hired," he said. "I think that speaks volumes about our programs and the way our faculty prepare students for the real world, which is always our goal - to equip students with the education and skills they need to succeed in their chosen professions."