Human & Social Services
UNI's trauma-informed care Master of Social Work program attracts students from across the country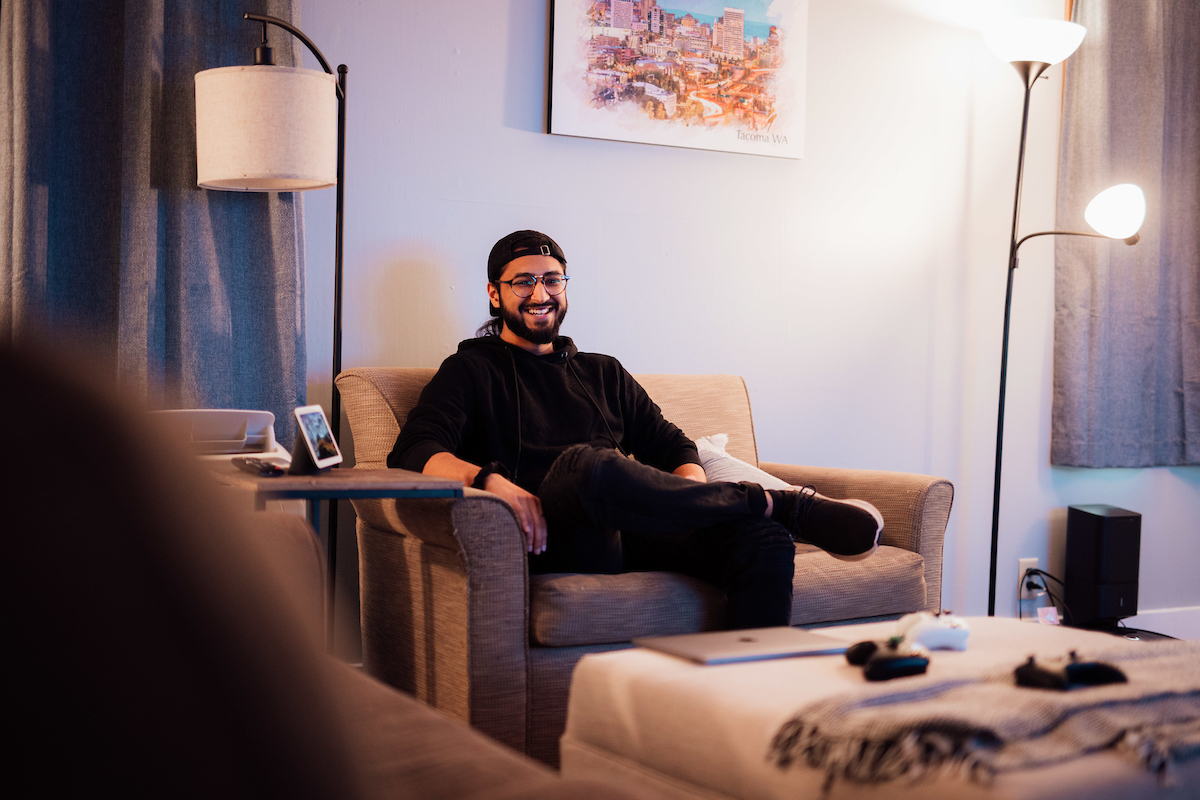 When Umar Chohan heard about the trauma-informed care specialization for the University of Northern Iowa's Master of Social Work, he knew he'd found the perfect program for him. There was just one catch — he would have to travel a thousand miles to start his studies.
"Social work is so broad, and everything I was applying to at the time was very vague and didn't have a specialization," said Chohan. "None of them spoke to me the way that trauma-informed care did. I fell in love with not only looking at the psychological factors of a client but also the systemic factors on a traumatic level. We're learning how trauma affects the mind and body, how trauma is actually stored in the body and how it manifests on a systemic level."
UNI offers one of the few Master of Social Work programs with a trauma-informed care specialization in the Midwest and the only one in the state of Iowa. The program is based on decades of research on how people are affected by stress, adversity and oppression.
Chohan grew up in New Jersey and attended Rutgers University. He received his bachelor's degree in marketing with a minor in social justice. A love for art drew him to marketing, but during the pandemic, he began questioning if marketing was truly the path for him.
"I was reflecting on all of my artwork and I realized everything I've done that I'm passionate about was related to mental health," he said. "I realized I wanted to do a lot more with mental health. I knew deep down inside I wanted to explore becoming a human helper in the therapy world."
Chohan sat with these thoughts for months, considering if he should explore psychology, psychiatry, counseling or a different field. Ultimately, his social justice minor had created a desire to help on more of a systemic level, which led to the decision that social work is where he belongs.
When Chohan began applying for social work programs, he added UNI to his list because his mentor Shuaib Meacham, associate professor of literacy education, worked there. Chohan met Meacham through a support group at Rutgers called Men of Character, which was associated with his social work minor. Meacham was best friends with the dean of the social justice program at Rutgers, so he would show up to the meetings virtually. Meacham and Chohan connected and continued having regular virtual meetups for about a year.
Chohan made his decision to come to UNI without ever setting foot in the state.
"The trauma-informed care is my favorite thing about the Master of Social Work program at UNI," said Chohan. "I feel like I'm nerding out all the time."
Chohan learned about the trauma-informed care specialization through Rebecca Dickinson, who is the Master of Social Work program coordinator. Dickinson even connected Chohan with a student, so he could learn about the program from someone who was going through it at the time.
In August 2021, Chohan made his move to Cedar Falls and started his studies on the UNI campus. The transition was not without its challenges. 
"It was hard--I'm not gonna lie," Chohan said of his first few months as a UNI student. "Once I got really comfortable with the program, that was the main thing that kept me moving. I was just so infatuated with the program and learning how to be the best therapist I can be. When the trauma-informed specialization kicked in, that's when I really got hooked." 
Meacham played a crucial role in Chohan's adjustment to campus, not only because he mentored Chohan but also because he introduced him to the Hip Hop Literacy 319 program. Meacham directs the program in Waterloo.
Chohan is a peer mentor for Hip Hop Literacy 319, which includes mentoring K-12 students on things like videography and writing music. Chohan described Hip Hop Literacy as a way of connecting artistic interests with academics. Since Chohan has often made music as a way of coping with difficult events, being a peer mentor with the group has been a perfect fit.
"The idea is to address any inaccessibility that manifests on a systemic level anyone who is underprivileged and underserved, especially Black and brown kids," said Chohan. "We find in communities that tend to be underprivileged and underserved, having more community-based organizations and community engagement is very, very necessary for kids to have a healthy outcome in the long run, especially when it comes to their academic life."
Chohan sees a clear connection between the work he does as a peer mentor for Hip Hop Literacy and the social work program with the trauma-informed care specialization.
"When these kids are open to sharing whatever they've been through in their life, we want to make sure the environment they're in facilitates healing and growth and development," Chohan explained. "It's very fulfilling. It feels like I'm in a clinical environment doing client work."
Chohan will graduate in May 2023. Although he hopes to move back to New Jersey eventually, he thinks he's going to stay in Iowa for a little while after graduation. Ultimately, he hopes to complete his supervisory hours and become a licensed clinical social worker and open his own practice.
Until then, he's excited to continue mentoring students, delving further into his coursework and continuing his internship with Chad Mohammad, who is a licensed master social worker in Waterloo.
"Right now everything is picking up in regards to the impact I can make," he said. "I'm looking forward to that for sure."