Languages & Communications
UNI creative writing instructor earns residency at Writers' Colony in Arkansas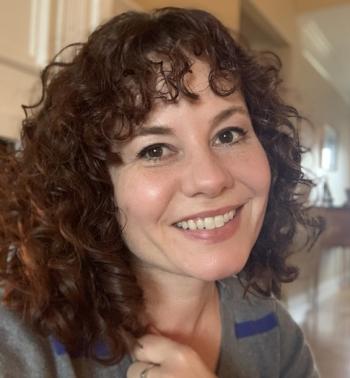 If you were to spend any amount of time with Rachel Morgan, it wouldn't take long to guess she's a writer. Her dedication to the written word shows through the ease with which she quotes other writers, the stack of books she uses to demonstrate her favorite authors and the effortless way she weaves a narrative together.
Morgan, a longtime poetry editor for the North American Review literary magazine and instructor in the University of Northern Iowa's Department of Languages & Literatures, had the opportunity to hone her craft during a recent residency at the Writers' Colony at Dairy Hollow in Eureka Springs, Arkansas.
Her week in Eureka Springs was the result of winning the My Time Fellowship, which included a week-long fully funded residency at the Writers' Colony at Dairy Hollow and a stipend for travel and childcare expenses, funded by the Sustainable Arts Foundation. Morgan and one other writer were selected from more than 70 applicants from across the country, all of whom are writers with children. 
"You've probably seen all the fallout from the pandemic — the publication for writers and scholars went kind of downhill," said Morgan. "In particular, that was true of women who have a larger burden of childcare, emotional labor and running the home. When things shifted and childcare fell through, a lot of women scholars and writers didn't have time to create and do research. So this scholarship came along at just the right time for me."
While Morgan had been accepted for writers' residencies in the past, they had been delayed due to the pandemic. This was the first residency she was able to attend. 
Morgan heard about the fellowship from a colleague at UNI who had also been a recipient of the fellowship. 
"After the pandemic was starting to lighten a little bit, I recognized the very real need for me as a writer to find a way to just focus," said Morgan.
For Morgan, the greatest gift born out of the experience at the Writers' Colony was the uninterrupted time — a rarity for the mother of two children, ages 11 and 14.
"As a writer who teaches and as a writer who is a parent, uninterrupted time is pretty much unheard of," said Morgan. "To really write and to stay with a thought sometimes requires going down these rabbit holes of research, and if I'm at home writing and parenting when the thought gets difficult, I don't have to follow it. I can get up and do class prep or get up and do something for the kids. I can walk away from the difficulty. But when you're there in a residency, you stay with the difficulty. And that's where the growth or the breakthrough is."
Morgan's time in the small mountain town wasn't spent in solitude. There are approximately eight writing suites in the Writers' Colony, which were filled with a Victorian scholar, a fiction writer, a creative nonfiction writer, an English professor and a poet.
"My time there overlapped with the fiction writer and the poet the most so we got to go on evening walks and talk a lot about our process and our research and how our days were going with writing," said Morgan. "It's always just good to recalibrate with other writers and be validated for the work because so much of writing is done alone."
While at the Writers' Colony, Morgan spent her time on two projects. One was a creative nonfiction piece about finding meaning in the midst of hardships she experienced in recent years, including a divorce and her father's terminal cancer diagnosis.
"I firmly believe every kind of ending is also a beginning," she explained. 
The other piece, which is a full-length manuscript called "The First Condition," was a finalist for the National Poetry Series. The manuscript blends medical and lyrical language to examine the chronic nature of childhood diseases like type 1 diabetes, which Morgan has studied heavily due to her son's diagnosis with the condition.
While some may have thought of the writers' retreat as a vacation of sorts, Morgan thought of the experience as serious business, waking up every day at 7:30 a.m. When she wasn't writing, spending time with the other writers or enjoying the European-style gourmet dinners prepared by a private chef at Dairy Hollow, Morgan indulged in some reading. Her book of choice for the week was "The Year of Magical Thinking" by Joan Didion.
Reading has always been a major part of Morgan's life and a huge part of the reason she ended up following the career path that she did. She grew up loving the world-building in C.S. Lewis' books before discovering poets like Elizabeth Bishop and James Wright who made her fall in love with poetry. Morgan's career path was also heavily influenced by her family of storytellers whom she grew up around in the Appalachian Mountains. 
"When I think about my love of stories and writing, I have to credit my maternal grandparents, particularly my grandfather," said Morgan. "I would listen to him tell stories about people in the valley where he was from and his time fighting in World War II overseas. He was good at telling stories and good at listening."
Even though reading and storytelling were always integral in Morgan's life, studying English wasn't her first choice when she went to college.
"I was in college on a pre-med track at the University of Tennessee at Chattanooga and just wasn't happy," said Morgan. "One of my professors asked, 'What do you love? Do the opposite of what you're doing now.' I'd always loved writing and storytelling. He told me, 'Great! Take those classes.'"
Morgan graduated from the University of Tennessee at Chattanooga with a Bachelor of Arts in English and Humanities. She went on to receive a Master of Fine Arts in Poetry from the University of Iowa. It was while she was getting her master's degree that Morgan had a lightbulb moment. In an Iowa City coffee shop surrounded by literary journals, she realized only half the work of writing was writing. The other half was revision and publication.
Since then, Morgan's work has appeared in numerous places including the Baltimore Review, Journal of American Medical Association and others. She has published two poetry chapbooks, one entitled "Honey & Blood, Blood & Honey" and another entitled "Things We Lost in the Fire." Her work focuses heavily on the environment and medical topics. One of her upcoming publications is a poem about another one of her passions: Dolly Parton, which will be part of a Dolly Parton anthology being released for Parton's 77th birthday in January.
Regardless of the subject matter, Morgan's written form of choice is often poetry. 
"I like poetry because I think it's brave and risky and vulnerable in a place not every art can reach," she said.
Morgan has been an instructor at UNI since 2012. While her southern drawl may reveal she's a few miles from home, she's always felt a strong connection to the university and the students she works with.
"I am really passionate about working at an institution like UNI where we have a large population of students who are first-generation college students because having an education changed my life," said Morgan. "I believe in the power of education to change the whole arc of a family. I'm deeply passionate about that."