Growing up in Logan, Utah, UNI alum Kalyani Kannan struggled to see her LGBTQ identity reflected in her peers and mentors. As a graduate student at UNI, she found a supportive community and now, in her new role as LGBTQ student services coordinator, she's able to be the role model she needed when she was young.
"[This role] really is kind of the perfect combination of a community that's very near and dear to my heart, as someone who has been out for many years, and … working with students to build community and share resources," she said. "Being able to provide that kind of support for students is important to me."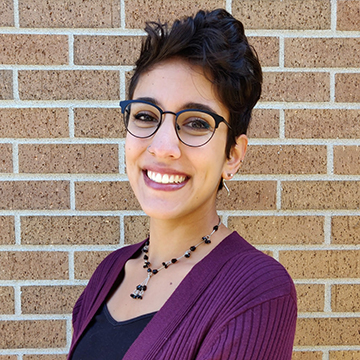 The LGBTQ student services coordinator works closely with students, acting as a point of contact for students who need to be connected to campus or community resources, or just need someone to talk to. The job also involves developing campus events and programs to keep LGBTQ students engaged, something that's been a challenge in the wake of the COVID-19 pandemic. But Kannan sees it as an opportunity to find new ways to bring students together.
"It can be so isolating sometimes to be an LGBTQ young adult … and the pandemic has been isolating for everyone, so finding ways to combat that by building connection … that's one thing I'm excited for," she said. "The physical GSS space has for so long just been a space where students can hang out between classes … so [I'm] thinking about how do we extend that physical space … [and] build that same sense of togetherness?"
The GSS center has implemented a number of programs to build community for students in a world of physical distancing. There's a Discord server, where students can chat with other LGBTQ UNI students (students can email lgbt@uni.edu to request to join), and a pen-pal program with the center's Out and Allied Network, that lets students connect with LGBTQ people and allies in the Cedar Valley community. Kannan plans to support and expand upon these established initiatives.
"I don't need to reinvent the wheel. The LGBTQ community at UNI is strong and finding ways to thrive in spite of all the things that have come their way," she said. "You've got people here who are glad that you're you."
Kannan has a passion for bridging cultural divides. Her parents immigrated to the US — her dad from the UK, her mom from the Netherlands — and they would often travel as a family, with Kannan's older brother. "Our parents wanted us to expand our horizons," she said.
This inspired Kannan to study international relations at Mount Holyoke College in Massachusetts. But after working on the orientation staff for two years, Kannan discovered a new passion for supporting students. Post-grad, Kannan channeled this passion into a job in residence life at Wartburg College.
"I very quickly was like, 'Yeah, this is what I love doing … so what's the next step?'" she said.
UNI would turn out to be the next step she needed to succeed in the field of student affairs. Graduate school in UNI's acclaimed student affairs program helped her find a community of supportive peers, an experience that proved valuable when she accepted the role of LGBTQ student services coordinator in Fall 2020.
"When I was a grad student at UNI, I was still working… so I would come to campus for three hours every night… but I was still able to find people who were on the same wavelength," she said. "Finding that kind of allyship and friendship … but still being able to challenge ourselves and challenge one another to continue striving for new ways of thinking … that has definitely helped [in my new role]."
Kannan has also found a new community in her colleagues in the Office of Diversity, Inclusion and Social Justice (DIS). Associate Director of DIS Keyah Levy said that Kannan stood out as a strong candidate for the position, and has integrated well with the rest of the DIS staff since taking on the role in November.
"Kalyani had everything that we were looking for. She fits extremely well with all the individuals on our team," said Levy. "We all have different personalities but we all work well together and we all have a student-first mindset. She just really fit the bill."
The LGBT student services coordinator role started out as a graduate assistant position in 2013, when the Gender and Sexuality Services center first launched. DIS staff quickly saw the need for additional support. In addition to adding student volunteer and interns, the role became full-time in 2015.
"We needed a full-time staff to handle the daily operations of the center … because there's so many different things to do, so many different campus partners to work with," said Levy. "We hired [Kalyani] to take over what the previous coordinator was doing. She just seemed like she definitely could come right in and take over and elevate the center."
Part of what inspired Kannan to apply for the position was her admiration for the DIS team.
"I remember looking at the rest of the DIS staff and being like, 'Wow, what an amazing powerhouse of professionals," she said. "I have the opportunity to hopefully do some really amazing things, but also learn so much from my colleagues and from the students that I'm working with."
Kannan's strong background in student support, combined with her ability to relate to students, is ultimately what won her the role. Students were involved throughout the hiring process, which Levy said reflects the mission of DIS.
"It just seems natural to include students in the process of hiring. They appreciated her personality as well as her experience," said Levy. "Especially with GSS, being that the center is where our students hang out, it's extremely important that their voices are heard in the decision making process."
She's especially excited about upcoming events, including an upcoming visit from writer Gabby Rivera, and also looks forward to developing new initiatives to help LGBTQ students thrive.
"I think a lot of our work as professionals who are working in diversity, inclusion, social justice and equity … it's work that we take on as professionals in the hopes that students don't have to," she said. "If there are things that I can do so that LGBTQ+ students can focus on being students, instead of having to educate their peers or their faculty members, that's what makes it worth it."
Throughout all her work, she's motivated by the desire to be the role model she needed growing up.
"Supporting students holistically for me, is one of the most meaningful things … finding ways to just build that connectedness," she said. "The opportunity to see yourself reflected in a mentor and people who have been where you are now can be so valuable."