News Release
Master Builders of Iowa invests in UNI's Industrial Technology Center
The University of Northern Iowa has announced a $250,000 gift from the Master Builders of Iowa (MBI) for the Industrial Technology Center renovation and modernization project.
UNI's $40 million request to the state to fund a major renovation and expansion of the Industrial Technology Center was approved during the last legislative session. MBI's gift helps launch an accompanying $4.2 million private fundraising campaign. In addition to the financial support, MBI was a significant lobbying voice in helping to successfully move UNI's request through the legislative process.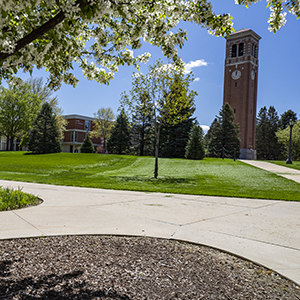 "On behalf of the MBI Board of Directors and the MBI-WORKS Endowment Board of Directors, we are excited to support this critically important initiative at UNI," said MBI's President and CEO Chad Kleppe. "We're proud of our decades-long partnership with the students and faculty of UNI's Construction Management program and welcome the opportunity to help launch this campaign. Furthermore, we are pleased to be afforded the opportunity to help build upon the successes of the construction management program for the future of our workforce."
UNI's Department of Technology educates students for work in Iowa's manufacturing, electrical/electronics, print and construction fields – all growing industries within the state. There is a 95% placement rate across the department's programs; 90% of those graduates are placed in Iowa. Renovation and modernization of the nearly 50-year-old facility will support an anticipated 40% enrollment increase and will expand UNI's capacity to provide qualified professionals to industries struggling to meet industry's growing employment needs.
Master Builders of Iowa is the recognized leader in the construction industry in the state of Iowa. MBI members perform the majority of the state's commercial, industrial and public works building projects. The association provides its members with an extensive array of educational, safety, environmental, labor, legal, professional development and legislative services. For more than 40 years, MBI and its members have provided scholarships, program advisory and advocacy for UNI's construction management program.
MBI's gift was made to the University of Northern Iowa through the UNI Foundation. For more information about the UNI Foundation, visit foundation.uni.edu.