News Release
Roybal bids fond farewell to UNI athletics, takes leadership role at NKU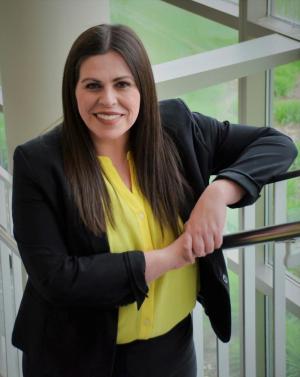 After six successful years serving the University of Northern Iowa's athletic community and working to support and elevate the athletic department's five-year strategic plan, Christina Roybal is moving on to bluegrass pastures. 
Announced last week, Roybal was named as Northern Kentucky University's next vice president and director of athletics, where she will lead an athletics department with 17 programs competing in Division I. She will begin her new position in the Bluegrass State July 1, 2022.
"Christina has done an outstanding job since joining our staff six years ago," said David Harris, Director of Athletics Administration at UNI.  
"She has a great work ethic, tremendous professionalism, impeccable integrity and an unquestioned level of care, compassion and commitment to our student-athletes," Harris told the NKU Norse. "She has always been destined to lead an athletics department and I'm incredibly excited that the right opportunity has arrived for her."
Roybal joined the Panther family as senior associate athletics director for sports administration in July 2016, and has since held administrative responsibility for 14 of UNI's 17 sports, including: women's basketball, volleyball, soccer, softball, men's/women's cross country, men's/women's indoor track and field, men's/women's outdoor track and field, men's/women's golf, women's tennis and women's swimming and diving. 
"I am incredibly grateful for David Harris' mentorship and unwavering faith in my ability to lead," she said. "Entrusting me with 14 of UNI's athletic programs was monumental in preparing me to be an athletics director. I also want to thank UNI President Dr. Mark Nook. He invested his valuable time to help me work toward my goals and show me how to be a leader for the university."
She also served as senior woman administrator (SWA) and deputy Title IX coordinator, during which she has championed department initiatives focused on a variety of issues such as diversity, equity, and inclusion; gender equity compliance; sexual assault prevention; mental health education and resources; suicide prevention; and honoring and celebrating UNI Athletics pioneers and legends.
In her role as a senior administrator at UNI, Roybal helped UNI Athletics develop and launch its Panthers Rising five-year strategic plan in 2018, and was responsible for overseeing the long-term stability and sustainability of the 14 athletic programs. She is committed to promoting an athletic environment that values and supports equity, inclusion and diversity.
Working to ensure student-athletes have access to the best facilities UNI can offer, Roybal assisted in the planning and designing of facility projects including the soccer field in July 2021; the softball hitting facility in December 2017; the tennis complex in October 2017.  
Roybal also helped bring a number of postseason competition opportunities to UNI, including women's swimming and diving, women's volleyball, women's golf fall preview, women's basketball preseason WNIT, men's and women's cross country, men's and women's indoor track and field, women's individual tennis, women's team tennis and women's basketball postseason WNIT.
She also has collaborated in the planning and preparation of the UNI Women at Play annual fundraising event for the Pat Allen Women at Play endowment scholarship fund, and the 50th anniversary of UNI Women's Athletics in 2018.
"Our loss is definitely NKU's gain," Harris said. "I thank Christina for the truly remarkable work that she has done during her time with us and wish her the best at NKU. She will do a great job as an athletics director, and they are fortunate to have her take on this leadership role."
While Roybal is excited about her new role, she said it is bittersweet to leave UNI, where she found so much support and encouragement.
"The Panther family of coaches, staff and student-athletes embraced my family and me," Roybal said. "It's the people at UNI who have made my experience special and made me a Panther fan for life."
Contact:
Michelle Van Dorn, Assistant AD of Communications, michelle.vandorn@uni.edu, office (319) 273-5456 / cell (319) 290-5301