News Release
UNI Housing & Dining to offer elevated dining experience this fall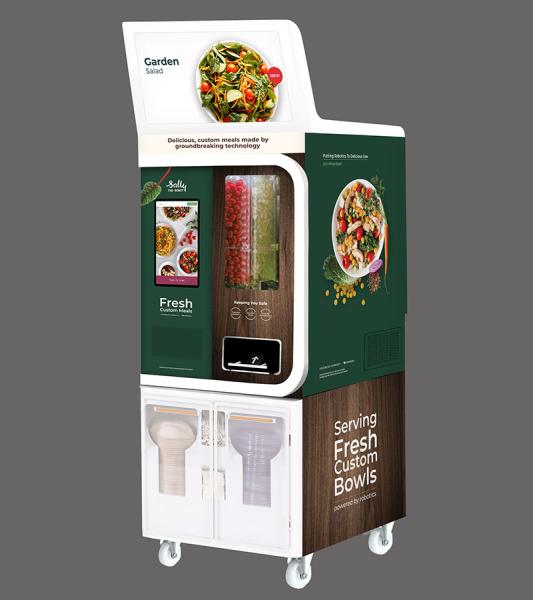 UNI Housing & Dining is elevating the student dining experience this fall with changes coming to the food court in Maucker Union.
In partnership with the Student Green Fund and Sustainability office, UNI Dining plans to unveil The MicroFarm, which will create a "farm-to-table" experience by offering a variety of produce grown on campus. Microfarms require 94% less water than traditional farming, reduce food waste, reduce food miles and use zero pesticides.
The MicroFarm is one of the visible signs of the sustainability commitment of UNI and Housing & Dining. It can be seen at the Maucker Union Food Court and will be used in a variety of ways, not only supporting efforts in dining, but experiential learning as well.
A salad robot will also be coming to campus to add fresh, customizable alternatives to our menus using produce from The MicroFarm, as well as additional fresh salad toppings and other ingredients.
The salad robot — also known as Sally the Fresh Food Robot — is a vending machine loaded with fresh, high-quality fruits, vegetables and salad toppings that allows you to order a variety of salads, as well as customize your own salad creations. The machine will also calculate the macros of your salad for those who like to track their nutritional intake.
These two new concepts bring a greater variety of fresh and healthy food options to our already award-winning menus.
Some familiar favorites will also be joining the food court this fall. Godfather's Pizza and Kachin Sushi will be moving from their current locations within 23rd Street Market to Maucker Union. Godfather's will take over what was once Wasabi, and Kachin will move into the old Avanti spot. They join the already established Flare's and Union Station Sandwich Co.
With the expansion of offerings at Maucker Union Food Court also comes a welcome change in hours. For those of you looking for additional dinner options on campus, the food court will be adding evening hours! Maucker Union Food Court will be open until 8 p.m. Monday through Thursday, starting early in the fall semester.
All of these additions will build on the esteemed reputation of UNI Dining which has been named "Best College Food in Iowa" the last 6 of 7 years by Niche.com.
 
MEDIA CONTACT
Annie Karr, Asst Director Marketing & Conferences, Housing & Dining Marketing