Politics & Justice
UNI's Master of Public Policy program earns NASPAA accreditation
Only accredited MPP program in Iowa accepting students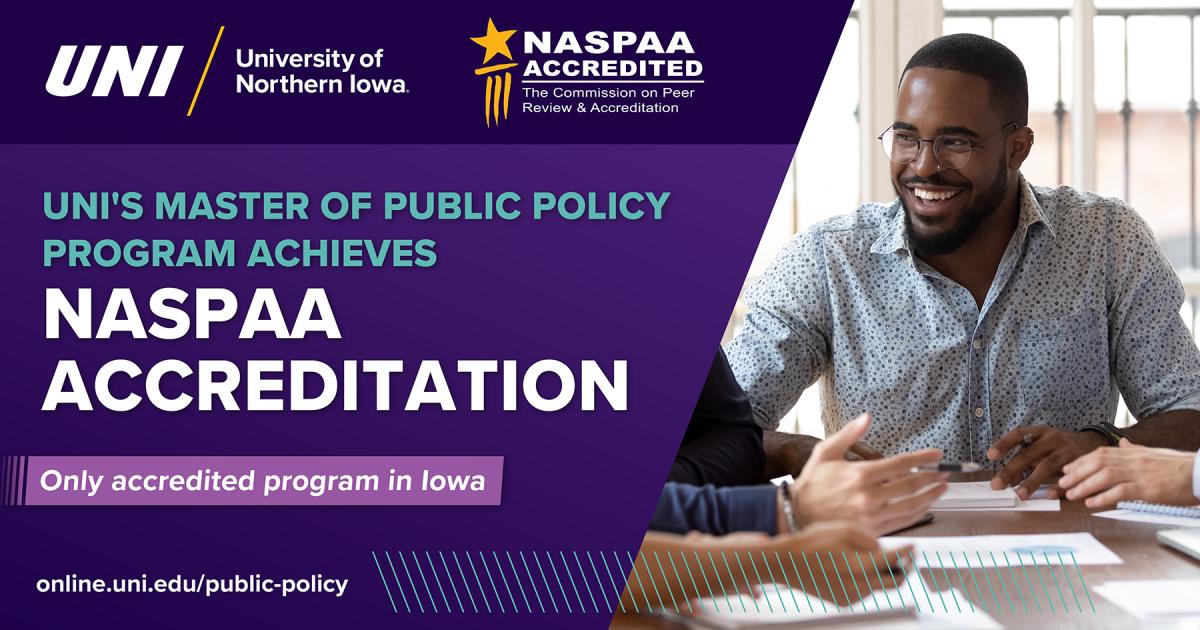 CEDAR FALLS, Iowa – The University of Northern Iowa Master of Public Policy (MPP) program is one of only five schools to receive accreditation from the Network of Schools of Public Policy, Affairs and Administration (NASPAA), the global standard for public service education. It is the only American program to receive the honor this year, and the only NASPAA-accredited program in the state of Iowa. 
NASPAA is the membership association of graduate programs in public administration, public policy and public affairs, and the Commission on Peer Review & Accreditation (COPRA) is the accreditor of these master degree programs. 
"NASPAA is the global standard for public service education," said Brenda Bass, dean of the College of Social and Behavioral Sciences. "Its standards include the highest criteria in course of study, performance expectations, faculty qualifications and performance, and serving students." 
Accredited programs share NASPAA's commitment to transparent, effective, inclusive, and ethical public service. These standards ensure programs promote public service values, bound in the pursuit of programmatic improvement and educational quality. 
The MPP program underwent a multi-year process of self-study, visits and peer review, during which it demonstrated public service values, measuring and improving upon programmatic outcomes, and contributing to the knowledge and practice of public service. As a newly accredited member, UNI MPP joins a community of over 200 programs that spans across the globe. 
"Our program has always emphasized student success and support, but the accreditation process helped us identify new ways to engage students," said MPP program coordinator Chris Larimer. "An example of this was in the creation of a new Capstone practicum course. Students apply their data analytics and program evaluation skills in partnership with community organizations to complete a project that informs decision-making within the organization."
UNI's MPP program is designed with working professionals in mind. Fully online delivery allows students to study together through a cohort model as they complete the 37-credit program over the course of two years. 
The applied degree is also designed to enhance the skills needed for success in the increasingly-complex public policy arena. Throughout the program, students are equipped with the knowledge and skills needed to analyze, develop and evaluate public policy and affairs at all levels of government. It is well suited for those seeking professional advancement within public service professions and nonprofit organizations that work in the public policy arena. 
Applications are currently being accepted for the fall 2023 cohort, with classes beginning August 21. For more information and to apply, visit online.uni.edu/public-policy.