Community policing was the main focus of the first "The Purple Couch Courageous Conversations," a series of public discussions about equity and social justice on UNI's campus. The series, which launched last week, was organized and moderated by Jamie Butler Chidozie, Director for Diversity, Inclusion & Social Justice. 
UNI President Mark Nook and Police Chief Helen Haire took part. Highlights from the conversation have been edited for length and clarity.
What is your vision for the University of Northern Iowa in regards to equity, diversity in inclusion?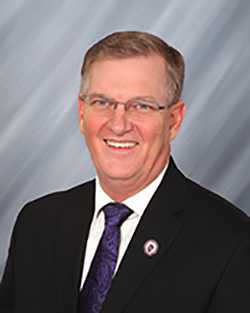 Nook: For me, diversity means difference, it really is that simple. It is about having differences of perspectives. But that means having people of different races, different genders, different gender orientations, sexual orientations, different levels of physical, mental and emotional abilities, different perspectives and viewpoints. Inclusion for me is providing an equitable opportunity for everyone to be successful. And that means understanding the strengths and the different abilities that people bring to the campus and being able to meet them where they are and providing the support systems for everybody. If we are really providing an equitable opportunity, we will have equal outcomes. 
Haire: I would echo what the president said, we're working on it, but we still have a long way to go. From a police perspective, our goal is to have that diversity within the department so we can better interact with our diverse community. It's not all about one thing. It's inclusive of everybody. And in order to do that we need to be more diverse, and we have some work to do to reach that goal, we recognize that. And that is our goal, because we serve the community, and we should reflect that community.
Do you believe that police departments here in America have an issue with systematic racism, harassment, police brutality, specifically towards African Americans, but also other minority groups?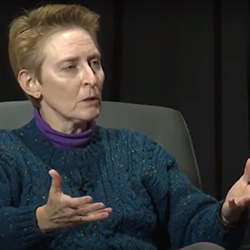 Haire: I think it is a problem. I do. I think if we look at policing historically, that it's there and it's been there for a very long time. And in some ways, policing reflects society. In general, what we do is sometimes what society wants us to do, so you have to delve deeper into the societal issues, which leads to the systemic part of the problem. So yes, I think there probably is some systemic racism and equitable treatment issues in police departments.
Nook: You really don't have to look too far into the data to see it. It's clear in almost all of the data. it's not just anecdotal. It's pretty clear that we do have an issue. I think bringing it to light and having it open and discussing it is a way that we can start to address that and make some changes to it.
What steps are the UNI Police taking to root out systematic racism that exists in our justice system?
Haire: I've been here just over eight years now. When I got here, there was nothing to indicate that we had an overt problem, if you will. But one of the first things I did was we talked about anti-bias policing. That was very important that we not have any bias in our policing. We do as much education as we can. We talk about everything that's happening in society. We run it through scenarios. 
Nook: One of the things that I asked about to have the police department do in their review this year was to ask specifically for the data on race and ethnicity related records that we had. It's a small sample size, unfortunately. But we are always tracking that, and those data are public, and we're going to continue to make them public. It is a way for us to kind of stay on top of systemic racism. If you're really inclusive, and you're really equitable, then your outcomes are equal. That's what we're really looking for. And that applies everywhere. It's not just in our educational outcomes, but our outcomes across this university.
Where do you stand with the student demands of the police department to sever ties with the Cedar Falls and Waterloo police? As the president of the University of Northern Iowa, where do you stand?
Nook: I think in diversity, equity and inclusion work, the voice of all leaders is really important, because it allows the grassroots voices to develop. This can't be just a top down, it needs to be a voice from a top that gives people the space to be able to operate and to be able to bring things forward. 
Going to the question in particular, you go back to when we created a police department on this campus and moved from really just campus safety to a real police department. It was about creating a police force that is more community centered and better understands what university campuses are about. The campus police departments do need to work with the community because most of our students don't live on our campus. And they're going to interact with the Cedar Falls and the Waterloo police department, whether we have a relationship with those departments or not, because they're living in those communities. Completely severing those ties is really going to be more problematic for many of our students, and more problematic for us being able to engage and help in some of those situations. There's some really tricky pieces to pull apart in all of that. How do we use off-duty police officers from Cedar Falls, from Waterloo, from the county sheriff's office? Those are things that we can have that open conversation about when we have them on our campus with events and those sorts of things. 
Many student leaders have expressed feelings of not being heard when they raise concerns to the police department and UNI administration. Could one or both of you speak to that?
Nook: I haven't been involved in those direct conversations, but I have had student leaders come to me and raise their frustrations with me and we continue to work on those. These are the kinds of conversations we have to have. They have to be tough conversations like we're having here. We really are in this time where we're going to have to find a way to come together and admit that we're having extremely complicated and difficult conversations around race, around differences, and how we have those conversations and and how we build enough respect and trust that we can have those conversations and feel like everyone's being heard. We want to be inclusive, we want to increase diversity. If we're really inclusive, we recognize that we're going to have to have an equitable opportunity for people to be successful. That means we've got to recognize that everybody's coming to this institution with a different set of skills and a different way of looking at the world and a different lived experience. We have to listen to that lived experience and start to understand it, and then start to see how we can make this work within the structures that we have. 
Haire:  I think we should sit down, but I think it should be a conversation with not just the police, not just the health center, not just administrators, I think it should be everybody. So have everybody around the table at the same time, so that you can hear every piece in the moment because I may say something that sparks a question to the Counseling Center, or vice versa. So if we all sit down, and we do hear that voice, to better understand those issues, and then say, "Okay, this is what we do."