The University of Northern Iowa prepares students for many avenues of success, including in graduate school. Here we highlight a few talented members of the Class of 2020 whose UNI experience helped them achieve their goals in higher education. 
Joseph Tibbs​
When graduating senior Joseph Tibbs looks back at his decorated academic career at the University of Northern Iowa, he will remember the little things - playing board games every Friday with other chemistry students, participating in the UNI Ballroom/Swing Club, playing the bells in the Campanile, and sitting in the offices of his professors and mentors after hours, discussing not academics, but the journeys and pitfalls of life itself.
UNI provided Tibbs (pictured above), a double major in biochemistry and physics, with cutting-edge research opportunities, helped him land several esteemed internships and assisted him as he earned prestigious scholarships and fellowships, but he said what makes UNI unique is the people.
"I'll be thinking about the people (when I leave)," Tibbs said. "What sets UNI apart is the community that exists in the departments and residence halls. Everywhere you go, it is supportive. It's an atmosphere of students who want to get to know each other and be creative with what experiences they have. The memories I have from UNI are not something you can get everywhere."
The foundation those experiences provided culminated in the spring semester, when Tibbs was awarded the prestigious National Science Foundation Graduate Research Fellowship, a highly competitive program that will fully pay for his tuition and provide an additional stipend to allow him to pursue his doctorate studies in bioengineering.
But it's not the only honor Tibbs earned during his time at UNI. When he graduates in May, he will leave behind a career punctuated by esteemed internships, advanced research opportunities and coveted scholarships.
Tibbs took part in three summer internships off campus. At the National Institute of Standards and Technology near Washington D.C., he studied electrostatic force microscopy, and at Yale University he studied cytoskeletal dynamics. Finally, Tibbs has worked extensively with the lab of Maria Spies at the University of Iowa under the FUTURE in Biomedicine program. 
All three experiences contributed to his love of the field of biophysics and the technology of nanoscale measurement and detection and shaped his desire to combine knowledge of physics and biochemistry to develop nanosensors for disease biomarkers and microscopes for macromolecule characterization, Tibbs said.
Along the way, Tibbs assisted multiple UNI professors with research projects, including studying pancreatic cancer cell culture with Nalin Goonesekere, assistant professor of chemistry and biochemistry, and examining intracellular transport models with Ali Tabei, assistant professor of physics. 
During his time at UNI, Tibbs was a Goldwater Scholarship recipient and a NASA Iowa Space Grant Consortium Merit Scholarship recipient,among other honors. He was involved in the Student Fees Committee working closely with the Northern Iowa Student Government and was co-president of both the Physics Club and the American Chemical Society Affiliates.
He was also recently one of only two students in Iowa to receive the R.J. McElroy Trust Fellowship, which will provide an annual stipend while Tibbs pursues his doctorate.
In the fall, Tibbs will attend the University of Illinois, Urbana-Champaign, where he will pursue his doctorate in bioengineering. He will work and study in the lab of Brian Cunningham, whose work with medical sensors and cancer detection now includes research into COVID-19, as he develops detection methods that would allow diagnostic facilities at the point of care to count each virus directly using a new form of ultrasensitive biosensor microscopy. 
Carolyn Pham
After graduating from high school in Davenport, Carolyn Pham arrived at UNI intending to pursue a degree in art education but shifted to a psychology when she realized she was more interested in what drove people's perceptions - particularly about race. 
"I've always been interested in how people act and why they do the things they do. As a kid, I liked the idea of being a psychologist and dissecting people's motivations and feelings," Pham said. "While that isn't quite what I'm interested in anymore, that interest still pushed me toward choosing psychology."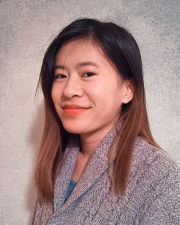 At UNI, Pham found the perfect home for undergraduate research. Her work has been published in peer-reviewed journals not once, but twice. Her talent and experience gave her a leg up when she applied to doctoral programs and was immediately accepted into three. 
"She is smart, unique and a future cutting-edge researcher and faculty member," said Lisa Hooper, one of Pham's mentors and director of UNI's Center for Educational Transformation (CET). "She is an amazing student whom I am sorry to see go."
Pham started as a research assistant at the CET, which conducts educational research studies across the state. She was then selected as the Donald and Gudrun Fruehling Undergraduate Research Fellow during the summer of 2019, which allowed her the unique opportunity to help lead a research study. 
In that role, Pham worked alongside her mentor Jiuqing Cheng to develop a study that focused on their mutual interests in cognitive psychology and cultural psychology. Their study - based on a survey of over 400 people - measured how different racial groups viewed police and explored how people's thinking style also had an impact on their perception regardless of their race. 
With two studies published in a peer-reviewed journal and numerous research experiences under her belt prior to graduating, Pham said her time at UNI has prepared her to tackle a career in psychology. 
"My experiences here have boosted my confidence and taught me how to talk to different types of people." Pham said. "While of course I've learned hard skills like psychological constructs, data analysis and painting methods, the soft skills I've learned and will continue to improve in, such as public speaking, resilience, and interpersonal relationships, were what really made my time at UNI memorable."
Upon graduation, Pham will be attending Ohio University to pursue a doctoral degree in experimental psychology, with an emphasis in industrial-organizational psychology. 
Maritza Salinas
As the daughter of two immigrants who strove to build their family a foothold in the US, Maritza Salinas grew up knowing the value of hard work, education and finding your own path.
It was a nontraditional one that brought her to UNI, where she won a full scholarship and numerous accolades. After high school, Salinas pursued a journalism degree from the University of Iowa, but after two years there she knew it wasn't for her. She withdrew in the fall, worked the corn harvest and took a technical support job working overnights as she finished an associate's degree at a community college.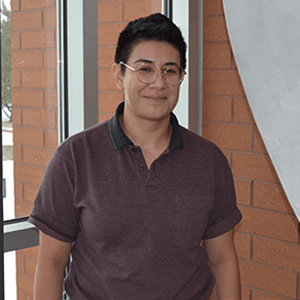 Her friends encouraged Salinas to consider finishing her education at UNI because of its scholarship programs for minority and non-traditional students. Salinas won a full scholarship and decided to pursue a degree in geographic information systems, which, like journalism, would allow her to tell stories in a way people could understand. 
"I knew I wanted to study geography after working on the combine in the fields, and working at the call center told me I liked technology. I just had to find a way to combine the two." Salinas said. "When I found GIS at UNI, I was really excited because I was like 'Ah! Finally, it exists!'"
One of the best things for her about UNI was that it truly helped prepare her for a future career in GIS by giving her experience working with industry-standard remote sensing software like ArcGIS, ENVI and ERDAS Imagine. Salinas was also able to work at the Iowa Waste Reduction Center (IWRC) as geographic information systems intern.
"She has been a great asset to the IWRC. We knew we wanted to start integrating some GIS elements into our programming, but we weren't quite sure how we were going to do that." said Joe Bolick, director of the Iowa Waste Reduction Center. "When we brought on Maritza as a GIS intern, she was able to take our ideas and bring them to life. She is a prime example of what it takes to succeed in this world, and she is going to continue to do great things moving forward."
This real-world education has helped Maritza to start making a difference before she had even graduated. Using the skills she learned at UNI, Salinas created a COVID-19 web application that shows each county and their reported cases. It also provides links to resources such as food assistance programs, tutorials for cloth face masks, and mental health programs. 
After graduation, Salinas is staying at UNI to get a master's degree in geography. Prior to the cancellation of the program due to coronavirus, she was selected to take part in NASA's highly selective DEVELOP program to work on the Satellite Beach energy project.