University of Northern Iowa officials traveled to Des Moines Area Community College on Thursday to tour a new $24 million downtown campus that will host the UNI@DMACC program that launched this fall. 
The three-story, 60,000-square-foot-building, which is expected to open in the spring, will be the centerpiece of DMACC's existing Urban Campus. A first-floor office there will be the new home of UNI@DMACC, a partnership program that allows Des Moines DMACC students to earn a four-year UNI degree.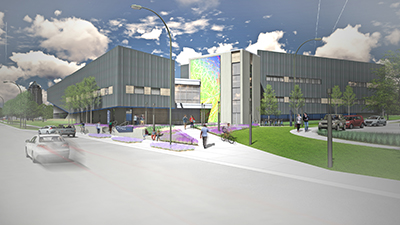 "It's great to partner with DMACC, especially on this project, especially in this location," UNI President Mark A. Nook told the socially-distanced crowd that gathered before last week's tour. "It's the right thing for Iowa." 
"It's extremely important for Iowa," DMACC President Rob Denson told the group. "Our teams have worked together with UNI to create a unique educational experience for Iowa. We're particularly excited that this was the first majority-minority college."
DMACC's campus is the first in Iowa with a majority of minority students, and the UNI@DMACC program marks the first partnership of this size and scale between a Regent university and community college. Many students at the campus are nontraditional - the average age is 28 - and the new program will be a bridge to a four-year degree. 
Mark and Jill Oman, both UNI alumni and residents of West Des Moines, donated $1 million to support the new program. 
This new partnership is specifically designed for students to complete their first two years at DMACC, with the remainder of their degree completed online through UNI. Degree options include a Bachelor of Liberal Studies (BLS), a Bachelor of Applied Science (BAS) in Managing Business and Organizations, and a BAS in Criminal Justice. Both BAS programs are designed for graduates of DMACC's two-year Associate of Applied Science (AAS) programs. 
UNI also offers a Bachelor of Arts degree in elementary education through online and on-site courses at other DMACC campuses, including Ankeny and Carroll.
"We're excited to help expand access to a four-year degree and create more opportunities for students across central Iowa," said Paul Sapp, UNI's associate director for transfer admissions and UNI@DMACC coordinator.