Alumni
20 under 40: Federal advocacy meets local impact
In a normal year, barring a global pandemic, Andrew Morse travels a lot.
As the University of Northern Iowa's primary federal government relations officer, he frequently jets off to Washington D.C. or Department of Defense sites or conferences across the country to advocate for legislative change. But don't let that fool you. While he's often away, his focus is solely on the local community.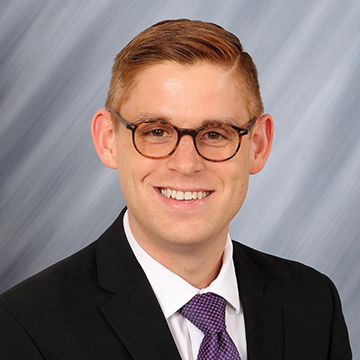 It was for his efforts tackling local issues of inequality, economic inclusion and health care access that Morse was named to the Waterloo Courier's "20 under 40" list for 2020.
Morse has been an active participant in Grow Cedar Valley's Economic Inclusion Network and the Black Hawk County Department of Public Health Systems Thinking Task Team to address gaps in employment, health outcomes and educational attainment that fall along demographic lines.
"We're trying to create a community action plan by engaging local stakeholders who operate philanthropic organizations, who make policy to deliver educational programs and help individuals gain the credentials they need for their next phase in life," Morse said. "We're bringing all of them around the same table to develop a series of actions we can take to achieve something together we might not be able to apart."
Morse is often the representative of UNI while working on these community projects, and he said the university has a responsibility to engage in this work given its economic and educational impact on the Cedar Valley.
"Challenging the status quo is the work of higher education," Morse said. "We have always played a role in challenging cultures of prejudice, and we need to have a leadership role in those conversations and efforts and to be a steward of that work on our own campus."
At UNI, Morse is the university's primary government relations officer at the federal level. Morse works directly with legislators from the Senate and House of Representatives in support of UNI's legislative goals, which include economic development, student support in the form of need-based financial aid, educator preparation policy reform, immigration reform, campus-based gender violence and more.
Prior to his return to UNI, Morse worked for the university system in Florida, where he helped map out how educational opportunities contributed to the state's workforce. The process helped him understand the close link between education and economic vitality and quality of life.
From Florida, he moved to Washington D.C., where he led the federal policy efforts of NASPA, a national higher education association. There, he worked on the prevention and handling of campus gender-based violence and issues with campus firearm laws.
When he's not advocating for the community's interest, Morse enjoys spending time with his wife, Amy, who he met while they both attended UNI, and their two children. You can also frequently find him exploring Cedar Valley's bike trails.