Alumni
Andrew Morse to depart UNI for Central Washington University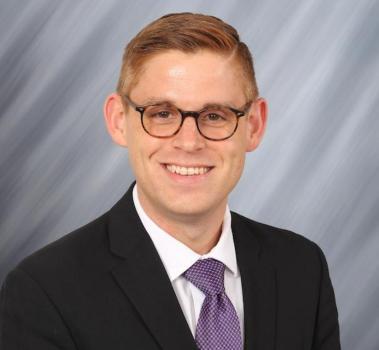 University of Northern Iowa President Mark Nook announced Thursday that UNI graduate Andrew Morse is departing the senior leadership team at his alma mater to serve as Chief of Staff at Central Washington University in Ellensburg, Wash. Morse will conclude his tenure at UNI on August 17. He will take on an expanded role at Central Washington University and will begin his duties there on September 1.
The 2009 UNI graduate returned to Cedar Falls in 2017 to serve as Assistant to the President for Board and Governmental Relations at the University of Northern Iowa before being promoted to Chief of Staff by Nook. In addition to a Bachelor of Arts degree in Psychology from UNI, Morse holds Master's and Doctor of Philosophy degrees in Higher Education Administration from the University of Tennessee, Knoxville.
"Andrew has had a phenomenal impact on UNI as a student leader and in his leadership role in the president's office," Nook said. "His work in federal relations helped garner important funding to support small and medium-sized manufacturers and STAR4D military painter training. He played a pivotal role in developing language that resulted in the Educators for America bill and helped build a relationship with the Meskwaki Nation that led to our Mission Stewardship Statement. The position at CWU is an excellent opportunity for Andrew to take the next step in his career. We are sad to see him go and, at the same time, excited to see his career continue to grow with this opportunity." 
Morse expressed his gratitude to the many individuals across the UNI campus and the state of Iowa he collaborated with during his time in a leadership role in Cedar Falls. 
"I'd like to thank the University of Northern Iowa for the opportunity to serve the people, industries and communities of Iowa and beyond," Morse said. "It has been a remarkable experience to help expand access for the people of Iowa to UNI's tradition of high-quality education that leads to lifelong success, and to develop and advance federal legislative priorities to create jobs, address climate change and improve quality of life for all." 
As a member of the executive leadership team for President Jim Wohlpart at Central Washington, Morse will lead community, state and federal government relations. Additionally, as appointed by the CWU Board of Trustees, he will serve as the Secretary to the BOT, coordinating board communications, and, in collaboration with the Office of the Governor, board appointments.
"Andrew brings a wealth of knowledge and experience regarding community, state and federal government relations, as well as executive-level strategic planning, presidential advising and operational effectiveness skills that will greatly benefit Central Washington University," Wohlpart said. "His work in policy at the state and federal level will benefit not only Central Washington University but all of higher education. We look forward to welcoming Andrew into the Wildcat family."
A former student body president at UNI, Morse previously served as a consultant and project director at Keeling & Associates, a higher education consulting firm, where he led strategic planning, operational effectiveness and student success-focused projects for public and private non-profit colleges and universities across the United States and Canada. Morse also directed the federal policy research and advocacy efforts of NASPA, a national higher education association based in Washington, D.C., focusing on civil rights, labor and employment law, the First Amendment and a myriad of issues affecting U.S. higher education.
Contact:
Pete Moris, director, University Relations, pete.moris@uni.edu, 319-273-2761