As a single mother, business owner and Russian immigrant adjusting to life in small-town Iowa, Yulia Dannen found a foothold at the University of Northern Iowa. 
Dannen, 40, earned an accounting degree at UNI, commuting 80 miles four days a week roundtrip from her home in Mason City. She'll never forget the nights spent doing homework while her daughter Kira, equipped with crayon and paper, pretended to do the same alongside. Now Kira is a junior at West Fork School, a figure skater and inductee into Phi Theta Kappa honor society at North Iowa Area Community College.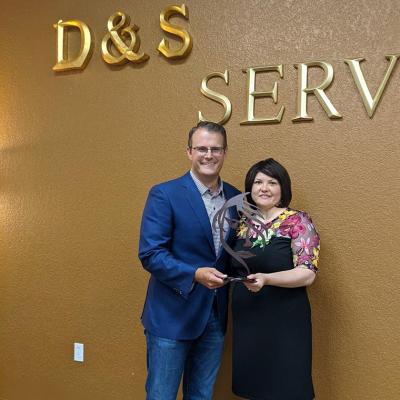 In the 11 years since graduating from UNI, Dannen has built a respected tax preparation and tax debt resolution business, D&S Services, that was recently awarded the Small Business Development Center's Deb Dalziel Woman Entrepreneur of the Year Award. The award honors an Iowa woman entrepreneur who has significantly changed or improved her life and the lives of others.
"Yulia has been an inspirational long-term client of the Small Business Development Center," said North Iowa Area SBDC regional director Brook Boehmler, who nominated Dannen for the award. "Her 'can-do' attitude helps put small business owners at ease. Yulia's tenacity and dedication to excellence has helped her build a successful and influential business in Mason City."
Dannen credited her UNI education with providing the business knowledge and the customer service skills that helped her practice thrive. And she also credited the lessons of her mother, who instilled the virtues of hard work and perseverance.
Dannen grew up in the small town of Ust-Katav, nestled in the Ural Mountain in Chelyabinsk Oblast, Russia. Her mother was a university professor and her father a city engineer. When she was young, her father was sent to Chernobyl to help clean up after the nuclear meltdown in 1986, Dannen said. He worked there for nine months before returning home. Seven years later, he died of cancer at the age of 44, she said. Dannen was 12.
Her mother never remarried and devoted her life to Dannen and her brother.
"She was always telling us to work hard, believe in yourself  and have faith and that when things don't work out, always look forward and see what you can do," Dannen said. "I'm really thankful that my mom showed us a good work ethic."
Dannen left Russia in 2004 and moved to New York and fell in with a group of friends, who she eventually followed to the Midwest.
"(Moving to the Midwest) was one of the best decisions I've ever made," Dannen said. "It's safer here. It's more affordable to live here. And I could balance my life being a full time mom and a student , and  work. I don't think I would have been able to do that in New York."
Dannen enrolled in the North Area Iowa College in Mason City in 2006. When she was looking to transfer, her advisor said that if she wanted to go into accounting, she should attend UNI.
"He said their accounting program is the best, and now I know it is," she said.
She started immediately, enrolling in a summer class and driving 40 miles each way, four times a week.
"Honestly, I was driving and I just felt like I was flying to UNI. I had that uplifting feeling in me," Dannen said. "I was so passionate about the school and trying to absorb everything in my classes."
"From the business standpoint, I learned how to develop a business and how to be successful," said Dannen, who was also involved with the Accounting Club, where she learned networking and communications skills. .
Today, Dannen is an Enrolled Agent who is a federally licensed taxpayer representative admitted to practice before all branches of the IRS and IRS Office of Appeals. She primarily serves individuals and businesses that owe back taxes to the IRS and states' taxing authorities. 
After buying her business in 2008, she quickly set about expanding its customer base. She changed what had become a seasonal tax business into a year-round accounting practice. She also added payroll, bookkeeping and tax debt resolution services and said the number of clients have more than tripled. During the pandemic, she also helped her clients in the Mason City area and beyond gain access to Paycheck Protection Program (PPP) loans through the federal government.
"I enjoy  working with people," Dannen said. "If I can help a person or a family-owned small business in debt with the IRS and find a good solution, and put their lives back on track or even save their marriage, it's a very rewarding feeling."
Remarkably, she bought the business after working there for a single tax season, without a presence or reputation in the Mason City area. It was a leap of faith, a gamble that the work ethic instilled by her parents would pay off.
"I thought if I broke even that first year, I would be lucky," Dannen said. "But I ended up making a little bit of profit."
It was a bold move for a single mother still two years away from graduating college, and Dannen admits that her decision seemed daunting in hindsight.
"When you look back on your thinking, you think 'well, that's impossible,'" Dannen said. "But at the time, you don't really think, you just have to do it. Just plan ahead and figure things out and move forward with faith."