Alumni
Corporate veteran found his passion at UNI
Jeff Mochal, the new head of corporate communications for MGM Resorts International, credits his undergraduate experience at UNI with helping him decide the career path he didn't want.
And by realizing he didn't have the passion to commit to a lifelong teaching career, Mochal eventually found public relations and the writing career that fulfilled his ambitions. He's now a senior vice president at a global Fortune 500 company with a $20 billion market capitalization.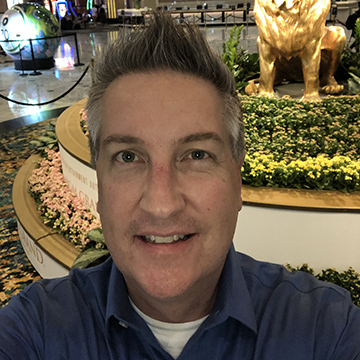 "I was halfway through (UNI's) teaching program, and the professors made it clear that you had to have a passion for teaching — [so that] you'd want to teach for the rest of your life," said Mochal, 46, who's in the process of moving to Las Vegas from his previous job as senior vice president for marketing and communication at LPL Financial in Charlotte, N.C. 
"I decided that I didn't want to be a teacher, so I doubled up on English [studies]," said Mochal, (UNI '96), who majored in English with a minor in creative writing. 
Mochal had excelled in writing throughout his school years in Cedar Rapids, Iowa. He credits his high-school English teachers for encouraging him and influencing his decision to start writing for the school newspaper. He kept up interest in journalism at UNI, where he worked for two-and-a-half years, first as the assistant news editor and then as editor-in-chief.
"While Jeff's story is exceptional in many ways, in the big picture his is not an unusual path for an English major," said Jim O'Loughlin, head of the UNI's Languages & Literatures department and a professor of English. "English students who develop strong writing skills often find that those abilities can take them in many different professional directions."
Mochal credits his career indecision to his distinctly unconventional upbringing as the youngest of 16 children. His parents were in their 50s and had left the farm for city life by the time Mochal was born. He has eight sisters and seven brothers; one brother's twin died when he (the twin) was three months old.
"My next oldest sister is five years older and my next oldest brother is 10 years older," Mochal said. "So when the family got together, I remember when I was 8, I'd go to my mom and say, 'Who's that?' What? That's my sister!?' After all, none of them lived in the house. My oldest sister was married and had two kids before I was born. I have nieces and nephews older than me." 
By the time Mochal was born, his dad worked at a factory and his mother worked at Sears, then Target. They'd grown up during the Great Depression and lived most of their lives on the farm, so they quietly modeled a strong work ethic, financial sensibility and yearning for a stable life.
After Mochal graduated from UNI, he gravitated to the work where he could leverage his talents — and took a job as a sports editor at a daily newspaper in Fairfield, Iowa. He then moved to Minneapolis, Minnesota, to work at an LPGA golf tournament, where he had the chance to work with the tournament's PR agency, Brener Zwikel & Associates. When the tournament ended, the agency offered him a job in Los Angeles.
"Before working that golf tournament, I'd never even heard of public relations," Mochal said.
But he packed up his Toyota Camry and drove from Minneapolis to Los Angeles to work for the sports agency. He found himself, in his 20s, working out of the MGM Grand in Las Vegas, credentialing media and stars like Muhammad Ali for Mike Tyson's first fight against Francois Botha. That was Tyson's first fight after his famous "ear-biting" fight against Evander Holyfield.
Mochal's next career moves proved serendipitous, as well. He met his wife of 20 years, Erika, when he was working at the Nissan Open Golf Tournament in Los Angeles, where she was working for Nissan's public relations agency. 
They moved to St. Louis when Erika's client, Nestle, bought Ralston Purina. Mochal was hired as public relations manager for Hardee's restaurants, which was looking to invest more in sports marketing. The timing was perfect: CKE Restaurants had just acquired Hardee's, and Mochal was well acquainted with the company's Carl's Jr. brand from his career in Los Angeles. 
After the Mochals had their first child, Emmy, now 14, Erika chose to stay home, and Jeff Mochal was recruited as director of communications and external relations for Conagra Foods in Omaha. The company moved the family to Omaha, and later to Chicago, where Mochal got his MBA from the University of Notre Dame's satellite campus there. He and his wife now also have son Sam, 12.
He then became senior director, global external communication, for McDonald's Corp., where he helped create and lead U.S. and global public relations strategies for the Olympics, FIFA World Cup, Ronald McDonald, Happy Meals, and the 'I'm Lovin' It!' campaign. Next, his career took him to LPL Financial in the Carolinas prior to his latest move.
Mochal has learned that his strength all along — writing and working with the English language — is a "hot commodity" that few people have.
"There's a pretty strong demand for people who can communicate in written form, verbally and on social media," he said. 
And he discovered that the "hidden art" of public relations is the skill of knowing how to communicate a message so that the audience understands it as it was intended.
That's nearly a lost art as people stake out polarized stances, whether in politics, culture, history or just about any major subject.
"What almost no one does [anymore] is care or think about how their communication impacts other people," he said. "Public relations, on the other hand, is all about, 'Will people interpret what we say correctly? Or should we say it differently to ensure that it's taken as we intended?"
He's focused on how to create that kind of focused, nuanced messaging for legendary names such as the Bellagio, MGM Grand, ARIA, Park MGM and other properties.
Mochal sticks close to his roots, though, in recognizing that his time — particularly family time — is priceless. 
Ambition, and the passion that UNI's professors valued so highly — reflect key values. 
"If I'm going to take time away from my spouse, my family and my kids – then I'm going to do [my work] to the best of my ability. It feels that I'm honoring my family that way. It's valuable time."