Alumni
A family of Panthers: Love for UNI runs three generations deep in Langstraat clan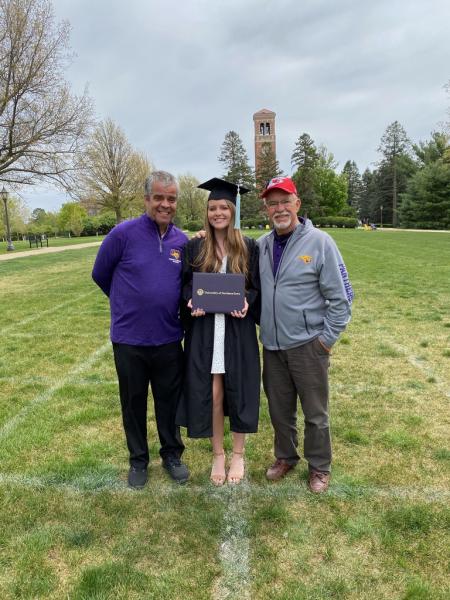 When it came time to pick a college, Haley Langstraat initially resisted the multi-generational pull of her family's alma mater. Her dad Mike and her grandfather, Clint Langstraat, both attended the University of Northern Iowa, yet Haley was determined to go a different route.
"I really tried to fight it at first. I kind of wanted to strike out on my own and do my own thing," she said. "But, the more I looked at schools, the more UNI seemed like the best fit. UNI was the size I was looking for - it had smaller class sizes, I was already familiar with the school and the Cedar Falls area. I got to that point where I was like 'OK, I guess I am going to UNI,' and honestly, I loved every minute of my experience."
"We were thrilled she chose to go to UNI," said her father Mike Langstraat, a PGA Professional at Sunflower Hills Golf Course in Bonner Springs, Kansas. "It's just a wonderful place and a wonderful community to be a part of."
Mike's path to the university was a little more direct.
"UNI was kind of just the obvious choice for me when it came time for me to go to college," he said. "I grew up in Cedar Falls and my dad actually went to UNI back when it was still Iowa State Teachers College, so going to UNI was an easy choice to make. And really, I am proud to be a UNI alum."
Coming out of college, Mike started working at a golf course in Cedar Falls. In 1995, a golf pro opportunity presented itself and Mike jumped on it, moving to Kansas City. His parents followed a few years later.
Despite leaving Cedar Falls, Mike and his family have remained huge Panthers basketball fans, and he raised Haley and her brother to also bleed purple and gold.
"I dubbed Mike the 'Purple Panther' due to his unbridled passion for his alma mater," said neighbor Mitch Holthus, the longtime play-by-play announcer of the Kansas City Chiefs, who also calls college basketball games. "I've always had a great appreciation for Coach Jacobson and his squads after broadcasting Missouri Valley games for nearly three decades. It's been very rewarding for me to have a front row seat watching Haley evolve from a student manager into her current role working with UNI Basketball."
A family tradition
Haley's connection with Panther basketball started when she was young. The Langstraat family started traveling to UNI basketball games throughout the Midwest when Haley was about 5 years old - a tradition the family has continued for nearly 20 years, making sure to attend at least four games a year and always making sure to be in St. Louis for the Missouri Valley Conference tournament.
"Haley grew up watching UNI basketball," Mike said. "And then in 2005, UNI went all the way to the Missouri Valley Conference in St. Louis. Hayley was about 5 years old at the time, and her brother Joey was 2, and I think that was the first time she realized she wanted to be involved in sports."
When she started at UNI, Haley said she went in with no decided major, but considered teaching or nursing of some sort. Then she talked to a friend who was studying speech pathology.
"I thought it sounded interesting and I liked that I could help people, so I decided to do that," she said.
In her junior year, however, Haley had second thoughts. She loved sports and really enjoyed serving as a manager for the men's basketball team. "I switched my major to what was then called leisure youth and human services and is now called recreation, tourism and nonprofit leadership."
The legacy continues
Haley graduated in 2021 with a bachelors in recreation, tourism and nonprofit leadership and a minor in sports management. It's that love of UNI basketball and her experience as a UNI student that made her want to stay in Cedar Falls and continue working with the basketball team even after she graduated. She was hired on as the UNI men's basketball team's assistant director of basketball operations, where she handles many of the team logistics and day-to-day operations.
"I just really loved my experience as a student at UNI and I love that I still get to be involved in the school and the basketball team every day, and it's kind of cool how I pull information and skills from all the classes and lessons I've learned at UNI and use them every day in my job," she said. "I wanted to go to a school where I was going to have a great college experience and get my degree and meet people, and that's exactly what I got at UNI and I would pick UNI again every time."
"I couldn't be prouder of Haley and what she has accomplished," said her father. "And I am especially pleased that she did it at UNI and continues to be a part of the Panther community."
"

What a great family, a great story and a great school. Go Panthers!

"