Alumni
Fighting for her goals
Born in a refugee camp in Congo and raised among genocide in Rwanda, Ariane Hakizimana beat the odds. Now the recent UNI master's graduate is a commissioned U.S. Army officer who wants to someday work for the United Nations or UNICEF to help people in other countries.
"UNI has really helped me. I was able to build connections. Every faculty member that go to, they're able to assist me. I will definitely remember the people that I was in ROTC with, too," she said. "We really built strong bonds. They were people I could always rely on. If you have the wrong friends, you do the wrong thing, so always having the right friends and knowing your goals means you can always fight towards that goal."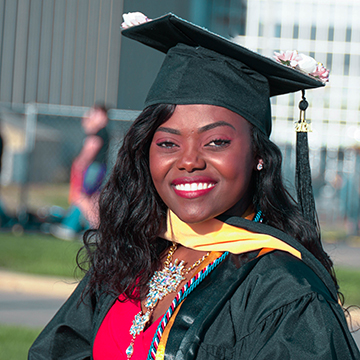 At just 9 years old, Hakizimana fled to France with her mother and two younger sisters to escape armed militias that murdered an estimated 800,000 members of the Tutsi ethnic minority group in 1994. Hakizimana still remembers running past whizzing bullets as her family fled for safety. 
After finding sanctuary in France, her family relocated to Waterloo when her mother married an Iowa native. Adjusting to yet another new culture was a challenge, but her struggles helped her find direction.
"I used to see people coming into our hometown helping others, answering health-related questions. I've always wanted to do that," she said.
Hakizimana attended Columbus High School in Waterloo, then got her GED and went to Hawkeye Community College for her CNA, before transferring to UNI to pursue a degree in public health. At UNI, she found leadership opportunities through UNI's ROTC program and, through her classes, gained the training she needed to realize her dream of helping others. After getting her bachelor's in health education and public health from UNI, she decided to continue on to get her master's degree in social work, with a minor in applied leadership through ROTC.
"ROTC is a great program. It teaches you a lot by yourself, about leadership." she said.
Juggling her ROTC responsibilities with classes was a challenge — "It was like a full-time job," she said, and her days regularly ran from  5 a.m. to 11 p.m. But the experience was rewarding and her professors were understanding.
"I thoroughly enjoyed having Ariane as a student. I was always impressed with how consistently she would try to connect theory into practical approaches for helping others," said UNI Assistant Professor of Social Work Matthew Vasquez. "Her background, clinical training, and experience in the ROTC, have provided her the knowledge and tools necessary to effectively work with a broad range of individuals across a variety of settings. I have no doubt she's going to do great things."
The move has personal significance for Hakizimana. Her Army career is a way for her to make her family proud and honor the sacrifice her mother made to give them a better life.
"Joining the Army would probably be the one thing I'm most proud of. My step dad told me it's making him proud because he wanted one of his kids to join," she said. "My mom is really proud of it, too. I feel like it's a way for me to pay her back. Each time I do something and I see how happy she is I'm like, 'You didn't do all this for nothing.'"