Alumni
How UNI helped an Iowa farm kid become CFO of the Minnesota Twins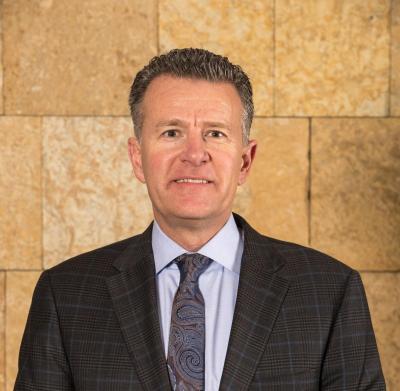 As a child, Kip Elliott spent his family vacations going to the Old Met Stadium to watch the Minnesota Twins play baseball. Now, at 56, Elliott is completely immersed in the world of the Twins, as he serves as the executive vice president, chief financial officer and chief administrative officer for the team. Elliott credits a University of Northern Iowa accounting degree and a work ethic that was honed by being a northern Iowa farm kid with helping him get to where he is today.
"If I had to do it all over again, I'd go right back to UNI," he said. "It was a fantastic place to grow up and graduate from."
Elliott grew up in Fredericksburg, Iowa. While his dad farmed, his mom worked as a first-grade teacher. She attended UNI when it was the Iowa State Teachers College.
"Really a lot of my work ethic came from my parents and growing up in small-town northern Iowa," said Elliott. "There's not a lot of ego in those places. It's people who work hard and don't toot their horn, but they just go about their business. So I think maybe that's the key to my success."
When the time came to pick a school, Elliott chose UNI in part for the strong reputation of the College of Business and the accounting program. 
"Having steady contact with the professors, particularly in the smaller classes in the accounting program, helped me grow a lot," he said. "There was a lot of good life counsel that came from my professors."
As a student, he participated in the Accounting Club, which helped him make connections and even gave him the opportunity to travel. 
Elliott believes that some of the most important lessons he learned as a student had nothing to do with accounting.
"Even though I got an accounting degree, I think the communication skills I learned through my classes helped me advance," said Elliott. "Being able to speak well, being able to listen well, having good interpersonal skills — those are all things that are way more important than my being able to figure out debits and credits."
After graduating in 1989 and passing the CPA exam, Elliott took a job at Coopers & Lybrand in Minneapolis, which was then a top eight accounting firm and is now a top four firm. He continued working in public accounting and auditing for about three years, at which point a search firm contacted him about an accounting manager job at the Minnesota Twins. He hadn't given much thought to seeking out positions in professional sports, but as a self-proclaimed "sports person" and lifelong Twins fan, he considered it too good of an opportunity to pass up.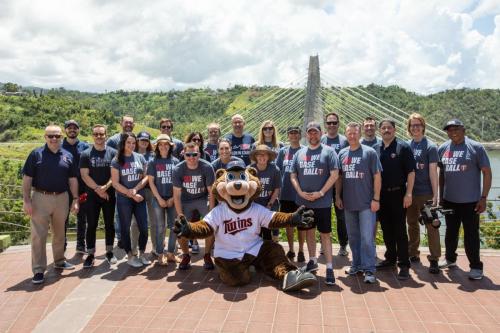 After a rigorous interview process, Elliott found out he had gotten the job.
"Without a question, I was thrilled," he said. "There are only 30 teams in major league baseball, so it's a narrow opportunity. I was lucky — it was the right place at the right time."
It was being in the right place at the right time for that first position that started a career at the Twins that has already lasted three decades. 
A pivotal point in Elliott's career came in 1996 when his boss left to be the chief financial officer for the Seattle Mariners. As a result, Elliott began taking on more responsibility and thought about being at the Twins long-term. 
"A few years after that, as I had taken on these responsibilities and done all right, I started thinking 'I could be here for a while,'" he said. "There were times in there where just like with anybody's job, you're a little frustrated or disappointed or question things. But you don't make rash decisions, and you let things play it. It's always played out well, and I've been here 30 years."
Since then, Elliott has climbed the ranks within the Twins organization. He was named to his current title in December 2016.
"UNI's accounting program put me in a position to get this job," said Elliot. "If I wouldn't have had the opportunity to work in a big eight accounting firm — a big public accounting firm — I wouldn't have gotten my first job at the Twins. Those of us who have graduated from there are biased, but UNI has one of the best accounting programs in the country. It really opened the door for a job that opened a door to the next job."
Through all of it, Elliott has kept treating others well as a top priority. 
"Sometimes folks think you have to steamroll everybody, but that's not really the way to get ahead," said Elliott. "The way to get ahead is to treat people well. Give them some time, be present and care about what other people have going on."