Alumni
Meet the Spring 2022 Panther grads
At the University of Northern Iowa, we are thrilled to celebrate the hard work and success of our graduating seniors! In celebration of their accomplishments, here are some snapshots of just a few of our spring 2022 grads and their lives at UNI. 
Congratulations to all the graduating Panthers! We can't wait to see what you do next!
Marissa Boelyn
Hometown: Dubuque, Iowa
Major: Elementary Education
Minor: Mathematics 
Briefly describe what you'll be doing after graduation: After graduation, I plan on moving to Fairfield, Iowa where I have accepted a 2nd-grade teaching position at Pence Elementary School.  
The education program at UNI was the deciding factor in my choice of where to attend college. I knew that I was going to have a great experience at UNI being involved in all of the field-level experience. Also, the campus size was perfect for me. It is easy to get around and find your class buildings. 
I would say that all of my field-level experiences were very meaningful and rewarding. They all helped shape me into the teacher that I am today. I also would not be where I am today if it were not for the professors in the education department: Irenea Walker, Catherine Miller, Heather Gallivan and Mason Kuhn. Each one helped me become a better educator. They were always willing to assist me whenever I needed them. Their teaching challenged me to think in different ways that would benefit the classroom. For that, I am forever thankful. 
Daniel Bonzer
Hometown: Waverly, Iowa
Major: Master of Social Work
Briefly describe what you'll be doing after graduation: I recently accepted a position as Bremer County VA director and have been working and training under the current director to take over in the summer.
If you want to do the master of social work program and have the resources, do it! These social work classes gave me a plethora of skills, and some of the work we did also helped me find myself after the military and work through my own issues and with my own life in general. Dr. Vasquez's trauma class was one of my favorites! The man is the Jedi master of social work.
While I can only speak for the social work programs at UNI, if you're having issues, talk to your professors. They helped me out and worked with me to get through school when I was struggling. I wouldn't have made it to where I am without the support I got from both the professors and Chiquita Loveless with the student veteran association. If you're a veteran, the vet lounge is a great resource to find support and just meet other vets.
Kelsey Chalfant
Hometown: Bondurant, Iowa
Major: Finance and Real Estate
Briefly describe what you'll be doing after graduation: After graduation, I will be completing an extended internship with Principal Financial Group in Des Moines. I will be working as a member of their commercial real estate team, specifically working in West Acquisitions. 
The most influential people during my time here have been the business faculty and my peers in my classes. I first became interested in finance and real estate when I met with an advisor from the business college. I really enjoyed what I heard, so I decided to switch and I am so happy that I did! Finance and real estate classes have really pushed me to think outside the box and challenge myself. 
I would tell high school seniors or transfer students to consider all of their options when coming to UNI. There are so many different majors to choose from, so don't be afraid to try something that you wouldn't normally see yourself doing. There are many great ways to get involved and I really encourage everyone to take advantage of those opportunities because that is how you will make connections with people and meet lifelong friends. 
Marin Ehler
Hometown: Ossian, Iowa
Major: Movement and Exercise Science
Minor: Biology
Pre-professional: Pre-Physical Therapy
Briefly describe what you'll be doing after graduation: I will be attending Des Moines University in Des Moines, Iowa for the Doctorate of Physical Therapy program. 
I am incredibly excited to become a physical therapist in the future because it is a great way to help others get back to their normal health and wellbeing! I know that no other profession would fulfill me as much as physical therapy would because it builds on my passion for learning about the human body and movement, provides constant variety, challenges me and gives me an opportunity to impact people's lives. I truly believe becoming a physical therapist will serve as a purpose in my life!
I believe the Movement and Exercise Science major has prepared me to become a physical therapist in countless ways! Not only was I able to learn more about human anatomy and physiology, but I was also able to apply the knowledge of how the body works during exercise or movement. I feel prepared and ready to take on physical therapy school after my Movement and Exercise Science education at UNI.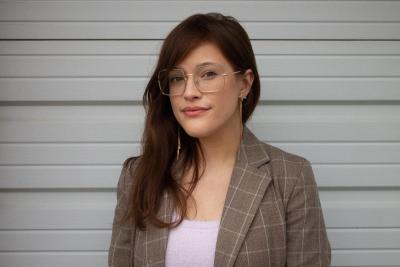 Melina Gotera
Hometown: Cedar Falls, Iowa
Major: Textiles & Apparel 
Briefly describe what you'll be doing after graduation: I'm moving to New York City to work for the Ross Stores New York Fashion Office as a Fashion Assistant I. I'll be doing trend research, forecasting and presentation for Ross buyers in the off-price market.
What I enjoyed most at UNI was doing hands-on work in the Latham Hall and Kamerick Art Building labs. I loved creating garments with custom fabric that I designed and printed myself. I also got to explore photography, videography and printmaking techniques. I really enjoyed learning different creative processes and technology that had a tangible result.
There have been many rewarding experiences and relationships from my time at UNI. I loved taking classes with so many creative, passionate people and seeing our growth over time. Dr. Lynch and Dr. Mord have been extremely influential in my academic and professional growth. They have taught me so much in a few short years and I'm truly grateful for their mentorship and encouragement.
Tyler Green
Hometown: Marion, Iowa
Major: Geographic Information Science
Briefly describe what you'll be doing after graduation: Distribution Designer 1 at Ulteig Engineers Inc out of Des Moines, IA
Overall, I enjoyed my experience at UNI because it felt so personal. I was able to work at the UNI GeoTREE Center for two years where I got to continue to develop skills used with my major and apply these skills to real-world problems. UNI provided me with internship and employment opportunities that allowed me to grow in my field of study. Each course I took was unique and allowed me to take away different knowledge and really grow as a geographer.
A big part of why I enjoyed my time at UNI so much was the faculty. Lisa Tabor and John DeGroote have been instrumental in my academic journey. They have been very supportive of my academic goals and development. They have gotten to know me personally and have made me feel prepared for my next step in life.
Macy Hoeger
Hometown: Delhi, Iowa
Major: Supply Chain Management and Management Information Systems
Briefly describe what you'll be doing after graduation: I will be moving to Cedar Rapids, Iowa where I will start my full-time position as a Procurement Specialist at Collins Aerospace.
When graduating high school, I was undecided about what I wanted to study in college. I was torn between doing something in business or studying to become a nurse, and UNI had great programs for both. I ultimately chose UNI because of its close-knit campus and its student culture.
I am excited to start a new chapter of my life, but am also nervous about the transition from a college student to a full-time adult! I am excited to begin using the skills I have learned throughout the last four years and also to begin a different type of learning that comes along with mastering a new role at a company.
Kaia Johnson
Hometown: Milord, Iowa
Major: Early Childhood Education
Minor: Literacy Education
Briefly describe what you'll be doing after graduation: I will be student teaching next semester in Transitional-Kindergarten at Demoney Elementary in Estherville, Iowa, and in Pre-Kindergarten at Johnson Elementary in Spencer, Iowa.
I came to UNI because of the teacher education program's great reputation. It also was the campus that made me feel most at home! Everyone was welcoming and had great things to say about their experience at UNI. 
I would advise students considering going into education to job shadow current teachers and ask them lots of questions! It's always a good idea to get a real sense of what a job is like. Another piece of advice is to stay true to yourself and your passions. If you have a passion for something, pursue it and don't let anything or anyone stop you! 
Brooke O'Connell
Hometown: Manchester, Iowa
Major: Physical Education
Minor: Health Education
Briefly describe what you'll be doing after graduation: I will be teaching K-6 Physical Education at Belmond-Klemme School District. I will also be coaching basketball and soccer.  
UNI does a fantastic job preparing teachers for our career path. The college gets us in a classroom almost right away. As a freshman in college, I was already teaching students in high school and elementary. That experience and all of the levels we must go through as education majors eliminated any doubt I had about my major and prepared me for my future teaching role at Belmond-Klemme. It is obvious that the professors care about the students and want us to be the best teachers possible. 
I am so excited to work in the Belmond-Klemme School District. It is a welcoming small town. During the interview process, they all made me feel very comfortable, so I am excited to meet the rest of my coworkers. The elementary age is super fun, especially in a PE setting, so I am ready to meet and build relationships with the new students. I am also excited to share my love of sports at the middle and high school levels.
Eboni Springfield
Hometown: Davenport, Iowa
Major: Public Relations (Special Events emphasis)
Minor: Digital Media Journalism
Briefly describe what you'll be doing after graduation: After graduation, I will be coming back to UNI in the fall to pursue my graduate degree in the Department of Communication and Media, on the enrichment fellowship. 
I was brought to UNI by the instant sense of community I felt after my first visit. A lot of my first interactions were with multicultural representatives that welcomed me. I was thrilled to see Ethnic Student Promotions, Black Student Union and Center for Multicultural Education staff willing and happy to welcome new students to campus.
One of the best parts about being a student at UNI was the overwhelming amount of friendships and connections I made. I have found several professors, like Anelia Dimitrova, Marty Hansen, and Gayle Pohl that encourage and believe in my work and skills every day. I have made life-long friendships, been presented with numerous opportunities and grown as a person as a result of the campus community.
Qiao Xu
Hometown: Nanchang, Jiangxi, China
Major: Electrical Engineering Technology 
Briefly describe what you'll be doing after graduation: I have been accepted to the University of Pennsylvania to earn a master's degree in the electrical engineering field.
UNI has provided me with various platforms such as the Institute of Electrical and Electronics Engineers, International Student Promoters, and the Association of Technology, Management, and Applied Engineering competition to help me improve my academic proficiency and my other skills such as communication skills and leadership skills. I also have a better understanding of cultural diversity by engaging in different international activities. 
I'm excited about the uncertainty of the future. I feel like experiencing new things always brings me different kinds of memories, all of which are impressive and valuable. I was uncertain about my life and experience at UNI before, but I was so glad that I chose to accept the uncertainty because it is this choice that led to what I have now. I am excited about the challenges, and memories that I will have in my future.