Alumni
Northern Iowa alum selected as influential leader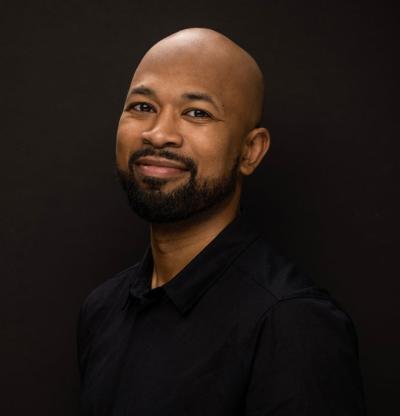 A University of Northern Iowa finance and marketing alumni who co-founded the first Black-owned coffee business with national distribution has been named a 2022 Influential Leader by the world's largest business education alliance. 
Pernell Cezar, CEO and co-founder of BLK & Bold, was selected by the Association to Advance Collegiate Schools of Business (AACSB International) as one of just 27 Influential Leaders from a pool of 900 accredited schools and their alumni.
These Influential Leaders were selected based on the lasting impact they have created in business and society. Cezar has been an instrument of change throughout his life. At UNI, Cezar served as the first Black student body president and on the search committee that hired the university's first Black provost. Today he continues to make an impact in society through his company which donates 5% of its profits to 15 youth leadership initiatives across the United States. 
"We're incredibly proud of all that Pernell has accomplished," said Leslie Wilson, Dean of the College of Business. "He is relentless in working with Black entrepreneurs on how to operate within the realities of the business environment and overcome the overwhelming odds against them. In doing so, he has inspired other entrepreneurs to incorporate social causes into their fledgling businesses." 
Cezar graduated from the UNI College of Business in 2010 with bachelor's degrees in finance and marketing. He leveraged what he learned to quickly grow his business from a small startup in his garage to a national brand. He has woven the value of social responsibility into BLK & Bold's DNA by combining sound distribution, sourcing, and financial practices to ensure sustainability and to positively impact society. The company serves as a perfect example that business can be a force for good. 
"The professors are always willing to reach further than you if you reach out first," Cezar said when reflecting on his time at UNI's business college. "They help mold you ahead of stepping out into your career, preparing you for how you engage with management and those around you after [graduating]."
Despite having a young venture of his own to nurture, Cezar continues to give his time to inspire others. Cezar continues to be active with UNI serving on the Department of Marketing and Entrepreneurship advisory board. He recognizes his role as an inspiration for future business leaders.
Contact:
Jordan McNamara, UNI College of Business, jordan.mcnamara@uni.edu, 319-273-3309