Alumni
UNI alum Kurt Warner returns to Hy-Vee on latest episode of "Peyton's Places"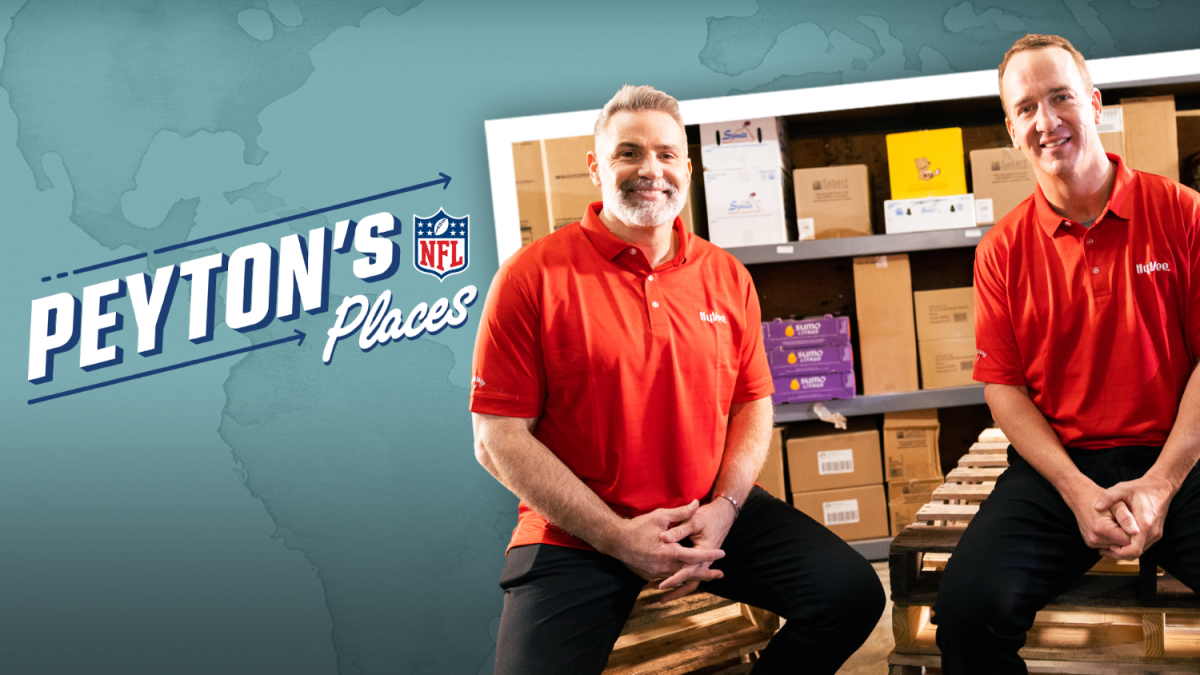 Two-time National Football League MVP Kurt Warner is arguably one of UNI's most recognizable alums as he has parlayed his Hall of Fame career into a successful broadcasting career with NFL Network. While Warner was back on campus in Cedar Falls in October, he previously paired with fellow Super Bowl MVP and Pro Football Hall of Fame inductee Peyton Manning in January. And of course, if Manning was in town, you knew he couldn't resist connecting with Warner for some comedy at Hy-Vee. 
It turns out the pair were in town filming an episode of "Peyton's Places," a TV series on ESPN+ which features Manning as he visits former players, coaches and key figures to "get to the heart of football history and its cultural impact." Now, fans can see the outcome. Warner famously bagged groceries at the local Hy-Vee while grinding it out to earn his place on the gridiron. In the trailer for the episode, you can see he has some pointers for Manning, who doesn't have a particularly friendly smile for a Patriots fan in one of the Hy-Vee aisles! 
It's not as easy as it looks, right @kurt13warner? pic.twitter.com/dqmejzksx6

— Omaha Productions (@OmahaProd) November 28, 2022
Watch the full episode titled "Every Underdog Has His Day" in season three of "Peyton's Places," on ESPN+.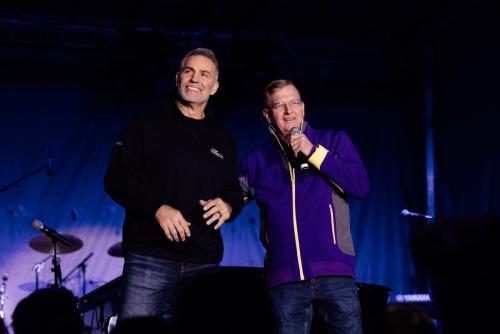 Fans hoping to catch a glimpse of Warner during filming didn't have to wait long for a second chance. Warner returned to Cedar Falls in October to celebrate University of Northern Iowa Homecoming and help kick off UNI's Our Tomorrow campaign. 
Warner's incredible saga was immortalized in the 2021 movie "American Underdog," which chronicled Kurt's circuitous rise from Gateway Conference Player of the Year at UNI to stocking shelves at Hy-Vee and being cut in training camp by the Green Bay Packers. The undrafted Warner eventually played for the Arena Football League's Iowa Barnstormers and the Amsterdam Admirals of NFL Europe.
An all-state product of Regis High School in Cedar Rapids, Kurt eventually signed as a free agent with the St. Louis Rams in 1998. He went on to post a total of 52 300-yard passing games during his NFL career. He is one of only three players in NFL history to start at quarterback in the Super Bowl for two different teams and one of only 17 undrafted players to be inducted into the Pro Football Hall of Fame. 
Football truly runs in the family for Kurt and Brenda Warner. Their son, Kade, currently is a wide receiver for Kansas State, playing for head coach Chris Klieman, who was also an all-conference football performer at UNI. Kade Warner is currently working on his master's degree in academic advising from K-State and brought his team to the Big 12 Championship Game for the Wildcats this year.  Another son, E.J., is a true freshman at Temple University in Philadelphia. Like his father, E.J. Warner is also a quarterback and wears No. 13 for the Owls.