Alumni
UNI alum wins Iowa History Teacher of the Year award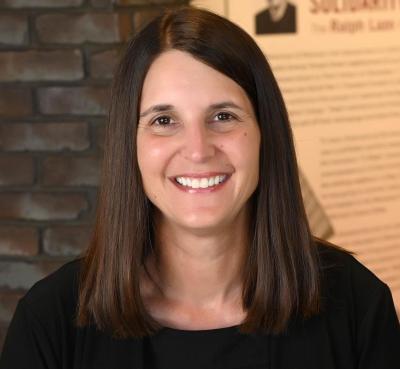 In her 30 years of teaching, University of Northern Iowa alum Suzan Turner, '93, has acquired quite the plethora of awards. Her most recent accomplishment is being named Iowa History Teacher of the Year by the Gilder Lehrman Institute of American History based on a recommendation from the Iowa Department of Education. 
"The thing that's most meaningful to me with any of the awards is that it represents a body of work in which I've had great success supporting kids," said Turner, who teaches social studies at Nashua-Plainfield High School.
The Gilder Lehrman Institute, which was founded to promote American history, awards one history teacher each year from each of the 50 states. As a winner, Turner received a $1,000 prize, an archive of classroom resources and recognition at a ceremony. She will also be in the running for the National History Teacher of the Year award.
Turner's journey to UNI as a first-generation college student started when she was recruited to play golf at the university. Since she had grown up just a half-hour from Cedar Falls in Nashua, she was also familiar with the campus, which appealed to her.
"I just felt like people on campus recognized you as a person," said Turner. "The professors were approachable. To me, that made it a more comfortable place and a welcoming place to go to school."
At UNI, Turner started out as a history major. She loved history because it told a story and gave her perspective on where she fit into the broader story of her community, her country and the world. 
"I was always really interested in history," said Turner. "My mom did a lot of genealogy and then hauled me along. So I was exposed to it all the time. I had good history teachers in high school who not only made history interesting but also cared about me as a person."
For a little while, Turner thought about following in her older brother's footsteps and pursuing college athletics by majoring in business. Finally, she settled on social science education. While she may not have started in the education program, she knew she was at the right place.
"I think UNI has a phenomenal teacher education program," said Turner. "The focus was on teaching, not just knowing your content. It was on how to teach and all facets of education that can make or break you in the classroom. I learned not just how to expound on information to kids but how to engage them in thinking and doing meaningful work that would deepen their learning and their academic achievement. So I felt really well equipped in that regard."
Once Turner decided to pursue social science education, she never wavered in her decision. 
"I'm glad I became a teacher and a history teacher to boot," she said. "There's no better profession, in my opinion."
Right after graduation from UNI, Turner taught history in Mason City. She went on to teach in Charles City for eight years and then spent a year as a consultant at the Area Education Agency before going back to her own alma mater to teach history. She just started her 19th year teaching at Nashua-Plainfield High School.
For Turner, UNI has continued to play an important role in her career even after graduation since she utilizes UNI resources to help her class. She takes her students on a visit to Rod Library each year. On these visits, the Nashua-Plainfield students are often able to connect with students in the History Club at UNI.
"Our kids wouldn't have had nearly as much success if it weren't for that collaborative relationship with UNI," said Turner. "I really value that UNI allows us to do that and encourages that — because they don't have to."
Turner believes that without those regular trips to UNI that have normalized the college experience, some of her students who don't have college graduates in their families may not have gone on to get a four-year degree.
Even after almost 30 years of teaching, Turner sounds as passionate as ever when she recounts what her students have been up to. In fact, she says that the older she gets, the more her love for history grows. Having more teaching experience behind her also means she gets to witness the long-term impact she's had as her former students grow into adults.
"I know that I'm doing more than just helping them have fun," said Turner. "They're learning skills that they take with them. That's payment in itself when you see the kids and how the things that you're doing are good for them. They're good for the community, too."
One of Turner's favorite things about being a history teacher is participating in the National History Day program, which she brought to her school 18 years ago. The program prompts students to pick a historical topic that fits with an annual theme, conduct research on the topic and present their findings in one of several formats. Turner said that 600,000 students nationwide participate in the program annually. Yet, the program's winner two years in a row has been the same student from Turner's very own classroom. Turner has also won the National History Day Teacher of the Year award.
The excitement for National History Day at Nashua-Plainfield is evident in the number of participants, who are not required to go through the program. The first year that Turner hosted the program, she had seven students choose to participate. The second year, there were 15 participants, and the third year there were 28. 
"They don't even get a grade for it," said Turner. "We're not a big school, but we've had as much as 30 percent of our student population doing it."
Turner said that getting to see the dedication and passion of her students have given her a "ton of faith" in this generation.
Today, Turner is surrounded by educators not only in her professional life but also in her personal life. Her husband is a retired school administrator and former history teacher. Her father-in-law, sister-in-law, and brother-in-law have all been teachers. 
Clearly, the family passion for education rubbed off because one of Turner's two sons, who is also a UNI graduate, is now a social studies teacher. Since Turner gushes so much about the profession, it's easy to see why her son made the choice that he did.
"If you're interested in going into a profession that will really impact people, this is it," said Turner. "You really will have an impact. If you love kids, it's a great profession. There's just no better profession. It's exhausting, but it's so rewarding. If people want to do something that's going to be very personally rewarding, teaching is it."