Alumni
You butter believe it! Kurt Warner sculpted with butter for 2023 Iowa State Fair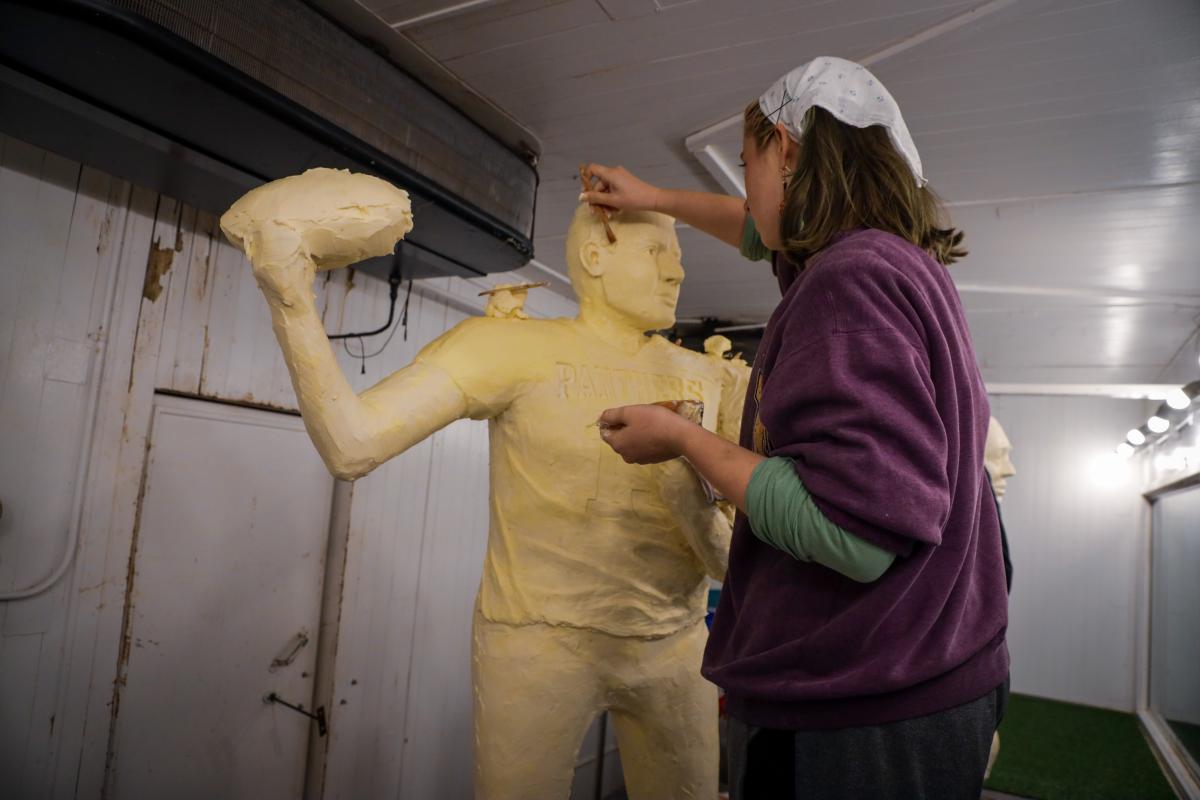 At this year's Iowa State Fair, you won't just find Panther Pride at the UNI booth in the Varied Industries Building — you'll also find it on display with the Butter Cow, as butter sculptor Sarah Pratt is transforming her medium of choice into Kurt Warner's likeness.
Pratt, a 1999 UNI graduate, has been the fair's lead butter sculptor since 2006 after 15 years as an apprentice. She is drawing inspiration from multiple photos of Kurt Warner to form the sculpture. 
"We went with the Panthers uniform, but we're using photos from his professional career for his facial features," she said. "It was a unique challenge for Kurt Warner because he's been known over many decades by many different fans."
Getting the motion of Warner throwing the football just right also proved to be a challenge. Pratt studied videos of people throwing footballs to ensure the hand placement is as accurate as possible.
Interestingly enough, sculpting the Butter Cow and its companions is a family affair, and also a Panther affair: Sarah graduated from the University of Northern Iowa in 1999 with a degree in elementary education. Both her daughters, who have been apprenticing since they were 13, currently attend UNI - with Grace majoring in studio art and Hannah majoring in theatre design and production.
"I do a lot of costumes, so that's why I get to put on the clothes that we sculpt," said Hannah.

"I'm in charge of the faces," said Grace.
Hannah even wears one of her mom's UNI sweatshirts as she sculpts.  "The sweatshirt she's wearing is one I got going into freshman year," explained Sarah. "I wore it the whole time I was sculpting and now it's been inherited down, so it's been photographed in the cooler lots and lots of years." 
So how many pounds of butter does it take to butter up Kurt Warner? According to Pratt, she will likely use 250 to 300 pounds — or more than 1,000 sticks — to craft the final result. Other than the cow, that's the most butter that will be used for a sculpture this year. "Just because he has full pads," said Sarah. "To create that bulk took more butter."  The sculpting takes place over top gas pipes, which are used to build the frames for the sculptures.
The butter itself is actually recycled. It was brand-new in 2005, but has been reused every year since, with new butter being added when necessary. When the fair is over, the butter gets scraped into buckets and put into cold storage until next year.