Arts & Design
Public art sparks personal transformation for UNI grad
Growing up in Ottumwa, Isaac Campbell never imagined he'd get the opportunity to work on projects for national art galleries abroad, or work alongside a world-renowned French artist at the Louvre in Paris. But at UNI, he gained the skills and made the connections to gain access to once-in-a-lifetime opportunities — and develop lifelong passions.
"Coming in as an undergrad, I never could have prepared myself for the quality of professors and the connections that these professors have," he said. "I never could have prepared myself for what their experiences could offer me and how that could change the trajectory of mine my entire life."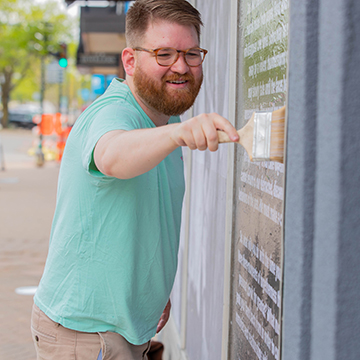 Campbell came to UNI as an undergraduate with an undeclared major. Today, he's developed a passion for communication studies and for the art of wheat pasting — using paste made from wheat flour water to create larger-than-life murals. For his master's thesis, "Cultural Memory and Family Snapshots," he's creating a series of murals throughout Cedar Falls Main Street — based on the theme of "Getting Back Together" — to spread joy as COVID-19 cases in Iowa decline and businesses begin to reopen.
A team of volunteers put up the first mural on Wednesday, May 5, outside the old Scratch Cupcakery location. It features a photo of a family having a picnic in 1907, a quote from author Iain Thomas, and a manifesto of sorts written by Campbell himself. Minutes after it went up, people were already stopping to reflect on the mural's powerful message.
"I'm very excited about this. I'm thankful to my thesis committee for approving such an out of the box project as my thesis and the community of Cedar Falls and city council for supporting the planning and zoning," he said. "I think after this COVID period, we need to remember those things that we can only experience with each other when we're together -- when we're connected with one another -- not through screens; when we're human."
It's a project that wouldn't be possible without UNI — as an undergrad, he studied digital media production, and gained experience through student-led video production company Cedar River Productions and a campus job in the Innovative Teaching and Technology Center (ITTC). But it was a project with UNI Professor of Interactive Digital Studies (IDS) Bettina Fabos that had the most profound impact on him.
Campbell helped Fabos with her visual memoir on Hungarian history, "Proud & Torn." Tasked with editing and animating photos from Fortepan, a public archive of personal photographs of Hungarian people, Campbell became fascinated with the concept of publicly-sourced historical archives.
"The Fortepan idea ... tells history from the cameras of the people who were there," he said. "Bettina's project really helped me put my skills into practice and understand a whole new side of video production and visual storytelling that I didn't know about. That was sort of a guiding light for me after I graduated."
While working on "Proud & Torn," Fabos and a group of UNI professors started Fortepan Iowa, an effort to establish a similar public archive in Iowa. Campbell graduated from UNI while working on the project and, inspired by Fabos and other Fulbright scholars he met through the project, went on to do a Fulbright project supporting an exhibition of Fortepan images at the National Gallery in Budapest, Hungary. The project allowed him to try out an idea that he would bring back to UNI in graduate school.
"The National Gallery — the place where the greatest art in Hungary and famous works are displayed — was showing an exhibition about average, everyday people's photos and it was groundbreaking," he said. "All this was helping me understand what an archive like Fortepan can do and what it means."
For his Fulbright project, Campbell needed to find ways to promote the Fortepan exhibit. That's when he remembered a Ted Talk about wheat pasting by French artist JR. He decided to create a series of wheat pastings around Budapest to promote the exhibit. The exhibit was a success -- and his wheat pastings were a hit. It was a proud achievement for Campbell, but he didn't realize his work for the project would open even more doors.
While working in Budapest, Campbell learned that JR was working on a wheat paste project in the courtyard outside the Louvre. He emailed event organizers to get involved, and when the event organizers recognized Campbell from his Budapest wheat pastings, which were already going viral, he was invited to help out with the wheat paste project alongside JR himself.
"Who would have thought some guy from Ottumwa, Iowa was going to be pasting with a world-famous artist outside the Louvre?" Campbell said. 
Campbell said some of the murals he created for the Fulbright project still get photographed and posted to social media today. The experience inspired him to return to UNI to pursue a master's in communication studies, so he could continue exploring the power of public art. Graduate school opened his eyes to the scope of his field — and to the world.
"I had no idea that we were going to talk about everything from pedagogy in the classroom, to rhetorical analysis of photographs and events and people and protest," he said. "I am so blessed I came to this program at this time because there's so many things happening in our world — you think about the Black Lives Matter protests and the rights of the LGBTQ community — and the communication department's approach is to ask how do we understand these, how do we look at them and talk about what's happening?"
Campbell brought his own ideas to the department, and wheat paste murals became a key component of Fortepan Iowa and other projects. He also worked on an 80 by 20 foot mural for the Diversity Is Our Strength project, an initiative launched by Fabos and UNI Associate Professor of Literacy and Education Shuaib Meacham to promote inclusion across campus.
"Isaac is the dream student. Everybody wants someone who can take your ideas and then take them ten times farther… and that's Isaac," said Fabos. "He worked on these magnificent projects and we were just so happy that he came [to graduate school] so we could have the chance of nurturing him further. I'm just so proud of him. I'm so amazed at how much he has accomplished. He is someone who is going to be a mover and a shaker."
After traveling the world developing his skills, Campbell is now bringing his passion for public art to his home state. In addition to his thesis project, the recent grad is working on creating murals in five Iowa communities — Cedar Falls, Anamosa, Sumner, Webster City and his hometown Ottumwa — with Iowa Arts Council and Cedar Falls Community Betterment grants. He'll be working on the murals over the summer and hopes to have them done in time for RAGBRAI, the annual statewide bicycle ride, which will take cyclists through each town.
When he's done with these projects, he plans to seek his next big adventure. While he doesn't have any active plans, he dreams of returning to Budapest someday and pursuing a Ph.D. program. But no matter where he ends up next, he said he will credit UNI with giving him the skills to get there.
"UNI provided me a space to explore and to challenge and to discover. For as much rigor, there has been the same amount, if not more fulfillment, from the program," he said. "I'm a better human being, a better citizen, because of the program. It's taught me how to think critically, ask tough questions, and uncover deeper meaning across all situations."