Arts & Design
UNI art department welcomes visiting artist, alum Duane Slick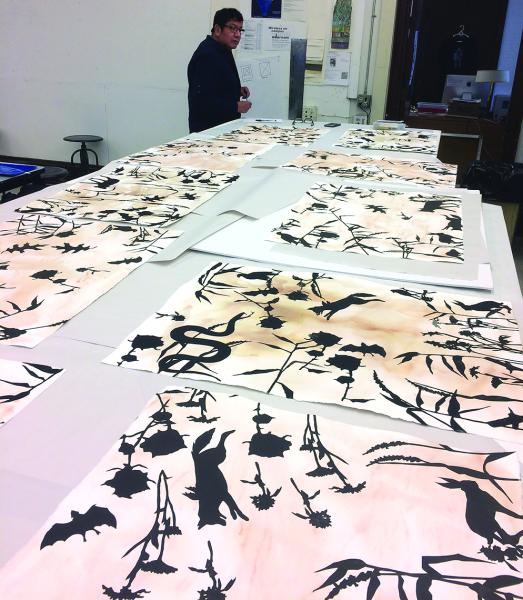 The University of Northern Iowa Department of Art will welcome visiting artist and alumnus Duane Slick to campus Oct. 24 – 28.
Slick will present an artist talk at 5 p.m. on Wednesday, Oct. 26 in Kamerick Art Building room 111. The event is free and open to the public.
During the week, Slick will also work with the art department to create a limited edition screenprint. Students and visitors will be able to observe the process, from the beginning sketches made from the projection of a 3-D model to the printing of layers to produce the final product.
Born in Waterloo, Slick is a Meskwaki artist who graduated with a bachelor of fine arts in painting and a bachelor of arts in art education from UNI in 1986. He went on to complete a master of fine arts degree in painting from the University of California-Davis in 1990.
Slick is currently on sabbatical from teaching painting and printmaking at the Rhode Island School of Design.
Slick is a painter and storyteller whose work has been displayed nationally. His work is included in many public art collections, including the National Museum of the American Indian at the Smithsonian Institution, the Milwaukee Art Museum, the Des Moines Art Center and the University of Northern Iowa, among others. He has also been awarded many fellowships.
"Bringing artists to campus always breathes a little life into the faculty and the students," said UNI Art Professor, Aaron Wilson. "Someone coming in from the outside helps us all stay connected with our practice and see things from a different viewpoint. It's a pretty unique opportunity to have a project built from the drawing stage to the printing stage in front of everybody."
Wilson said hosting visiting artists exposes students to new and different ideas, adding he looks forward to Slick not only sharing his voice, but also bringing the experiences he's had working with other artists across the nation.
Contact:
Elizabeth Sutton, head of the Department of Art, 319-273-6260, elizabeth.sutton@uni.edu.