Arts & Design
UNI jazz band experiences life on the road in South Africa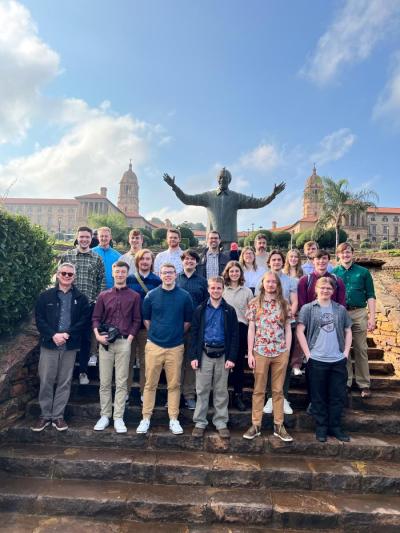 Improv, elephants, sharks and swing! 
Jazz Band One's recent adventure in South Africa included all these things and so much more, leaving students with new experiences and broadened horizons.
For James Mons, a trumpet player from Iowa City majoring in music education, the trip was something he'd been looking forward to since his freshman year when the trip was originally planned. After being postponed due to COVID-19, as a senior, he finally got to cross South Africa off his bucket list.
"It's the way I wanted to go out," he said. "It was fantastic, and it felt like the culmination of all the work I'd put into that ensemble."
Under the direction of Professor Chris Merz, Jazz Band One traveled to South Africa for two weeks in May, packing in seven performances at various venues. 
"It was a good glimpse into what life is like on the road and what life is like as a touring musician," said Johnny Hartleip, a senior saxophone player from Cedar Falls majoring in jazz studies and interactive digital studies.
While performing this frequently can be tiresome, it can also enhance the quality of the music.
---
"The music gets tighter," said Hartleip. "So that was the best ensemble I was in by the end of the tour. We were sounding great!"
---
‌For most of Jazz Band One's performances, the crowds were packed, and the students observed that they tended to be more interactive than crowds in the United States.
"The crowd is very different," said Mons. "If they like something, they'll let you know in the middle of a song. It was a lot higher energy than I've experienced before."
"They were loud," said Maggie Cremers, a senior music education major with jazz emphasis from Iowa City who plays the trombone. "They wanted encores, and they were just really engaged, which is fun. That's always the most fun concert to play."
Jazz Band One got to experience a taste of music in South Africa by watching a renowned choir from the University of Pretoria perform and participating in a band workshop. The group also saw their director reunite and perform with his old bandmates from the time he taught in South Africa 30 years ago.
"Getting back together with old friends after 30 years is always an event, and to be able to share music together just makes it that much more special," said Merz.
Merz's former bandmates, which included students he taught 30 years ago, got to see Merz's current students in Jazz Band One perform as well.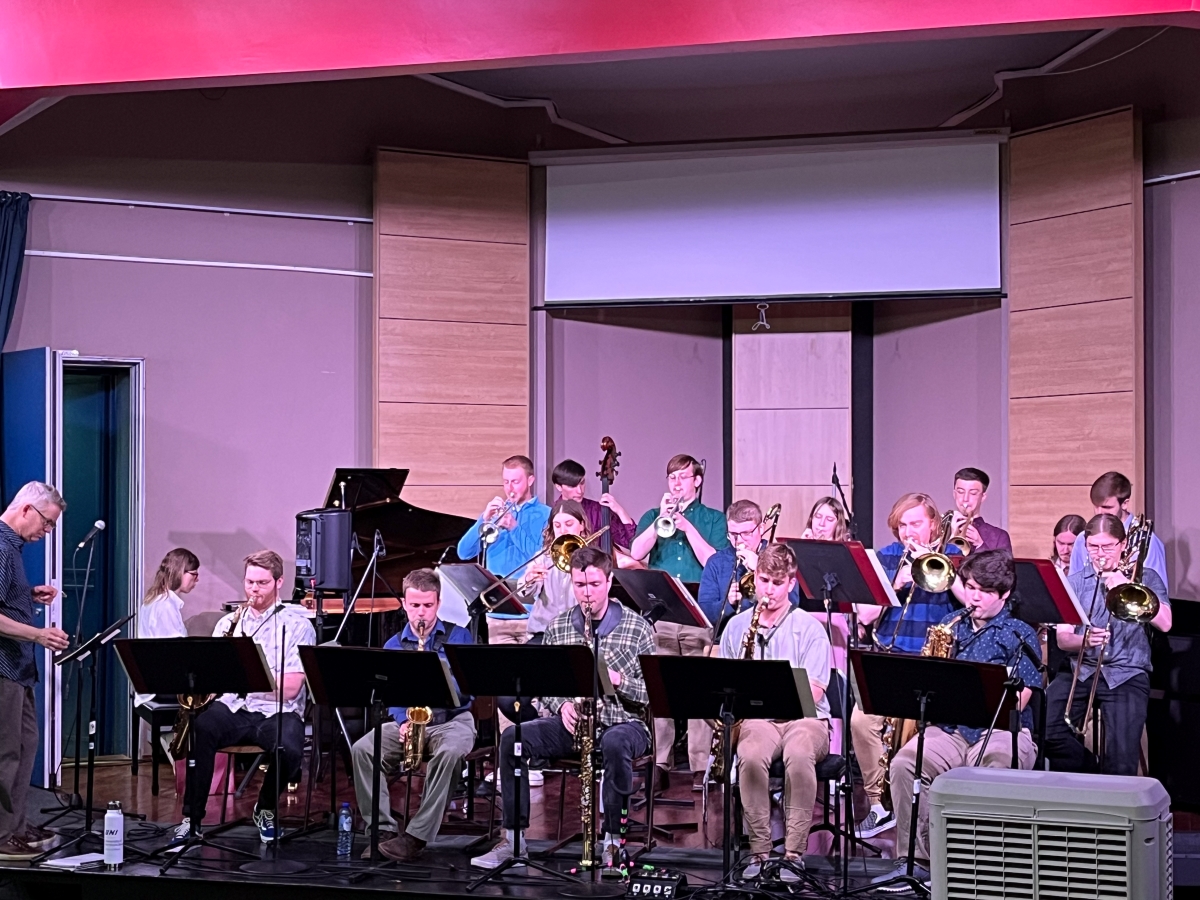 ---

"They were very impressed as I expected they would be," said Merz. "Some of my former colleagues were saying, 'Wow, this would easily be a top, top, top professional-level band if they were in Cape Town."
 
---
Music was the focus of the trip, but the students still had time to soak up other aspects of South African culture and see wildlife in action. They visited a game reserve and elephant sanctuary, watched a shark dissection, went on a hippo cruise and toured the Apartheid Museum. The group even experienced a rhino roadblock while traveling.
"Personally, being in South Africa made me think about how I want to travel more," said Mons. "It also made me think about how you really don't know things from textbooks. I thought I knew more about South African history and culture from reading about it, but you have to experience it, and it was really wonderful to be able to do that."
"It's always fun to go and represent your school somewhere," said Cremers. "This will likely be a lot of those people's only experience with UNI and Iowa or the Midwest, so it's kind of fun to go and kind of represent that."
Jazz Band One is one of three jazz ensembles at UNI. Students do not need to be music majors to be in the ensembles, but they must audition each year to be placed in one of the bands. Jazz Band One has about 20 students.
Each week, Jazz Band One rehearses as an entire band twice. Then each section — the trombone section, the trumpet section, etc. — has its own rehearsal during the week as well. The ensemble has a few concerts every semester, both on and off campus. They also record albums.
Hartleip, Mons and Cremers all believe being in Jazz Band One has been crucial to their growth as musicians. 
"I think the biggest aspect of my musicianship that's improved is just my attitude and my outlook on music," said Hartleip. "The demeanor and the attitude of our director is really infectious and just kind of causes everybody in that ensemble to love being there and love playing music."
"I just think it's great to be around people who are really good at what they do, and they just want the band to sound good as a whole," said Cremers. "Everyone is super important to the band."
"It's a heck of an ensemble, really high-level players, really high-level music, and it's a good community," said Mons. "We're all friends, and we all get along. Having that bond elevates the level of music you can do because it elevates the level of trust. So when I came to UNI, I knew I wanted to be a part of that high level of music and be friends with really great people and musicians."