Business
Blurring the Lines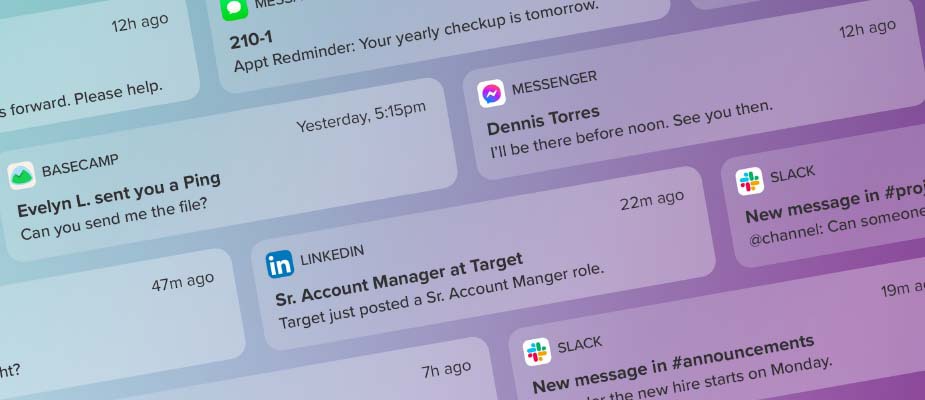 Remote work is the new normal, reflecting a trend that has been swelling for several years and propelled forward by the pandemic. Today, more than half of the American workforce is working from home, according to a study by MIT. More stunningly, there's been a 140% increase in remote workers since 2005, according to Global Workplace Analytics.
While there are numerous positives of remote work — the ability to source talent from anywhere, less traffic, no commutes, more time with family — it has certainly led to the blurring of work and life. That was the case for Daniel Swift (Economics, '15), particularly in 2020 when his company went fully remote. While working from home, he had to manage a team - and himself. 
"Having, essentially, my whole office down the hall from me all day, it's really hard to shut off," Swift said, who is the director of investments for LCS Real Estate in Des Moines, which manages upscale senior living facilities across the United States. "As a millennial and in the finance world, there's kind of an expectation you work more than 40 hours a week. At home, it was hard to find where that stopping point was."
Swift's problem still isn't unique. Remote employees across the country are dealing with work "on-demand," meaning they feel always on the clock, even at home. This has led to burnout and mental health issues among workers. According to Total Brain, which tracks mental health for the public and corporations, in March 2021, 24% more people reported higher anxiety than a year earlier. This was in addition to an already staggering percentage of people dealing with one or more mental health conditions before March 2020 — as much as 60 to 65%, according to Total Brain.
Swift said he and his company took action in 2020 to try and lessen the effects of isolation and remote work. They started implementing no meetings on Wednesday mornings, to allow employees time to be productive. They also tried to be much more mindful of meeting times. But for him, just getting into the office has helped, which he has done much more in the summer. "Structure was the hardest part for me, and maybe I'm a little bit unique in that aspect," Swift said, noting others his age tend to enjoy working from home. He's right: a recent study found that more than 90% of Generation Z and Millennial workers don't want to return to the office full-time, instead preferring a hybrid or staggered approach. And remote work doesn't look to be going away anytime, as 71% of professionals expect it to be standard, according to a 2020 survey by Growmotely.
That's because there are plenty of positives of working from home. According to a Stanford study of a Chinese travel agency, remote work led to a 13% productivity increase and better retention. Just think: less commuting, which means more time for work, and more flexibility, which correlates to better employee morale.
Balancing these positives and negatives is a tough act, though, depending on the person. It's up to the company and employee to take steps to improve mental health and productivity. Samuel Matthews, assistant professor of management, has spent some time looking at this balance over the past year. He said workers tend to fall into two categories: integrators and segmentors.
Integrators like to mesh work and life. For example, they can take off time during the day to catch a ballgame, then return in the evening and work throughout the night. For segmentors, the opposite is true. When they are at work, they want to work. When they are home, they want to detach. 
"[Remote work] forced some people who like segmenting to become integrators," Matthews said. "They are kind of stuck in the middle, and they aren't productive there."
He said it's important for employers to identify their workers and their work habits. From there, leaders can help their employees strike the right balance, theoretically improving their productivity and mental health. For segmentors, that might mean scheduling conference calls on certain days or times, or setting expectations of work times (like between 8 a.m. and 5 p.m. weekdays). For integrators, that could be a little more flexibility on traditional work hours.
"I think there are people who are checking their emails during a trip, and then when they're working, they take all these breaks," Matthews said. "I think the problem with that is it's really taxing, and it's not as productive."
Matthews said a happy medium is a 50-50 remote work split, meaning employees are in the office about half the time and remote the other half. He cited research from leading management professor Adam Grant, who has been pushing that plan and says "the future is hybrid."
Atul Mitra, professor and head of management, says a hybrid solution creates its own long-term problems, particularly with workplace culture. He's worried that some employees, particularly those who are longtime employees or are more socially inclined, might create social pockets, excluding new team members.
"It might be harmful to some people who are unable to connect to the social network of work," said Mitra, who is an author of a recent article published in the Cross-Cultural Management Journal looking at the dynamics of work and life. "Working remotely might benefit them, because they're able to fulfill their own role, but then they'd miss out on the social benefits of work. So, does remote or hybrid work allow for better balance? We are not sure. It might actually be causing problems for some and helping others."
Mitra added that a lot depends on industry and company culture. For example, computer programmers don't typically need social elements in their job and can work from anywhere. That might not be the same at a place like Google, though, where social networks play a critical role in team building, collaboration and more.
He also said employers should be focusing on how to help employees disengage from work life so they have time for non-work social interaction. In the digital age, work has certainly become 24/7, so companies should be mindful of non-work time.
Going forward, Matthews believes employees will have more power to choose their work arrangements, which wasn't always the case in the past. That's why it'll be important for both employers and employees to understand work habits and tendencies — inturn, creating a more productive and healthy work space.
"I think it's a good thing because there are people who do want to go back to the office and see others and be around others," Matthews said. "I do think we'll have a variety [of situations]. And it'll be up to workers to drive what they want."