Business
Business students learn creative problem-solving in managerial course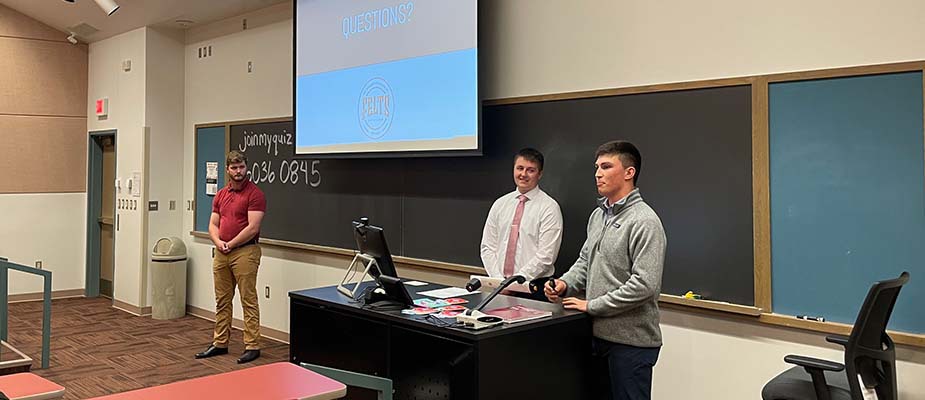 Being a creative but logical manager is an asset in today's business world. That's why Sarah Rosol, Instructor of Management, has centered her managerial problem-solving course around a "whole-brain approach," mixing the analytical skills on the right side of the brain with the creative left side.
"Employers are having trouble just finding people with critical thinking and creativity skills," Rosol said. "I call it the copy-kitty syndrome, where everyone copies each other. There's nothing original. This course fills that gap, giving students the skills to solve a unique problem in a unique way."
Rosol focuses the first half of the semester on logic, with an emphasis on evidence analysis and verifying information. For example, students look through articles to determine fact from fiction. The second half of the semester deals with creative problem solving, using logic examples and group activities. One question has three light switches and provides students with limited information to find which switch connects where.
"We're going through many different creativity techniques, and I've even had to tell them to be weirder, be more creative," Rosol said. "So yeah, it gets really fun."
Students who have taken the course say it's challenging but rewarding and is an excellent foundation for being a manager in the real world as well as in other classes within the College of Business.
"The course wasn't typical classwork, where you have to memorize concepts and regurgitate them on a test," said Annika Patton (Business Administration, '22), who took the course last fall. "You really have to apply the knowledge deeply and understand it to be able to utilize it. That's the biggest challenge for students. But it set me up for success for other classes."
Carter Nordman (Business Management, '21), the youngest representative in Iowa's State Legislature at 23 years old, took the class last fall semester. He said Rosol's teaching style was unique. He finds himself using some of the problem-solving techniques he learned, while in the legislature and operating his own business. 
"I believe the class is registered as a lecture, but I never felt like I was in a lecture," Nordman said. "It was extremely student-led and very collaborative. You really got to be interactive, which I think helps you retain more information when you're doing these hands-on experiences."
Class sizes are relatively small, usually under 30 people, but that helps facilitate small group projects. In the end, Rosol said her favorite part is just how much the students can help her learn and refine her own teaching style. 
"At the end of last semester, one of the students said we could push the creativity even further," Rosol said. "I was like, 'Wow, I'm usually the one doing that.' But they were right. So they were pushing me by the end."