Business
Corporate Social Responsibility takes center stage for businesses, employees and purchasers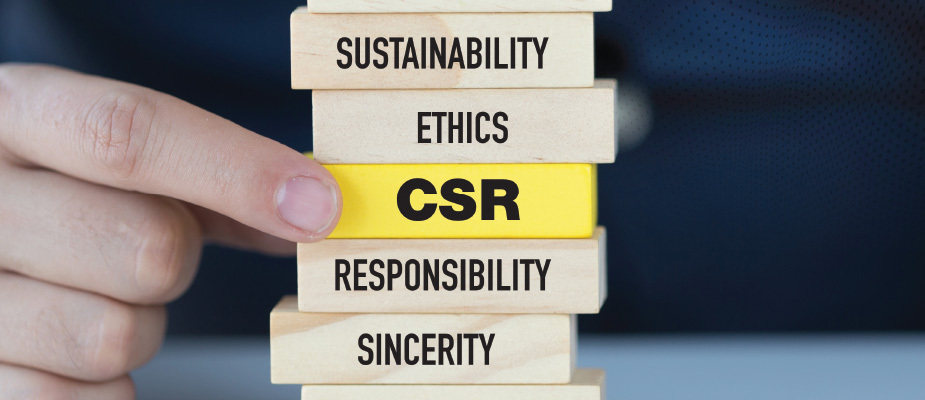 What's the responsibility of a business? For many years, the primary answer was to provide value – primarily financial – to stakeholders. While that's still one of the main responsibilities today, the answer to that question has become much more nuanced over the past couple decades. That's because of the rise of corporate social responsibility, a term that refers to the concept that a business should not only provide value to stakeholders, but also to the larger community in which it exists.
CSR comes in many forms. It could be a decarbonization goal to benefit the environment or equity initiatives within the company or its community. It could even be something as simple as volunteering or providing grants in the community. CSR has become a major part of the business matrix. In 2019, 90% of businesses listed on the S&P 500 produced a CSR report, up from just 20% in 2011. According to a Harvard Business Review article, about 70% of Americans believe it's either "somewhat" or "very important" for companies to make the world a better place. 
The Rise and Nuances of CSR
The reasons for the upward CSR trend are nuanced, but largely attributed to a rising awareness around issues such as climate change, income inequality, unfair labor practices and much more. The internet and social media have made it much easier to access information and learn more about a company before buying products or working for them.
"CSR has grown tremendously within the U.S. partly because of the impetus for a greater push toward international CSR standards alignment, and partly because the trajectory of social media and high-tech growth during this period has enabled consumers to become more rapidly informed," said Eric Lee, assistant professor of accounting.
Alicia Rosburg, assistant professor of economics, has a background in sustainability and CSR research. For her, CSR is an important part of doing business today, and it's not something as simple as achieving a goal and moving on. Proper CSR is an integration with day-to-day business operations, something to consider with every business decision.
"CSR is something that is very dynamic and requires constant assessment," she said. "It's something to continually work at, because what is responsible environmentally and socially changes over time. We live in a dynamic world, and you have to constantly adjust to that."
Rosburg points to Frontier Co-Op in Norway, Iowa, as an example of doing CSR right. A natural spices and organic dried herbs company, Frontier Co-Op has goals focused on environmental stewardship and social giving, including a zero-waste initiative to divert 90% or more of its waste from landfills at each of its four Iowa locations. The business also commits 5% of its profit toward socially responsible spending, including grant programs, national organics research and community funding.
Companies like Frontier Co-Op can make a big impact. Much of the money funneled into CSR programs stays within and benefits the community. For example, donating time or money to a local charity can help improve the standard of living in that community. Or making a concerted effort to preserve the environment has a positive long-term effect, which lends itself to long-term benefits for business.
The true financial value behind CSR is inconclusive, but many studies find that it does boost a company's standing and draws in consumers who make purchasing decisions based on CSR records. There are some signs this is even more important with Generation Z, the group of people born between 1998 and 2010, as they enter the workforce.
"This generation is vocal about their want for things that are socially and environmentally responsible," Rosburg said. "I'm excited to see what happens when this generation becomes more ingrained in the workforce. Are they going to be the generation that makes the shift and forces companies to be more socially responsible? Will they be willing to potentially pay more for a socially responsible product?
Beyond the Financial Bottom Line, CSR Matters to Talent 
CSR is a big consideration for potential employees already. According to the Harvard Business Review, about 93% of employees believe companies must lead with purpose. And 95% of employees believe businesses should benefit all stakeholders – not just shareholders – including employees, customers, suppliers and the communities they operate within.
Skylar Mayberry-Mayes (Finance '12) has been looking at this topic with Generation Z and Generation Y in particular. When he began thinking about research topics for his doctoral dissertation, he wanted to explore the experiences of younger people and their attraction to employers. Throughout his research, he has interviewed many MBA graduates to better understand this phenomenon. He's constantly learning that CSR is a huge consideration in employer attraction, sometimes even more important than a company's benefits or pay structure.
"The traditional approaches of compensation aren't necessarily the things that are attracting talent anymore," Mayberry-Mayes said. "Similar priorities have been expected for reputable organizations, corporate responsibility, and opportunities for continued learning and development."
Research seems to back up that claim. Deloitte's annual Gen Z and Millennial survey stated that "Prioritizing work/life balance, learning and development, and well-being will be critical, as will having a clear purpose and giving employees the opportunity to address societal issues through their work."
Mayberry-Mayes observed that sometimes companies involved with CSR programs still aren't including it as part of the recruiting and application process. Simple additions can go a long way, like promoting the benefit of volunteer time off or listing CSR initiatives and accomplishments on the job posting itself.
What's next for CSR?
CSR seems only destined to grow, and because of that, there's a push for more standardization in CSR reporting. Right now, companies often publish their own reports, and there is the potential for cherry picked stats and examples. The end goals of consistent metrics are to hold businesses accountable to their CSR initiatives and also make records clear for purchasers.
"I want there to be some clarity to how businesses compare to others and reported in a way consumers can understand," Rosburg said. "I do think there is a lot of gray around how to interpret people's actions and company's decisions, but every year we get more information. We get more of an understanding of what we mean when we say CSR and what consumers want. So, I'm looking forward to CSR being more broadly accepted and
how we interpret what that means."
In the accounting industry particularly, Lee has seen a plethora of job opportunities in high-demand areas such as CSR, whether that's environmental cost accounting and risk management, green taxation, or sustainability reporting and assurance. If these opportunities are any indication of where CSR could go, the prospects are bright, and CSR looks to be squarely in the mainstream for years to come.
"From both societal and educational standpoints, we are certainly on the cusp of a CSR revolution," Lee said. "As stakeholders become more educated in CSR matters, companies worldwide have also responded by making a concerted effort to do well by doing good."
Lee added: "All told, students who are considering these areas of specialization will likely be working in the forefront of business innovations for years to come."